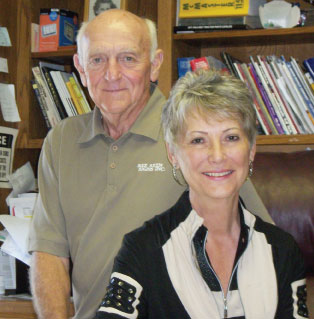 35 Years
In 1976, Lawrence "Junior" and Judy Dietzel purchased G&H Electric/Sign Company in Jefferson City. The couple changed the company name to Bee Seen Signs because, Judy says, Junior "always liked the play on words."
"Also, most people cannot pronounce or spell 'Dietzel,' so the rest is history," she says.
Junior had worked with G&H Electric/Sign Company from 1966 to 1976, and when the owner decided to sell the business, Judy says, "it felt like it was the right time to jump into ownership." Four of the original employees stayed with Bee Seen Signs. "Our motto then was customer satisfaction — before and after the sale — and it is still the basis of our relationship with our customers."
In 1985, Bee Seen Signs expanded to Columbia with the purchase of Davis & Hourigan Sign Company. The Columbia location became the Dietzels' branch office, and the couple operated the business together until December 2008, when Judy was named company president. "Bee Seen Signs is now a woman-owned enterprise," Judy says. "Currently our sons, Tony and Travis, have shares in the business."
The business has witnessed several changes through the years, mainly in technology. "We bought our first vinyl computer machine in 1982," Judy says. "It was the first in Missouri. We added the Gerber Routing System in 1988 and now have a wide-format printer and laminator." Prior to purchasing that equipment, the tasks were done manually. But even with the new machinery, Judy says, the company did not have to eliminate any employee positions.
Bee Seen Signs is the area's largest full-service sign company. It produces illuminated and non-illuminated signs. The business also makes channel letters — custom-made metal or plastic letters placed on buildings — and has a plant that produces neon signage. Other services include format printing, metal and plastic letters, banners, decals and vehicle lettering and wraps. Bee Seen Signs creates billboards and builds structures for electronic message centers.
There are four graphic artists on staff who handle Bee Seen Signs' creative needs. A fabrication team and installation team round out the staff. "We can do custom designs for customers, fabricate the product in our Jefferson City plant and then install the finished product," Judy says.
For more information about Bee Seen Signs, visit beeseensigns.com.
Timeline
1976 – purchased G&H Electric/Sign Company in Jefferson City and opened Bee Seen Signs
1982 – bought vinyl computer machine
1985 – purchased Davis & Hourigan Sign Company and opened Columbia store
1988 – added the Gerber Routing System
1992 – added neon processing plant
1999 – purchased Letterlok machine for fasting aluminum together without fasteners
2002 – added wide-format inkjet printing and laminating
2006 – added solvent-base, wide-format printing
2008 – Judy Dietzel named president of the company