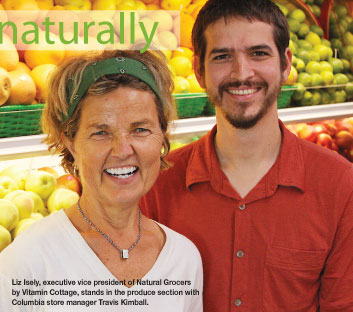 There were plenty of cities that the Isely family could have chosen for its first Natural Grocers store in Missouri. Columbia, though, quickly made its way to the top of the list.
With nearly 50 organic grocery stores now open in the Southeast and Midwest, the Isely knows what to look for in choosing a locale. And Columbia had those qualities. For one, it can serve as a hub to smaller surrounding cities. Another big reason — health food stores tend to be successful in major university towns.
"Columbia has a lot of savvy shoppers, and it's a great college town that seems to be somewhat underserved in regards to natural foods," says Liz Isely, executive vice president of Natural Grocers by Vitamin Cottage (the company's formal name), which is headquartered in Lakewood, Colo. "The people here are very discerning shoppers. They want to know about things: ingredients, how certain items are made, whether they are 'green' products. They don't just accept answers; they want to really understand."
If past stores are any indication, the Columbia location at the former Ethan Allen furniture store on Stadium Boulevard has great potential to grow. The store opened in September with a staff of 20. But if business goes as expected, that number could quickly double.
Store manager Travis Kimball watched those numbers grow while working at the Natural Grocers store in Fort Collins, Colo. He and his family moved to Columbia this fall to help open and manage the new store.
"Natural Grocers is more than just a grocery store; it's a business with a social conscience." Kimball says. "We are looking to provide a real service to people, and we chose Columbia because it seems that this community has a desire for these kinds of options."
Store marketing representative Nancy Flynn has worked for Natural Grocers for more than 10 years. She also touts the business as a leader in the health food industry.
Flynn says every product is carefully reviewed before it's placed on the shelves — no chemicals, no hormones and no artificial sweeteners. Its owners insist on "green" environmental practices, from the store's construction to its day-to-day operations. It carries local products and gives back to the community. And because the chain is family-run, there is a focus on treating its employees well.
But to Flynn, the store's most important and unique attribute is the credentialed nutritional health coaches on staff at each store. Customers can schedule a one-hour consultation at no charge. The service can be especially useful for customers with such dietary concerns as celiac disease, an autoimmune disorder of the small intestine caused by a gluten protein found in wheat. Natural Grocers' health coaches can offer product ideas and plans for better managing a gluten-free lifestyle.
"Part of our mission is for people to feel empowered to make informed decisions about their health and diet," Flynn says. "And that seems to be a trend with our society right now as well. It seems that more people want to take responsibility for themselves and their health care, whether they are a mom with children or a college student or a businessman."
For more information about Natural Grocers by Vitamin Cottage, call the store at (573) 445-6353 or visit naturalgrocers.com.