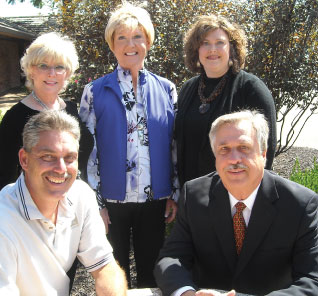 30 Years
House of Brokers Realty has been thriving in the ever-changing flow of real estate for the past three decades.
This September, the real estate firm celebrated a milestone 30 years in business. With a pledge to provide personal service and exceptional value and to be worthy of customers' trust, the company has helped residents in the Columbia area find homes since September 1981, when seven businesswomen founded the company.
"We had all been in different firms, and we thought it would be great to have everyone experienced under one roof," says Wanda Northway, one of the original founders of House of Brokers Realty. "We started out as equal partners, never dreaming about having a large firm some day."
Northway says during the planning stage for founding House of Brokers, "the market kept deteriorating. The interest rates by the time we opened our doors had gone to 15 to 16 percent and then went to 20 percent." It proved a challenge, but House of Brokers Realty was able to thrive in the high interest rates of the 1980s.
In 1990, House of Brokers Realty merged with Bulgin Real Estate and Stockton Real Estate. "They called us within two days of each other wanting to join our company," Northway says. With this merger, House of Brokers began to grow. In 1993, they built the building at 1515 Chapel Hill Road, and it has served as the business home ever since. During the dedication of the new building, House of Brokers invited the public to add pieces to a time capsule that was then buried in the grassy area in the parking lot.
"We have seen a lot of changes take place, but probably the current market is the most drastic I have seen," Northway says. "We are going through difficult times, but our attitude is positive. It is a time to adjust and continue to promote the growth of our community and the amenities we have to offer in Columbia."
Their mission to provide professionalism, ethical business and integrity and to function as a profitable business has seen House of Brokers Realty grow from the seven founders in 1981 to the current 65 agents and 11 staff members. Of the original founders, Northway and Carol Denninghoff remain with the company.
Timeline
1981 – Founded September
1990 – Merged with Bulgin Real Estate and Stockton Real Estate
1993 – Built current building (1515 Chapel Hill Road)
2011 – Named one of the Top 30 Places to Work in Columbia