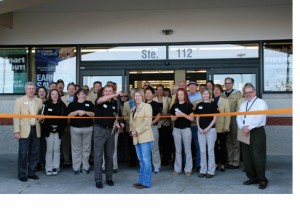 Columbia College has campuses on 35 cities throughout the United States; and until this fall, 28 of those cities were also home to the well-known Fortune 500 retailer, Big Lots. This November, that number jumped to 29 as the company celebrated the grand opening of its new location on Nifong Boulevard. Working together as business partners, Big Lots and Columbia College will give students the opportunity to gain real life work experience through the Store Management Internship program first piloted last summer.
Steve Fishman, Big Lots chairman, president and CEO, is a 1974 graduate of Columbia College. Fishman and Dr. Sean Siebert, assistant professor of business administration at Columbia College, began a business relationship in 2010 focused on service learning to provide a way for students to get valuable work experience while in college.
The pilot program was successful last summer; and Big Lots plans to hire 100 interns for the 2012 year. "This could be a really special program because essentially the internship is designed for non-traditional students—and that is rare," says Siebert.
The program will be a 10-week, 40-hours-per-week paid internship. Through the program, students will learn what is to be an assistant store manager for Big Lots. At the conclusion, interns will give a final presentation to corporate headquarters in Columbus, Ohio. "The true benefit is if the internship goes well, then they are walking into a career in a growing company with advancement potential," says Siebert.
As Big Lots continues to grow, the company uses the internship program as a "pipeline of talent," says Siebert. "My focus is on the intern as a real person, and I see this as an opportunity that has potential to change their life."
There is also a strong connection with the military and Columbia College, and Siebert believes this program would be good for those adjusting to civilian life. "My passion for this is it gives people an opportunity that they wouldn't have had otherwise," said Siebert.
"We are very excited about our relationship with Columbia College," said Tom Myron, vice president of region 7.  "We love the military affiliation and the satellite locations around the country. It provides lots of opportunities not only for the students, but for Big Lots, as well."
Big Lots is North America's largest broadline closeout retailer. Through sourcing excess inventory in highly branded, first quality merchandise, they are able to provide significant savings to their customers. Big Lots offers consumables, housewares, furniture and seasonal goods, and the inventory is ever-changing.
The new Columbia store is located in the Rock Bridge Shopping Center at 505 E. Nifong Blvd.