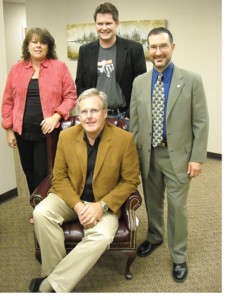 Traditional values and modern technologies have united to give Columbia a new type of realty company. Focusing on personal service, communication and technology, CoMo Realty has found a home.
Owners Steve Wendling, Scott Wendling, Donna Thompson and David Gaffney formed CoMo Realty in March and officially opened in April. The group wanted to create a different type of real estate business model that concentrated more on the needs of the client.
"In real estate, business isn't just business; it's personal," Gaffney says. "So we knew traditional values were crucial. And we recognized there was new technology that would allow us to spend more time individually with our customers and clients."
CoMo Realty strives to provide personal service and help people buy and sell homes based on their specific needs. To do this, they employ traditional values — communication, experience, education and relationships are of high priority. At the same time, CoMo Realty also uses the latest technologies to stay modern in working with clients. "It's challenging, it's hard, but we have a lot of fun doing what we do," Thompson says.
This balance of traditional business and modern technologies creates a nontraditional business model that keeps the CoMo Realty cutting-edge. "We believe that traditional values have not changed, but the strategies to support those values are constantly changing," Gaffney says. "CoMo Realty was formed to evolve with those changes."
Part of the emphasis on technology comes with CoMo Realty's vision that companies that are not able to keep abreast of changing technologies will take a backseat to those that do.
As for finding a niche in the Columbia real estate market, Scott Wendling says, "Every real estate company offers the same services, but it's how you offer them and how you conduct those services that set you apart."
CoMo Realty is located at 555 E. Green Meadows Road. For more information, visit comorealty.com.