Once an hour, the country music gets louder and waitresses start dancing next to diners' tables on a floor partially covered with peanut shells.
Evening dinner service is in full swing at the new Texas Roadhouse restaurant, which opened in mid-December at the intersection of West Worley Street and Stadium Boulevard.
The building that Texas Roadhouse calls home had been vacant since September 2010 when its former occupant, the Great Wall Chinese buffet, closed. Now the totally revamped restaurant provides casual dining and features hand-cut steaks and ribs served by waitresses trained to line dance.
It's "the atmosphere and the energy" that sets the restaurant apart from other steakhouses, says John Socha, managing partner of the restaurant chain's Columbia location. To create the "Texas" experience, he says, staff members had a weeklong orientation that included everything from how plates should look to food safety, and of course, how to line dance.
"Legendary food and legendary service — that's what we strive for," Socha says.
Texas Roadhouse wasn't born in the Lone Star state. The first restaurant opened in Clarksville, Ind., in 1993. Now the Louisville-based franchise has more than 300 restaurants, including one just opened in Dubai.
The restaurant's trademarks are modestly priced steaks. You can get a massive 18 oz. T-bone for $19.99, a 10 oz. rib eye for $14.79 or a half-rack of dry rub ribs for $12.29. Each meal comes with fresh-baked rolls, and all the peanuts that you can shell and eat.
Customers' wait times for a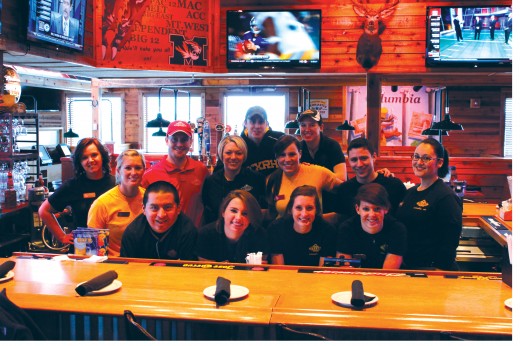 table drift into the hour-plus range most nights, and Socha says that's typical for new Texas Roadhouse restaurants. "Columbia is definitely a great choice," he says. Dinner service begins at 4 p.m. weekdays, and the restaurant opens at 11 a.m. on weekends for lunch and dinner.
Socha says the large evening crowds have prompted him to hire additional wait and host staff. The restaurant currently has 205 employees.
Socha, 43, and his wife and three daughters relocated to Columbia from Billings, Mont., where he managed the chain's location there for eight years. The move to Columbia gave him the opportunity to manage a larger restaurant.