90 Years
The history books describe it as a cold Saturday afternoon with a whistling wind. Buggies and cars were parked on both sides of the streets for blocks around. People squeezed inside the doorway, crowded through the main corridor and up the stairway.
It was Dec. 10, 1921, and mid-Missourians were arriving to see their Boone County Hospital for the first time. The guests admired the hospital's rooms, equipment, furniture and immaculately polished floors—all done in tile except for the X-ray room, which had a wooden floor to reduce the chance the operator would be electrocuted. This year, a similar celebratory feel is taking hold as BHC marks 90 years of service in mid-Missouri.
The story of Boone County Hospital actually starts in 1917, four years before the hospital's grand opening. That year, the Missouri General Assembly passed a law allowing counties to issue bonds to fund the construction of health facilities. Among the law's strongest proponents was Dr. Frank Nifong, who would later become Boone Hospital's first medical chief of staff.
With the law in the books, Boone County became among the first counties in the state to pursue constructing a hospital. On April 29, 1919, Boone Country residents approved a plan to spend $100,000 to construct a hospital.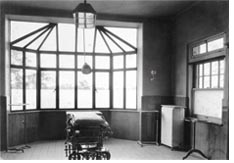 The first two patients arrived at Boone Hospital on Dec. 13 and 14. Then, on Christmas Eve, the hospital marked another significant event when the first baby was delivered at the hospital. David Etheridge became the first Boone Baby, born to William and Fannie Etheridge.
The original hospital building that opened in 1921 still stands as part of the hospital campus. It has been remodeled and expanded several times over the years. It is still in use.
Reflecting BHC's long history in mid-Missouri, the hospital was this year named to the Boone County Historical Society Hall of Fame. Dr. Nifong was also inducted into the hall alongside the hospital he helped found.