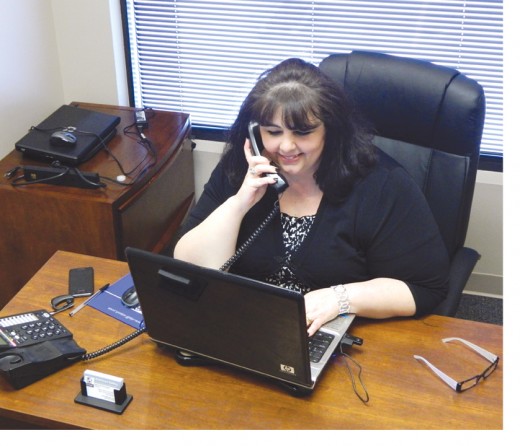 Melinda Finnegan, a University of Missouri graduate, has reintroduced herself to Columbia with the opening of a second office for her employment services business.
In January, Staff-Smart of Missouri and Staff-Smart Medical Staffing expanded west from Warrenton and settled into a new location near Columbia Mall. Finnegan and her husband, Jack, founded Staff-Smart Staffing in June 2010 and opened their first office in Warrenton to serve the business community in the western St. Louis area.
The Finnegans live in Columbia and chose to open a second office here because, Melinda Finnegan says, of the opportunities for growth. "Columbia is a wonderful location for staffing in so many ways," she says. "We have a major teaching hospital and Trauma 1 center, we have a great community hospital and we have great rehabilitation facilities, so choosing Columbia for my nursing division was easy.
"In terms of commercial staffing, we have numerous manufacturing facilities, major corporations for clerical and administrative work, and the city continues to grow and encourage companies to relocate to our area.."
Melinda Finnegan says she always wanted to own a business. "I grew up with my parents owning their own business, so it's just kind of been a natural progression," she says. Her late parents owned an executive placement firm, and she got her start in the business working with them.
Finnegan says her experience in direct placement, medical and commercial staffing gave her the confidence and experience to open her own business. What sets Staff-Smart apart from others in the industry is that it operates under two separate divisions: commercial and medical. The commercial division provides temporary staffing for businesses, industrial manufacturing and clerical work, and the medical division places registered nurses in hospitals, clinics and doctors' offices on a per-diem basis.
"We're unlike anyone else in the industry," Finnegan says. "It's not just about placing a person in a new job and filling an opening with a company. We talk to them, learn the culture and nuances of the companies and place the employee with the right employer, and we always follow up to ensure that both the employee and client company are happy."
Finnegan says she strives to make her business the best and most cost-effective staffing agency. She says this is achieved by not just knowing the employee's work skills and experience but also by being able to mirror the hiring practices and standards of her client companies.
"I love this business – it's very rewarding when you get that phone call from someone saying 'Thank you, thank you, thank you,'" Finnegan says. "That really makes a difference for me because I want to be able to help employees and my client companies."
Finnegan has more than 20 years of experience in the employment industry and uses that to serve her clients and employees. After graduating from the University of Missouri in the 1990s, she worked her way up through multiple companies in recruiting, sales, staffing, managing and eventually into a corporate position before starting Staff-Smart.
Staff-Smart of Missouri and Staff-Smart Medical Staffing
2401 Bernadette Drive
573-777-3956
www.staff-smart.com