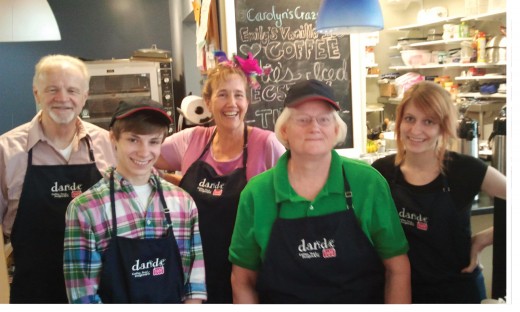 Those looking for a new place for their morning coffee will find that and more at Dande Café & Delights. The open and artsy café on Orr Street serves gourmet coffee as well as many healthy and tasty food options.
David Faust and Edie Diel opened Dande Café & Delights in early February. They offer gluten-free and vegan food options as well as traditionally made foods and coffee and tea. "David is constantly experimenting because he wants to have the best coffee and espresso in town," Diel says.
The couple retired to Columbia six years ago to be near family. "David remembered me saying, 'We'll retire where the grandchildren are,'" Diel says.
Diel's path toward wellness took a turn last year when she discovered she had to avoid gluten, which is a protein found in wheat, barley, rye, malts and triticale. After taking that out of her diet, she realized she also had to eliminate dairy products. "Needless to say, I found it difficult to ask my husband to pick up dinner on his way home," she says.
Diel and Faust saw a demand for grab-and-go gluten-free products in Columbia, and they began a discussion with the manager of the local Natural Grocers store about selling gluten-free food in the grab-and-go section of the store. They needed a commercial kitchen to make food to sell in the store and began looking for a place to set up operation.
The couple found an old café at 110 Orr St., and "David fell in love with the space – can you blame him? – and so we decided to open the café and produce food for the grocers," Diel says. Clovers Natural Market and Natural Grocers now sell their gluten-free products.
Diel says Dande Café & Delights strives to provide excellent service. "Our goal is to serve tasty food without additives or artificial flavorings but with a smile," she says. "All of our foods are made with wellness in mind — wellness of the soul and the body."
They couple say a good location and a helpful banker have made for a great experience in opening their business. "We were so fortunate to have found Hawthorn Bank," Faust says. "They have not only given us financial support, but mentoring and always with a smile."
Dande's location is set in a open and colorful setting in a space shared with a picture frame store, hair salon and dance studio. "You can watch the dancers as you enjoy our offerings," said Edie.
Dande Café & Delights
110 Orr St., Suite 101
573-442-8740
www.thedandegroup.com
Hours:
Monday–Friday
7 a.m.–3 p.m.
Saturday
8 a.m.–3 p.m.