When Terry Wilson and his sister, Tina Price, opened Wilson's Fitness in 1982, their goal was to create a welcoming, clean and well-operated membership club. But in an era when watching the latest episode of Three's Company was often more popular than exercising, it was a bit risky. However, for Wilson and Price the timing couldn't have been better. In fact, with their "something for everybody" philosophy, today they have more than 12,000 members. This year, Wilson's Fitness celebrates 30 years. With five locations, a wide variety of training options, lessons and cutting-edge machines, Wilson's provides a unique fitness experience for all ages.
The idea for starting a fitness club began when Wilson left college due to a football injury. With little knowledge of the business, he attended a seminar in Texas to become better educated about the industry. A month later, he and Price opened their first fitness club in the Forum Shopping Center, where, along with weights, they offered cardio equipment, including the first Stairmaster in Missouri. "At the time, no one had ever heard of the machine," Wilson says.
As Price and Wilson added new equipment and activities, the club's membership grew. Over time, Price bowed out of day-to-day management, and in 1996 Wilson hired James Dean Abrams as vice president of operations. In 1997 an additional facility was opened on Vandiver Drive, and within a few years Wilson's was a multi-location club. Today, this includes the MAC (Missouri Athletic Center) and FIT (Females in Training), as well as facilities in The District and on Rangeline. They also own the Beach and Tennis Club in the Highlands area and a facility in Jefferson City. Additionally, the Forum location hosts several local businesses, providing members one-stop convenience. Laura Lee's HealthyPLATE offers nutritional guidance and healthy food choices, and Peak Performance provides physical therapy. Workout gear is available from Ultramax Sports, tanning options from Tan Rio and beauty solutions from Revelation Spa and Salon.
New in the fall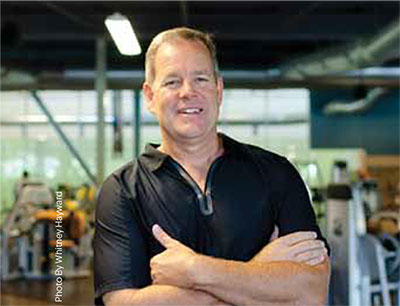 This fall Wilson's is launching an exciting new fitness center for kids in the MAC. "We want to give Mom and Dad a chance to bring their children to get active and to enjoy and appreciate fitness at a younger age," Abrams says. Also beginning this fall, the new yoga room at the Forum facility will offer 10 to 12 different yoga classes, including anti-gravity yoga; and for  corporate camaraderie and team coaching, as well as player development, Wilson's is building an outdoor obstacle course.
For Wilson, the past 30 years have gone by quickly. "We're seeing little kids that were on the swim team at the Beach Club that are now Wilson's members," he says. But when it comes to the reason for the fitness club's success, he accredits the staff, especially the management team. "Our management is the reason we've been able to grow," he adds. Abrams additionally gives credit to the club members. "We are very appreciative of the support of our members over the last 30 years," he says. "So we try to thank them every day by giving them the very best in services and facilities at our clubs; every team member cares about the members they serve."
On Saturday, Sept. 29, as an official thank you for 30 years in business, Wilson's will host a barbecue complete with balloon rides, races and a concert. "Not everything is set in stone yet," Wilson says, "but it will be a celebration, and the public will be invited. "
Wilson's History
1982 – Terry Wilson and his sister, Tina Price, open Wilson's Fitness Center in the Forum Shopping Center
1997 – A second facility opens on Vandiver Drive (which moves to Rangeline in 2010)
1998 – The Wilson Beach and Tennis Club opens in the Highlands
2000 – Wilson's launches the Jefferson City club on Country Club Drive
2007 – Wilson's buys Woodrail on Forum and opens the MAC and also FIT (Females In Training), a Wilson's club exclusive for women
2008 – Wilson's Fitness moves from the Forum Shopping Center to its current location next to the MAC/FIT
2010 – The District location is opened in a 120-year-old building at Orr and Walnut