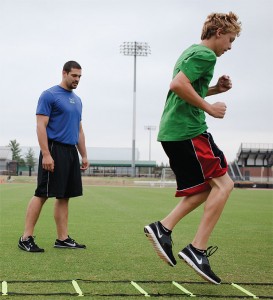 Garrett Holzum and Josh Ramsey are moving up in the world — literally. After running their business, Columbia Speed Academy, from the basement of an insurance building, these co-owners now provide strength and speed services in their own facility. And it's not just any run-of-the-mill arena. "This is exactly what we envisioned," Ramsey says. "We designed it, and it fits perfectly into the formula we want: We want kids to have fun, and when they come in here, we want them to have a good experience, but we also want them to be competitive."
In this spacious facility with AstroTurf carpet and speed-training equipment draped on the walls, young athletes can do exactly that. During one particular session, a teenage girl sprints forward on a self-propelled treadmill while the rest of her classmates twist and wriggle in exercises that strengthen their core. Jason Morris, one of the three highly decorated personal trainers, constructs new workouts daily so each session is fresh, engaging and tailored to that specific group of athletes. "When I create the workouts, I look at the basic things they need to become a better athlete," he says. "We train everything: speed, endurance, core strength, flexibility, balance, anything you can think of because we want to make our athletes the most well-rounded athletes that there are."
Finding success
Morris knows what a well-rounded athlete would look like because he, himself, is a jack-of-all-trades. In high school, Morris played football, participated as a thrower and sprinter on the track team and competed in gymnastics. His athleticism in track and field eventually brought him to the University of Missouri, where he earned All-American honors while studying strength and conditioning. Now he contends in the Show-Me State Games as a record-holding power lifter. As a knowledgeable trainer and experienced athlete, Morris expertly provides coaching to make kids physically and mentally tougher. "Whatever your goals are, it's our job to make sure you reach them," Holzum says.
To say they've been successful at their job is a staggering understatement. Since the Columbia Speed Academy has been in business, the staff has worked with 120 athletes and, to this date, has been able to boast a 100 percent success rate. Every athlete who participated in the program has markedly improved since setting foot inside the doors. Perhaps that impressive record can be attributed to the company's immense understanding of young athletes. "If you want to get the most out of them, you have to keep them engaged the entire time." Holzum says. "So it's very important to us to keep them engaged from the second they walk in the door until they leave."
As the only full-time facility in town that strictly focuses on athletic training for young athletes, the majority of Columbia Speed Academy's clients are teenagers, but the business also offers programs for college-aged athletes and adults. So if you want to maximize your potential and have fun doing it, hurry over to the Columbia Speed Academy, and learn from the best.