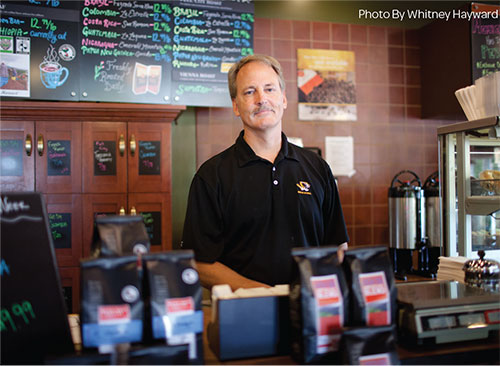 The smell of freshly roasted coffee beans from around the world greets you as you walk in the door. You can't help but want to order a tall cup of Joe, sit in a comfortable lounge chair and enjoy the friendly atmosphere at Dunn Bros Coffee.
Customers have been drinking Dunn Bros coffee for 25 years now, and it all started in the Twin Cities of Minnesota — Minneapolis and St. Paul — with brothers Ed and Dan Dunn. The philosophy they started with 25 years ago still applies today: Community and fresh coffee are made for each other.
All about the roast
Ed and Dan opened their first store in 1987 with a 12-kilo Probat roaster in St. Paul and opened their second location five years later in downtown Minneapolis. Now there are about 85 stores from Minneapolis all the way down to Houston that are each independently owned by people who have a special place in their hearts for coffee.
Andy Vercelli owns the Dunn Bros shops in Columbia and Jefferson City. "The people who own these shops love and care about coffee and what they do, and that comes through in the product," he says.
Dunn Bros offers coffees from countries around the world, including Colombia, Costa Rica, Brazil, Ethiopia and Sumatra. Dunn Bros also offers micro-lots, a small amount of a good grade of coffee bean only sold for a limited time. For the business' 25th anniversary, customers can purchase a special blend from the Jamaica Blue Mountains.
The secret to fresh coffee is roasting it at the coffee shops. "Every store has roasters, and they're roasted fresh every day," Vercelli says.
A global outlook
The coffee Dunn Bros sells is purchased through a fair-trade agreement or bought directly from the farmers. A fair-trade agreement is one in which farmers agree to certain standards set by third-party organizations such as UTZ and Rainforest Alliance. Dunn Bros helps the farmers grow better coffee crops, which gives the farmers a better livelihood and makes the customers happy, too, because they are receiving an excellent product.
In 2009, Dunn Bros worked with the Kenyan government to set up water and electricity in the region of Gatanga where they installed an aquapulper, which separates the coffee cherry from the coffee bean. "The machine used about a third of the water than it did the old way and reduced the process from several days to three hours," Vercelli says.
In addition to helping coffee farmers internationally, Dunn Bros stores are involved in their own communities. "In Columbia as well as Jeff, we work with a lot of churches and organizations and the university as far as helping them sponsor certain events and providing products," Vercelli says. "We've done a lot of donations for a number of charities and races and that kind of stuff, and that's all part of becoming involved and keeping in line with our philosophy as well."
Also part of the company's philosophy, Dunn Bros stores work to blend in with the towns and cities in which they are located. "No two Dunn Bros look the same as far as the stores," Vercelli says. "Some are modern, some are built into old buildings or gas stations or whatever it might be, and they fit into the neighborhood and become part of the neighborhood."
Ed and Dan's philosophy of coffee combined with a friendly atmosphere and ties to the community are the reasons why Dunn Bros has reached this mega milestone. When you go into Dunn Bros for your morning java, make sure to give them a toast with your freshly roasted coffee, and wish Dunn Bros a happy 25th birthday.