Shakespeare's Pizza opens its third Columbia location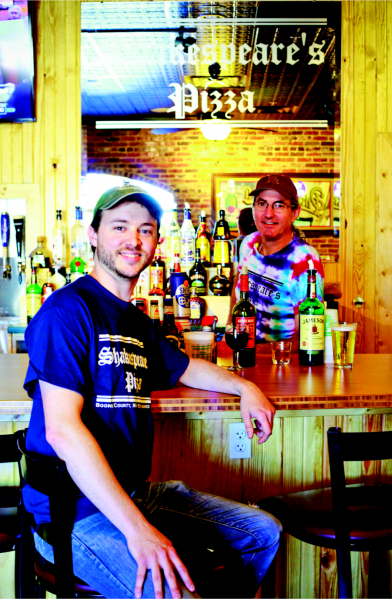 In July, Shakespeare's Pizza opened its South location on Peachtree Drive with little more than a curbside sign, yet customers still showed up in droves. It's not surprising for this Columbia restaurant, whose unconventional approach has made it a hometown favorite since the 1970s. Now with three locations, Shakespeare's continues the tradition it started 39 years ago of delivering so much more than pizza.
Shakespeare's opened on the corner of Ninth and Elm streets in 1973. It was only an entryway sandwiched between two businesses, but it soon made a name for itself, especially with the college crowd. It was the following year, however, when current owners Jay and Nancy Lewis bought the pizza delivery business. According to Shakespeare's General Manager Kurt Mirtsching, "Jay walked into a bar one night and walked out owning Shakespeare's."
From then on, the business' popularity grew, and so did its square footage. By the mid-1980s, it had expanded to include the entire brick building on Ninth Street. With table service, a laidback atmosphere, humorous advertising and its famous thrown dough, it became a major hangout in downtown Columbia. In 2003, Shakespeare's added its West location on Broadway.
Success in consistency
Bryan Simmons, general manager of Shakespeare's South, says the business' success is based on consistency, especially in regard to employees. "This place works because employees like sticking around, and they work their way up," he says. "All management started out washing dishes and wiping tables."
Mirtsching recalls his pizza delivery days in the late '70s. "I had a 65 Pontiac and a 250 Kawasaki for nice days," he says. Mirtsching agrees that learning the business from the ground up is important to understanding the Shakespeare's philosophy. "We don't know what 'it' is, but for somebody to get 'it,' they have to work here for a while."
As a result, the hiring process is a bit picky. "We're a company where we're told to take care of the customer," Simmons says. "So we want to hire people who smile and talk. You can teach anyone to make a pizza."
Mirtsching agrees. "We spit employees out like watermelon seeds if they don't tow the line. There are certain things that must be done a certain way." Shakespeare's, in turn, works hard to provide a fun atmosphere that encourages employees to be themselves. For instance, the business has a dress code, but it doesn't have uniforms. It also has contests, such as a recent one at the West location to see who could come up with the quirkiest way to answer the phone.
Mirtsching and Simmons say the unique atmosphere is why they enjoy coming to work every day. "I love the carefree and relaxed environment," says Simmons, who is going on 14 years with Shakespeare's. Mirtsching, who's been there 34 years and counting, feels the same.
"We've been at this for 39 years," he says. "I think it was year 32 when we finally wrote down the recipe."
Mirtsching says he appreciates that Shakespeare's operates differently from most restaurants. "Nothing was thought of by a focus group in Scottsdale," he says. "We come in the morning and do what needs to be done each day. There's no six-month plan, no five-year plan. We've always tried to be the dorm room where everybody wanted to go."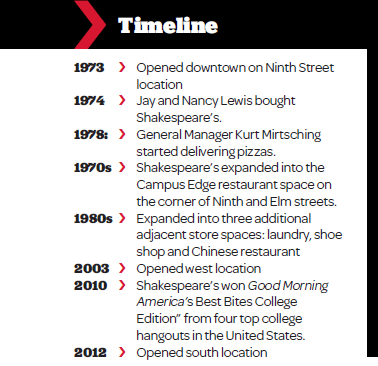 They come for the pizza
Today, Shakespeare's offers customers three dining choices: Downtown, West and South. All three have video games, merchandise (from T-shirts to cup cozies) and offer a new 12-inch gluten-free pizza. The Downtown and South locations also have bars. Simmons says children visiting the South location should also try to find "the secret." (Here's a hint: It's somewhere on the wall.) Customers can also buy frozen Shakespeare's pizzas from dozens of grocery stores between St. Louis and Kansas City. But according to Mirtsching, nothing beats a piping hot Shakespeare's pizza, the way they've always done it.
"We cook pizzas right on the stone deck of the ovens, which gives that crunchy, crackly texture of our crust," he says. "You can't get that with a conveyor oven."
Above all, Mirtsching says he just wants everyone to come, have a good time and experience what makes Shakespeare's unique. "There's a culture, a natural outgrowth of what Jay and others throughout the years thought was the thing to do," he says. "There was no plan. We showed up and did what we thought made sense. So now we're trying to figure out what 'it' is, so we can keep doing it."