Nutrishop helps Columbia live healthier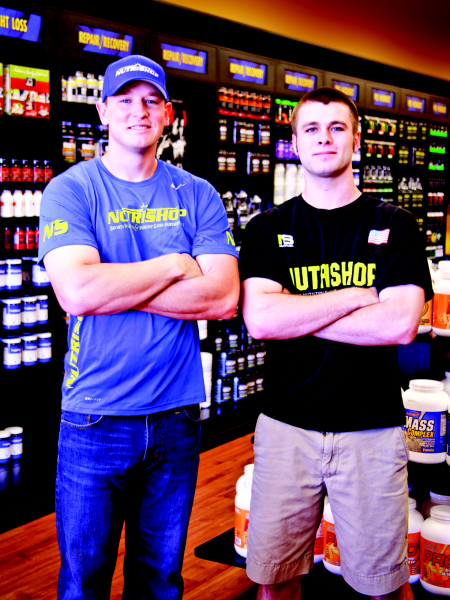 THE FIRST TIME Justin James came to Columbia, he was chasing his dream of being a collegiate baseball player. The second time he found himself in this town, he was chasing after his dream girl.
Originally from Oklahoma, James traveled the country while playing big league baseball for the Oakland Athletics and Milwaukee Brewers, but after eight years in the pros, he called it quits due to a back injury. When his back failed, he followed his heart; he credits Lindsey Hunter, University of Missouri assistant volleyball coach, with luring him back to Tiger territory.
Now James gets to pursue his next dream: owning a nutrition shop. Three months ago, he unlocked the doors to a sports nutrition and weight loss superstore with his brother, who currently plays professional baseball for the Miami Marlins. "What a great town to open up a nutrition store," James says about the Nutrishop, located on North Stadium near Dick's Sporting Goods. "It is such an active town. We've got Mizzou sports and tons of cyclists, triathletes and runners."
With an extensive inventory and focus on customer satisfaction, Nutrishop aims to be an asset to all Columbia residents seeking a healthier lifestyle. Walking through the doors, customers are greeted by row after row of the nation's top brands of proteins, muscle optimizers, weight gainers, fat burners and fruits and greens. Upon closer inspection, they'll find noticeably low rates as the Nutrishop seeks to demolish Internet pricing and competitor costs. James offers a 15 percent discount to students and customers who have a membership to Anytime Fitness, and he gives away free T-shirts and shaker cups with all purchases. The Nutrishop also provides meal plans and workout agendas specifically tailored to the needs of each individual.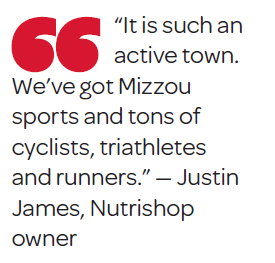 Through his experiences with sports and his passion to help others, James knows how to catapult people toward achieving their health-related goals. "I enjoy helping people out," he says. "After my baseball career, I really wanted to give back to the community, and when people keep coming back to our store because they're seeing results, that's what I'm looking for."
James finally caught up with his dream girl and they are both avid consumers of the Nutrishop products and acknowledge the supplements as aides to their success. "I was able to achieve my goals from these products in Major League Baseball," James says, "so I know that the quality is there."