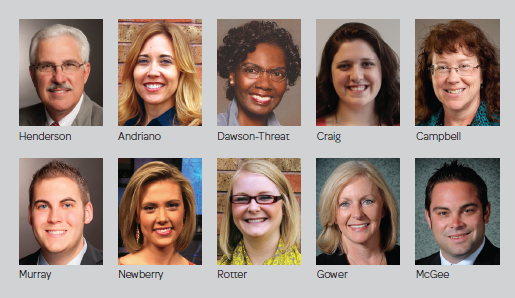 ---
Movers
>>

Joseph Henderson
Boone County National Bank hired Henderson as the bank's executive vice president and chief credit officer. Henderson, who was most recently market president of Providence Bank in Jefferson City, joined the bank on Sept. 24.
>>

Deb Bhattecherjee
Bhattecherjee joined the team at 3 Interactive as an account executive. She will be working with national clients and advertising agencies on their digital campaigns.
>>

Krissy Van Dalsem
Dalsem joined 3 Interactive as office manager. She has two years of management experience and will help 3 Interactive in the accounting and HR departments.
>>

Chelsea Andes
Andes joined the 3 Interactive team as account manager. She will assist in digital campaign execution and publisher development.
---
Shakers
>>

Nathan Hill
In his new position as hunting product line manager at MidwayUSA, Hill will be responsible for the sales, margins, product mix and product information relating to the hunting product category.
>>

Ryan Euliss
Boone Electric Cooperative named Euliss chief financial officer. Formerly, Euliss was Boone Electric's manager of engineering and technical services.
>>

Andrew Petri
Boone Electric Cooperative named Petri the new manager of engineering and technical services. Petri has been Boone Electric's system engineer since April 2002.
>>

Janice Campbell
Landmark Bank promoted Campbell to bank officer, real estate loan processing manager. In this role Campbell is responsible for overseeing the processing, underwriting, closing, investor delivery, funding and shipping of real estate loan transactions companywide.
>>

Alisha Moreland
Landmark Bank promoted Moreland to bank officer, marketing specialist. As the marketing specialist, she manages the creative development and graphic art production for Landmark Bank.
>>

Reed Murray
Landmark Bank promoted Murray to assistant branch manager. His primary role will be to manage the day-to-day operations of the Teller Line, including staff development, and act as the primary customer service representative who is responsible for all new account openings.
>>

Rosie Newberry
Newberry, a member of KOMU 8's Live Doppler 8 First Alert Weather Team, recently began serving as the station's daytime weathercaster. She will provide forecasts and weather information during KOMU 8 News at noon and 5 p.m.
---
Appointments
>>

Caroline Gower and Travis McGee
Callaway Bank Market President Gary Meyerpeter announced the appointment of Gower as advisory board chair and McGee as vice chair. Gower, a member of the board since 1999, owns and operates Caroline & Co. Staffing Services in Columbia. McGee is the owner of Certified Realty Inc. and THM Investments.
---
Awards
>>

Dorina Kosztin and Kathleen Kerr
The Missouri Academic Advising Association recognized Kosztin, a teaching professor in the department of physics and astronomy, and Kerr, an academic adviser for academic exploration and advising services, for their work in advising students at the University of Missouri.
Are you or your employees making waves in the Columbia business community? We want to hear about it. Send us your news to editor@comocompanies.com