THOUSANDS OF DIAMONDS sparkle in glass cases lining both sides of Buchroeder's Fine Jewelers' long and narrow shop. Old carpets and wood details are a reminder of how long Buchroeder's has been a downtown staple. Since 1908, it has claimed a spot at 1021 Broadway, and though some things never seem to change, others get better with age.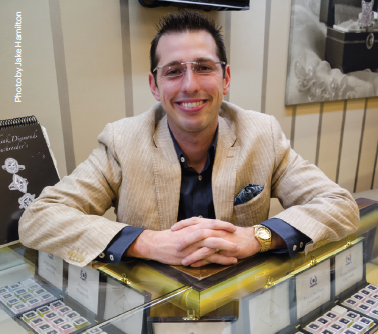 In September, Buchroeder's was ranked No. 3,757 on the Inc. 5000 list of the fastest-growing private companies in the United States. Columbia-based True Media and 3 Interactive were also named to the list. For the past three years, Buchroeder's has had an impressive growth rate of 44 percent, and its revenue reached $4 million.
Owner Mills Menser says this is an astonishing growth rate, particularly for luxury goods, which have taken a substantial hit during the recession.
"It's something we've worked hard to do," the young owner says of the accomplishment. "Most of the other companies on there were new and experiencing takeoff growth."
Business with a history
Buchroeder's has been around since Otto Buchroeder started the business in 1896, and it was purchased by the Menser family in 1973. Menser attributes the recent growth to a retooling of the business model to suit tough economic times.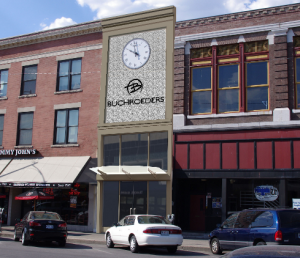 "Bridal is recession-proof," Menser says. "People will still love each other and want to get engaged." Buchroeder's inventory is 80 percent bridal — three or four times that of a typical jewelry store.
In addition to a focus on bridal, Buchroeder's aims to combine wholesale pricing with a luxury experience.
When couples come in to pick out wedding rings, Menser says they are offered anything they could want. "Beer, wine, anything," he says. But that philosophy — one of erring on the side of generosity — expands beyond serving alcohol to emotionally charged lovebirds.
A few years ago during downtown's annual Dog Days of Summer sale, a flustered cashier accidentally rang up a pair of $296 pearl earrings for $29.60. After realizing the mistake, the employee frantically called the customer to retrieve the earrings. When the man finally came back to set everything right, he was so upset with the situation that he told Menser he only wanted to return the earrings.
"I gave him the refund and then pushed the earrings to him across the counter," Menser says. "He said, 'I don't think you understand…' and I told him it was our gift to him for his trouble." The man left so impressed that he is now a repeat customer.
As Menser recalls the tale, other employees chime in with their own stories, such as driving across the state to Kansas for a customer.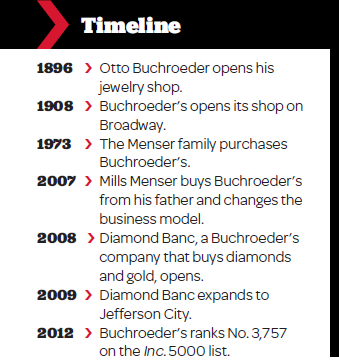 Growth in a timeless trade
Although Buchroeder's is willing to make expensive concessions to benefit its customers, a second pillar of its business model is to get diamonds on the cheap.
"We buy a lot of diamonds from jewelers and manufacturers that are liquidating their inventories," Menser says. Rather than buying them from the source, Menser has found this method less expensive. Often, they buy from individuals, too.
"Diamonds can't be pre-owned because they're millions of years old," he says. "They've been owned by lots of people, but they really just belong to the earth."
Despite the timelessness of a diamond and the timelessness of his trade, Menser continues to move forward. A remodel of Buchroeder's downtown space is scheduled for next year.
"It will be the Apple store of jewelry stores," Menser says of the all-glass, high-tech plans. The old carpets and wood will be gone for good.