WALKING INTO THE FUTURES LAB at the University of Missouri's Donald J. Reynolds Journalism Institute, you might think you have mistakenly walked onto a Star Trek movie set. As you look around the room, you see a student using his body as the controller to play a video game while another student furiously arranges information on a touch screen as she constructs applications. This is the new classroom for the digital age, a place for students to learn about and ultimately help define the applications they use every day on their smartphones and laptops.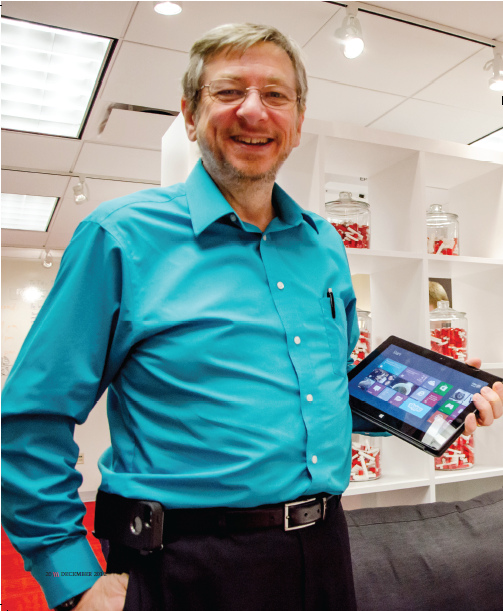 The Futures Lab, an application development and testing site powered by Microsoft, is indicative of the school's interdisciplinary commitment to problem solving. "What we've been trying to do for the past five years is focus on how we can use new technologies to help journalism, to make the industry more robust," says Mike McKean, associate professor and director of the Futures Lab. "One of the ways we wanted to do that is to work with media and technology partners."
As Microsoft works to cut into Apple's market share with the release of Windows 8, the company sees a unique opportunity to partner with the school to get feedback from students on their product. Microsoft agreed to spend more than $100,000 to build and equip the lab, in addition to providing a salary for an on-site staffer to assist students. "Microsoft has obvious interest in getting young people who tend to have a lot of mobile technology on them to want to use their mobile technology. …Journalists want to know if this new Microsoft platform is going to work for them" McKean says.
Students who use the lab have the opportunity to work with state-of-the-art products provided by Microsoft, such as smartphones, tablets and Xbox Kinect. The goal, as McKean says, is for students to enter an "immersive" atmosphere where they can experiment with various applications and hopefully create applications tailored to fit their needs as journalists. This experimentation has inherent entrepreneurial implications, which is championed by the school.
"Students get a chance to connect up with other people who are interested in doing technology-related work, people who want to take these ideas and develop them on their own and maybe even stay in Columbia when they do it," McKean says.
The local business community will also be engaged with the Futures Lab. Local organizations will use the space as a place for meetings, and local startup companies will also have the opportunity to work with students to help them develop applications for their businesses. All this synergy has McKean excited about the potential of the lab. "Students are going to get a chance to see they can invent their own future and their own products and not just work for the legacy companies," he says.