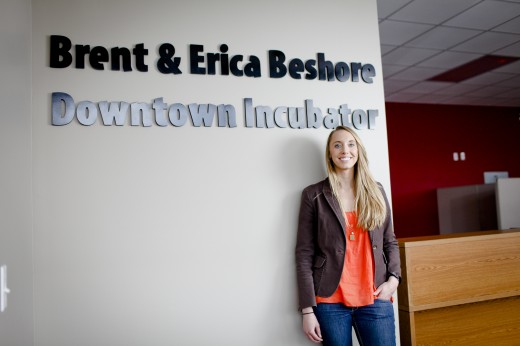 Columbia's League of Innovators provides modern and affordable working space for the city's entrepreneurs
Starting a successful company is more than a great idea. It's gathering investors, organizing a business plan and maybe creating a little buzz. For a newly formed community, perhaps the most difficult part of all this planning is finding an affordable place in which to work. The League of Innovators has made it their personal mission to make starting a business in Columbia more accessible by providing modern and affordable working environments for budding entrepreneurs.
A year and a half ago, the League of Innovators opened Museao, a multipurpose facility with expansive open space and modern amenities. The office looks transplanted straight from a trendy Silicon Valley startup; groups of two and three can be seen scattered around the space, some in chic private conference rooms, others on modern couches, all underneath a high-rise ceiling.
But according to Director Heidi Fuhrman, a contemporary office space is only a small part of what the League of Innovators is offering the Columbia business community. More than 11 companies conduct business at Museao, which allows for mutual collaboration.
"We come together and work on a lot of projects," Fuhrman says. "A lot of times, when you need an expert to talk to, those experts could be just across the building. We're not working for the same companies, but we can come together and bounce ideas off each other."
The League of Innovators is hoping to bring that same group dynamic to its Downtown Business Incubator, which opened last month in the first level of the new downtown parking garage. Fuhrman believes the economic space will open doors for entrepreneurs, who might still be working from their homes and are missing the necessary amenities for conducting business. The Downtown Business Incubator has more than 30 desks, two conference rooms with video conferencing capabilities, business consulting opportunities and wireless internet. The space is also open 24 hours a day, which benefits those who still have full-time jobs. By offering the space for only $150 a month, Fuhlman says the Business Incubator is accessible to business people at all stages of development.
Earlier in the month, the Business Incubator had its first ribbon-cutting ceremony with Caroline Leemis Design, a design firm that focuses on commercial and health care interiors. Westminister Center recently began using the space for its Engaging the World program, which instructs international students in gaining entrepreneurial skills. The League of Innovators is hoping to diversify even further in hopes that the community within the office space will be an environment where renters can learn new skills and trades from one another.
The Como Coffee Club, founded through the Business Incubator, started Dec. 12 and will continue on every second Wednesday of the month. The gathering is sponsored through Kaldi's Coffee and open to potential Business Incubator applicants and those interested in entrepreneurship. Gatherings such as this are essential to the League of Innovators' objective goals, wherein bouncing ideas off other self-starters is key to starting a successful business.
This passion for learning is one of the driving forces behind the League of Innovators; by giving new businesses the opportunity to get a foothold through educational programs, they believe they can foster a growing Columbia community.
"There are a lot of exciting things happening in Columbia, and we want to connect people with the areas that interest them," Fuhrman says. We're figuring out what it's like to fill a role in this area, and we're hopefully working toward building a more successful entrepreneurial community."