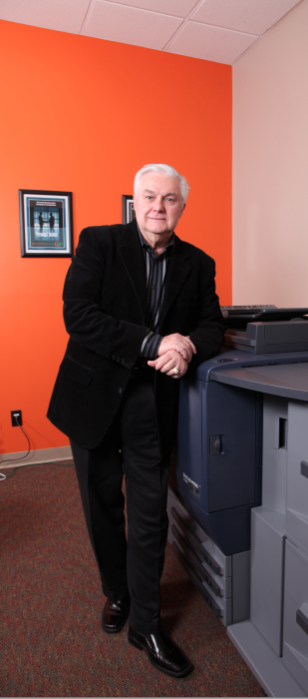 John Graves resurrects the ideal and demand for paper with Minuteman Press
In an age when bookstores go bankrupt and mail is delivered through cyberspace, it seems as though paper will soon become nothing more than a fossil. Constantly, the earth adopts new aspects of the future, and we watch with anticipation as the world before us transforms into a technological era never before seen in history. Yet the rivalry between paper products and electronics seems like a tragedy. Thus, in the previous 20 years, digital printing has combined both fields and grown $10 billion.
Perhaps for all those reasons, John Graves purchased the Minuteman Press, a franchise offering digital printing, and planted it in Columbia. Prior to becoming an entrepreneur, however, Graves spent 35 years as a hospital CEO and a much shorter amount of time in retirement. "I went from a high pressure job to doing nothing, and it was just quite a letdown," Graves says. "So I decided I'd find something to do. I wasn't ready to just sit at home."
The restless retiree spent his remaining downtime researching available franchises to build in Columbia. After sorting through several fast food chains and a company that provided handicapped accessible services, Graves landed on Minuteman Press. This international franchise has been in existence for nearly 40 years and has acquired almost 3,200 branches across the globe. "I thought this would be good, clean work," Graves says, "and it's an international franchise, so there's lots of resources."
So Graves eagerly erected Minuteman Press in Columbia and resurrected the ideal and demand of paper once again. The building sits at 2511 Bernadette Drive, across from the mall. From bindings to business cards, Minuteman Press provides an extensive amount of printing products and services to businesses around the area. "I looked all over town, but there wasn't anybody doing printing on this side of town," Graves says. "So I thought it would be nice to have a printer over here."
He was right. In an area consisting of about 7,000 businesses, Minuteman Press has ample opportunity to find clients. In fact, since its opening on Oct. 14, 2012, Graves has obtained 200 to 300 customers, including Joe Machens Ford and Kelly Services. "We've been really fortunate so far," Graves says in his friendly Southern accent, originating from Paducah, Ky.
Like any blossoming endeavor, there are new tasks and responsibilities to undertake. Besides running the business, Graves makes deliveries and cleans the facilities. "It's a little different than being CEO," he says. "I tell everybody I used to delegate. Now, I still delegate, but it's to me."
Graves used to manage hundreds to thousands of employees; now, Minuteman Press only has three people on staff. Josh, one of the workers, is a graphic artist who Graves says is brilliant with design. The other, Graves' 27-year-old son, is a commodity to the marketing aspect of the business. With this team, Graves has excelled during every moment of his post-retirement life. "It's a nice store, a nice shop," he says. "We've been really successful at competing on price and quality, too, so I'm pleased with it."