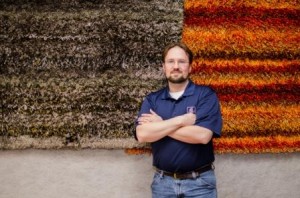 "We educate the customers enough so that they feel confident in what they purchase." — Scott Bradley, vice president, Carpet One
Gingerly, you walk the creaky planks as they moan mournful goodbyes beneath your feet. Time is running out. A replacement must be made before your only ground gives way, but the overwhelming mission of finding new flooring may be crippling. "Floor covering is more complicated than the average person thinks it is," says Scott Bradley, vice president of Carpet One. "The most important thing a customer should consider when looking for new flooring is their lifestyle: the size of their family, their pets, how they entertain, the kind of look and feel they want in their home, their environmental values. It's very complicated, yes, but we try to ask our customers a lot of questions to make discoveries." So, instead of browsing through the thousands of products in stock, a quick conversation with a staff member can direct customers to the flooring that will fit them best.
Despite its many locations throughout the nation, Carpet One is a not a franchise. Instead, the company is a cooperative of independent business owners, which allows entrepreneurs to begin and develop each branch. In Columbia, Carpet One dates back to 1968 when two hard-working young men took over what was then the House of Carpet Inc. At the time, the partners performed every single task, from measuring each job and cutting the carpet, to delivering the product, to keeping the books. It remained that way for decades until owner Mike Trittler joined Carpet One's cooperative in the early '90s.
Located at 105 Business Loop 70 E., Carpet One now has several teams to focus solely on sales, operations and installation. Yet, the Trittler name remains an integral part of the company's achievement. "The key to our success starts with Mike and Karen Trittler," Bradley says. "Mike is a true entrepreneur, and he's a visionary."
He's a visionary indeed. At lunch one afternoon, Trittler turned his napkin into the future of Carpet One. Within the span of a lunch break, Trittler had sketched the design that would soon become the current layout of the building. Back then, warehouses dominated most of the space. Now, due to Trittler's creativity and ambition, Carpet One hosts a spacious showroom for each floor surface, including its crown jewel tile showroom that no other business in Columbia can rival.
Thousands of products are displayed for customers to examine with their eyes and fingertips, which allows customers to interact with potential purchases and also helps the staff educate clients and perform hands-on demonstrations. "Karen keeps everything neat and orderly," Bradley says. "The products are all in a logical, easy-to-follow sequence for customers."
Customers no longer have to do their own research and hope they make a savvy investment. Due to the diligence of the sales associates, operations team and installation professionals at Carpet One, all the customers must do is walk through the doors. "I'm really surrounded by great people, very mature staff," Bradley says. "We educate the customers enough so that they feel confident in what they purchase." The Carpet One team will even visit the site before any transaction is made to evaluate the customers' homes and ensure they have a suitable environment for their the desired flooring. Then, the team will deliver the product to its destination free of charge.
To top that off, many of Carpet One's products are covered by the Beautiful Guarantee, which allots a certain time period for the customer to decide if he or she likes a new floor. If for any reason the customer decides he or she would prefer something different, Carpet One will replace it without hesitation. "Our goal is to make customers for life," Bradley says. "So it's very important that they have a good experience because people don't always remember what you say, they might remember what you do, but they never forget how you made them feel. So I just want to leave people with a good feeling about our business."