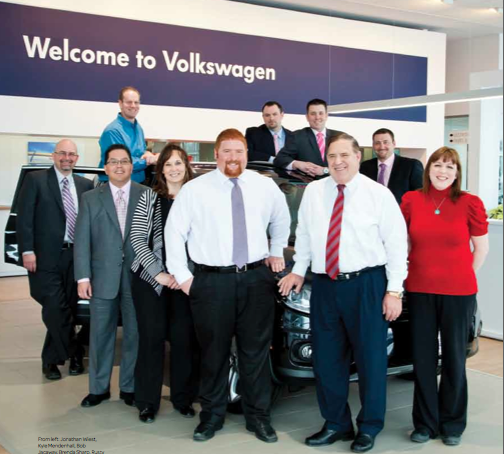 More than a year ago, Joe Machens proposed to Volkswagen. Joyfully, she accepted his offer, and the engagement period ensued. Within one year, a home was erected so Volkswagen could move in. Then, finally, in November 2012 they made it official by tying the knot. "We look for great things," President Gary Drewing says. "We thought that Volkswagen and Machens would be a great marriage."
In fact, the marriage couldn't be more perfect. Within the first two months of business, the Volkswagen franchise at Joe Machens outsold all other competitors across three states. Yet, after dominating dealerships in Missouri, Nebraska and Kansas, Drewing predicts things will only get better with time. "It's gotten off to a great start, and as time goes on, we think it'll even get stronger," he says. "It's just phenomenal how mid-Missouri has reacted to this thing. You don't usually see that for a car franchise, but Volkswagen is a little bit unique, and there's a lot of people that love their VWs."
A perfect fit
For decades, Volkswagen was known for its beloved production of automated Beetles, but the company sought to increase the volume of products by adding vehicles such as the Jetta and Passat to its lineup. "Those are two great vehicles that are priced right," Drewing says. On Machens' lot, 2013 Volkswagen Passats are priced as low at $21,910, and the Jetta sedans start around $18,840.
But price isn't the only attractive factor about these vehicles. "The engineering, the quality, the MPG, the whole thing is great," Drewing says.
The additions not only expanded the VW product line, but they broadened its consumer market as well, which caught the attention of the Machens president. "They're adding production to their lineup, which has always been Joe Machens Dealership's philosophy," Drewing says. "So we think it's a perfect fit."
Machens has been located in Columbia for 43 years, but Drewing joined the squad in 1983. Back then, there were only about 30 people on staff. Thirty years later, Machens houses a dozen franchises and nearly 900 employees, who, according to Drewing, all have a true passion for the car industry. "We eat, sleep and drink the car business," he says. "The most important thing to us is people, and I think we've put together a great staff from top to bottom. I always say to be successful you have to have the right attitude, work hard and put the right people in the right spots."
Committed to satisfaction
One of those people in the right spot is Drewing's own son, Rusty Drewing, who is the owner of the Volkswagen franchise. His work ethic and comprehension of the car industry are two of the reasons why the franchise has exceeded expectations, Gary Drewing says. "He's done a phenomenal job. As a young man, his understanding of the automobile industry is quite high."
His son is not the only contributor with a fierce competitive edge and a passion for Volkswagen. Drewing also praises the service and parts departments. "So when somebody buys a Volkswagen, I think they're going to find that the people they deal with are totally committed to them and their satisfaction," he says.
Although finding the right car can feel like an overwhelming task, Joe Machens works to alleviate some of the pressure by presenting a welcoming environment. At the center of the main foyer, a popcorn machine and cotton candy maker invite customers to fill themselves freely. Automobiles sit inside the building so people can inspect the products without going outside, though, like every other Machens franchise, Volkswagens also hosts a wide selection on its lot.
Offering both pre-owned and new vehicles, Joe Machens Volkswagen aims to sell 100 of each every month. Thus, there are always fresh makes and models to provide the consumer with the most comprehensive shopping experience. "So if you're looking for a great deal and you're wanting to look at a lot of cars, you're always going to find it at Machens or Machens VW," Drewing says. "It's a homerun in our opinion."