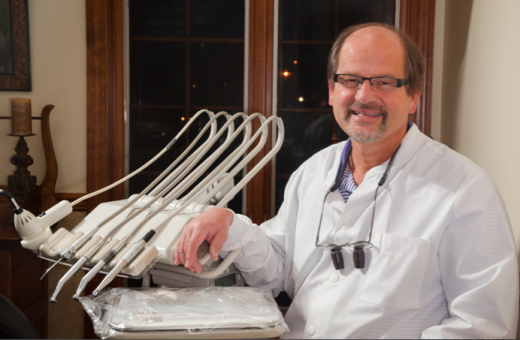 Dr. Kent willett. Photo by Jake Hamilton.
Photos of family members line the cozy fireplace mantel in the inviting waiting room at Dr. Kent Willett's dentist office. A large striped sofa and two armchairs huddle around the fireplace as easy piano music lingers through the speakers in the warm beige walls. Willett points one by one to the pictures; he names a co-worker's smiling son before moving on to the next photo of a staff member and his wife holding their baby girl.
To Willett, the office is like a home, and this summer a new colleague's photo will be added to the family collection. In June, Chase Patton will be named partner at Willett's practice. He and his wife, Ashley, will work in the office together: Chase as an associate dentist and Ashley as a hygienist. With Chase Patton's hometown connections, the transition back to Columbia should be a smooth one.
"People know him in the community because he played football [as a quarterback] at the University of Missouri and played football at Rock Bridge High School, so he will have his own following of patients who will want to see him," Willett says. "I'm helping them get started so when I start to phase out, they will take over the practice eventually."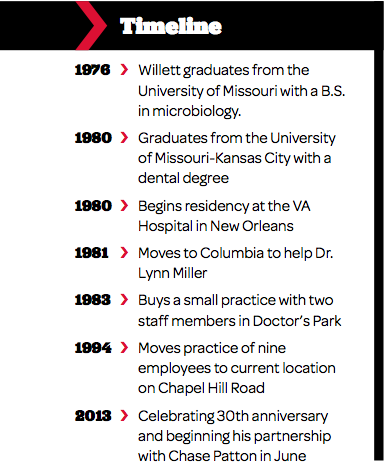 In capable hands
The choice was easy for Willett, who has known Patton for about 10 years due to mutual friends and a shared faith at Woodcrest Chapel. When Patton decided to pursue dentistry, he approached Willett and started shadowing at his practice. After graduating from the MU in 2008 with a B.S. in biology, he followed Willett's route and went to earn a dental degree at the University of Missouri-Kansas City, where he plans to graduate this May.
"I knew he was getting out of school, and I knew he was the fit," Willett says. "It's kind of like getting married. It's not about when; it's about choosing the right person."
The partnership experience will benefit both individuals. Patton, for instance, will have the opportunity to learn about the business. "I'm looking forward to picking [Willett's] brain because he's definitely got some wisdom when it comes to the dental field," Patton says.
On the other side, Willett will gain the security of knowing his practice will be in kind and capable hands when he decides to retire. "I'm excited about having a godly young man who can take care of people and who will love people like they need to be," Willett says. "He's very humble and gentle, and patients will feel the same way about him."
Returning home
Although Patton's homecoming mainly affects Willett's practice, it also says a lot about Columbia. The city has been known, business-wise, for its healthy, thriving economy. This is among the reasons why Columbia natives tend to return.
"I think it's great for the community when a young man is raised here and then comes back to work here; that doesn't happen in a lot of cities," Willett says. "That says a lot for Columbia, that it is still a family-orientated, wonderful place to live and work."
To Patton, the partnership is yet another tie to the people and town that he grew up with and continues to love.
"It's more than just job," he says. "That's what I got into dentistry for: to be a part of the community."