In the winter of 2000, Gerald McKinney took his first leap. Since moving to Columbia earlier that year to work at University Hospital, McKinney had begun spending his evening transferring home movies of his children into digital formats to share those precious memories with his wife's family in Mexico. He soon saw the potential for a business stemming from his hobby and started his first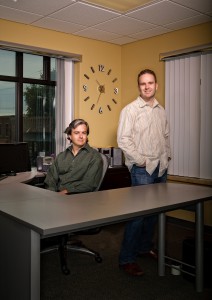 company, Home Movie Depot, in December.
Over the next few years, Home Movie Depot expanded rapidly, with sales growing more than 50 percent a year. In 2001, McKinney quit his job at the hospital to focus full time on the expanding business. In 2004, Home Movie Depot topped $1 million in sales. The business continued its growth, became a nationwide name in the field and was name-dropped by The New York Times and Wired magazine, to name a few.
Soon investors came calling, looking to get in on the successful company. Buyers from the coasts approached McKinney, and in 2011, he sold the business to Scan Digital Inc., a Southern California-based company also in the format-conversion business. Now, McKinney is channeling the experiences of entrepreneurship and selling a successful business into his newest venture: Biz Crossing.
Big fish, small pond
Biz Crossing, based in Ashland, is one of a small handful of mid-Missouri business brokerage firms and is looking to connect businesses in the region with venture capitalists and potential buyers across the country. Such a firm is especially important to the region because businesses in mid-Missouri aren't typically on the radar of national investors.
"Trying to get the attention of bankers is tough," McKinney says. "Businesses around here can get trapped as the big fish in a small pond."
The idea for Biz Crossing came to McKinney after selling Home Movie Depot and seeing the unique challenges that came with the experience, such as the intensive due diligence process and the difficulty of juggling multiple offers as they come in. "I was never prepared for the selling process," McKinney says of his time fielding offers for Home Movie Depot. Now, however, he knows the ins and outs of the system and is providing his clients with that expertise.
Knowing the process means that Biz Crossing can advise companies on how best to "get their ducks in a row" before fielding potential investors or buyers, which often results in better offers for the company. McKinney's experience also comes into play when advising clients; as an entrepreneur himself, he can relate to the personal investment clients have in their own businesses.
Working relationally
The Biz Crossing philosophy also values building relationships with clients throughout the six- to 12-month process. The firm's full-service approach means they are involved every step of the way, from introductions with potential investors to finding tax breaks to allow the company to save money or hire more employees. "Our services are more relational than transactional," McKinney says. "We love to talk — there's no one-size-fits-all solution."
Working relationally also ties in to more of Biz Crossing's core values: confidentiality and trust. In the field of business brokering, confidentiality is extremely important for both buyers and sellers. If word gets out about a business looking to sell, it can undermine potential deals and cause a scare among the business's employees.
For businesses looking to sell or acquire growth financing, Biz Crossing has advice from its past deals. In their experience, investors are looking for businesses with a great story and strong management. A company's people are the single most important factor for outside investors, but they also look to see proof that those people (and their business model) are able to succeed. Perhaps surprisingly, the product is not always one of the most important factors; more important is having a target market staked out. "The product can always evolve, but the market can't," McKinney says.
Ultimately, McKinney and his partner, Nelson Muller, see Biz Crossing as an economic driver in central Missouri that's bringing new capital for investment into the area. In addition to bringing in outside capital, the pair is aiming to start a local private equity group that would focus on businesses in mid-Missouri and give successful local businesses an opportunity to reinvest in their community. However, even with such an idea only in its infancy, there is still plenty of available investment capital, and Biz Crossing is looking to bring that to local businesses. "We're looking at new deals every day," McKinney says.