Amidst the 2009 mortgage meltdown, Flat Branch Home Loans expanded its 4-year-old business into a full-service mortgage banker. Then, like our waistbands at Thanksgiving dinner, the company continued to expand. Due to its rapid growth, Inc. Magazine ranked it No. 3 in the state of Missouri for its incredible addition of employees and awarded the business the 2013 Hire Power Award.
"It's always good to get awards and recognition, but it really is just a testament to our people and how well we've done," says owner, Jim Yankee. Yankee, who is responsible for the recruitment of new hires, has his work cut out for him. In the past 18 months, Flat Branch Home Loans has gone from 20 people to nearly 90, almost tripling its number of employees.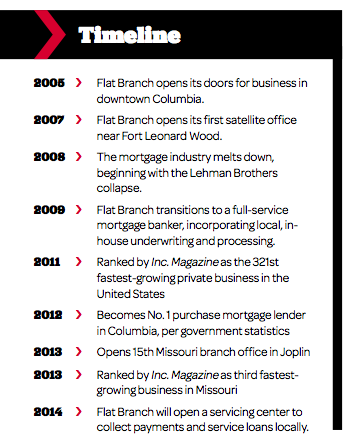 "The reason we get these people is because we're so good at closing loans, because we're so good at what we do," Yankee says. "I'm lucky enough to have a great team behind me. When I tell somebody that coming to Flat Branch will help them, their career and their families, we back it up because they're so awesome."
The company anchors its name in several cities across the state; it stretches as far west as Springfield and touches the eastern border in St. Louis. In addition, it offers a wide variety of mortgage services. "A lot of people we hire in Columbia are support staff for those outlying offices," Yankee says, "so it's been a good thing for Columbia because we're hiring local people to support other areas of the state."
Grow into the future
Despite the drizzly post-recession outcome for the mortgage industry, Flat Branch has remained strong by focusing all its efforts on the people it serves. The business supplies FHA, USDA and VA loans and works with first-time buyers and families refinancing their homes. "People always have to have a place to live, and they're generally going to have a loan on that house," Yankee says. "So at the end of the day, it doesn't really matter what happens to the market as long as you're working hard and doing everything for your customers."
Homebuyers can apply for a loan online, over the phone or in person at the Flat Branch office on Fifth Street. Within a matter of minutes, customers will be pre-approved for a loan, and the hunt for a new home can begin.
Flat Branch does everything in its power to ensure a pleasant experience finding or refinancing a home, which greatly contributes to its growing staff and spreading reputation. However, the company will soon see even more growth. A Flat Brach servicing department has been in the works for nearly two years, and in January, Yankee plans to launch it. "We're going to start servicing our own loans this coming year, so that should be even more jobs going forward to help ongoing service nationwide," he says. "It's huge from a customer service standpoint that we can be there for them throughout the 30 years of their loan. It just helps us serve our customers better, and it will help us continue to grow into the future."