When a patient walks into Providence Urgent Care, whether with a common cold or minor injury, the wait time is usually less than 30 minutes. Throughout the United States, the door-to-doctor wait time in an emergency room hovers around 28 minutes, with Columbia's average ER wait time standing at 24 minutes longer than the national average. Meeting the need for rapid care, Providence Urgent Care has seen steady growth since it opened in 2009. In fact, it has grown 25 percent year-over-year since then. The walk-in clinic facility, located in south Columbia off Providence Road, grew so steadily that founders Dr. Jason Zerrer and Dr. Scott Schultz saw the need to open a second office, which opened mid-January.
Zerrer and Schultz, former University of Missouri School of Medical classmates, took what they learned working as ER physicians at University Hospital after graduation and turned it into a business idea. In May 2008, they attended an Urgent Care Association of America conference in New Orleans to learn more about the walk-in clinic framework, and the project took root. In July 2009, the south facility officially opened for business.
Success in the timing
The pair attributes timing to a part of their success, as the H1N1 outbreak in October 2009 helped establish their solid reputation. In conjunction with the Boone County Health Department, Providence Urgent Care saw up to 80 patients a day during the outbreak's peak and was one of the first clinics in Boone County to offer the H1N1 vaccine that year, Schultz says.
Schultz and Zerrer's philosophy is simple. The family-friendly clinic aims to provide high-quality medical attention when getting into a primary doctor or spending extra time and money at the ER are not options.
"Anybody who has a family has a full-time job," Schultz says. "They know that time is your most precious commodity, and we really respect that."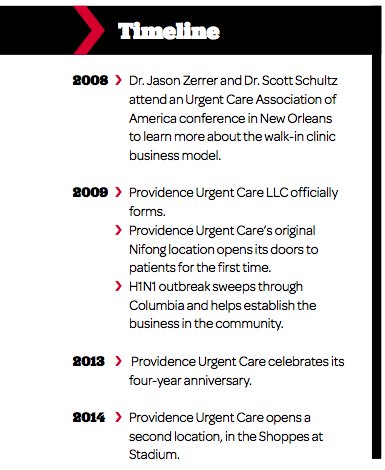 Expanding the business
The groundwork for a new facility stemmed from an overarching need for more space to see incoming patients and provide the personalized attention Providence Urgent Care prides itself on. With the company's steady growth, Schultz says they were concerned wait times would begin to increase and efficiency would suffer if the clinic did not offer a second location.
For those who live on the west side of town, the new location in the Shoppes at Stadium allows more Columbians access to medical care without added drive time to reach the Nifong facility. Currently, the business staffs six full-time physicians and is expecting to increase that to eight full-time doctors in the near future. There will be no change in care at the west location, as the doctors on staff now will work at both facilities to create a fluid and congruent team to help patients, Schultz says.
The quality of care they provide is extremely important to Zerrer and Schultz, which is why all staff members live locally and are involved within the community.
"We've been able to take the cream of the crop," Zerrer says. "I wouldn't trade any of our employees for anybody. They've all bought into our goal, which is taking care of people the way we take care of our families."