Valentine's Day is just around the corner, and while most people are showering their sweeties with the gift of relaxation, Pat Quinn is entering a busy time of year. That's because for Quinn, relaxation is business.
The owner of Massage Envy tapped into the world of masseuses after he had been looking to move his previously owned Maximum Edge Discount Sports Supplements store. A space in the Broadway Shops became available, but due to the prime location, rent was a bit high.
His original intent of renting out backrooms to massage therapists landed him in the position of owner and operator of Massage Envy. And since 2006, his company has been offering its services to the Columbia community.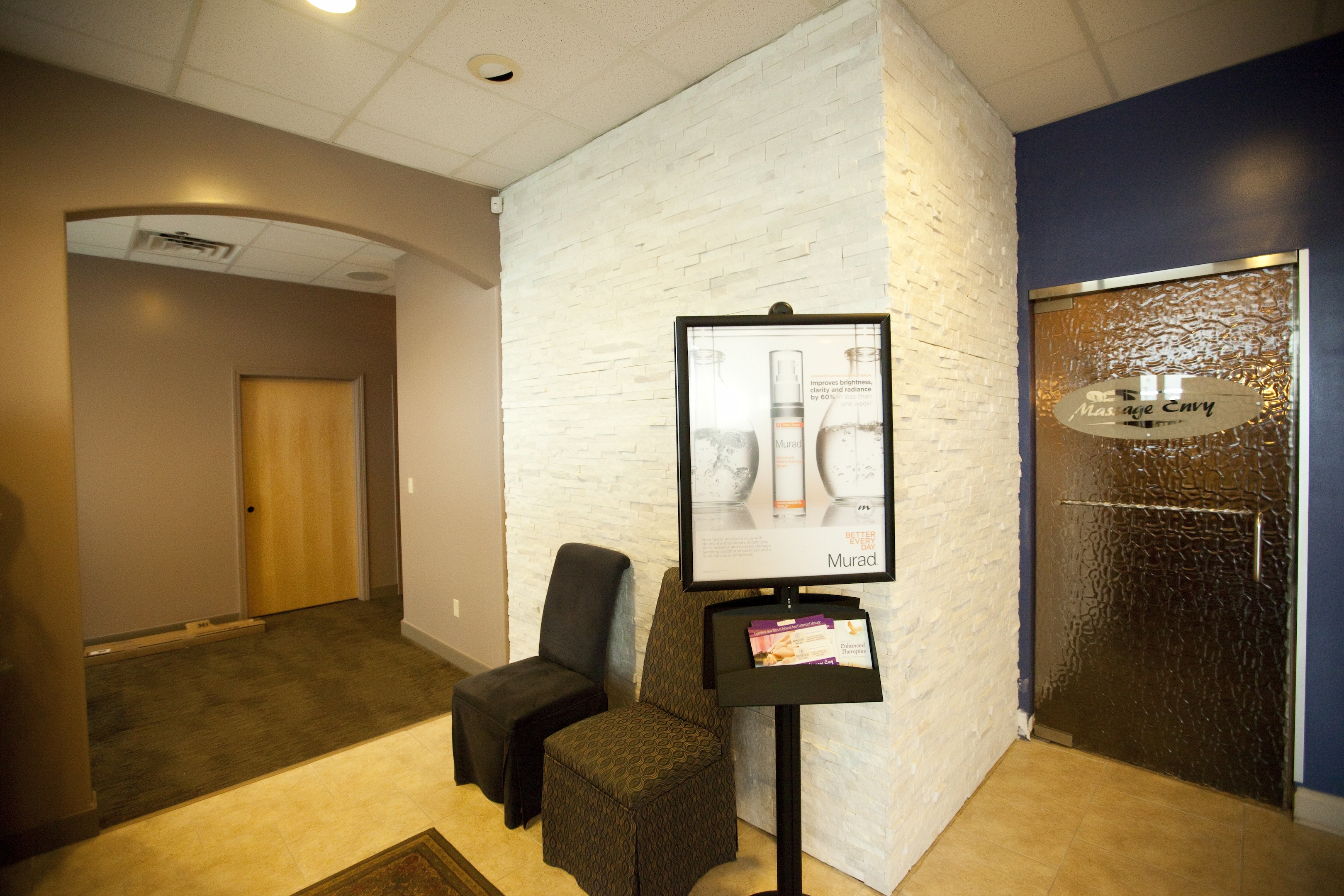 Expanded space and services
Most recently, Quinn and his team decided to expand the space by adding another wing of dual-purpose rooms that can be used for massages or the newly added facial services.
"The expansion project was already in the works because of how busy we are," Quinn says. "When I heard that Massage Envy had signed a deal with Murad skin care to do facials, we thought it was a no-brainer for an add-on to the business. In 2016, we will have to resign franchise agreements, so with the expansion, we thought we would kill two birds with one stone."
Instead of the original 11 rooms, the expansion now offers an additional three rooms, including a facial consultation area and a couple's massage room. The expansion officially debuted on Sept. 11, 2013, and the business started offering couples massages at the beginning of 2014. The lobby area stood in its original form throughout the holiday season due to the busy time of year and influx of gift card sales.
More than 700 of the 900 national Massage Envy locations offer facial services now and have transitioned their name to Massage Envy Spa. According to Quinn, the business easily provides more than 20,000 hours of massages, and the addition of facials offers customers another quality service at an affordable price. Many members receive a full facial and massage in one visit without having to switch rooms.
Massage Envy's first-time massage rate of $39 for an hour-long massage frequently attracts new business. "We like to say we give a $100 service for $39," Quinn says. The staff of 35 therapists handles the abundance of customers. And if Quinn had it his way, he would hire 10 more. Due to high traffic, the business does have to turn people away.
"We track each time we turn a customer away, and this is a system that helped confirm the expansion," Quinn says. "Many people ask about another Massage Envy location, but there would have to be even more turnaways for that to happen. I just don't see Columbia as a big enough city for the demand of another location."
"A really great thing that happened this past year was the addition of massage therapy at Columbia Area Career Center," Quinn adds. "We've had a great partnership with Metro down in Jefferson City, but after years of lacking a massage school, Columbia now has one again." The introduction of the program was in the fall semester of 2013. With the Columbia-based massage therapy education program, Quinn might have his additional 10 therapists before he knows it.
Growing opportunity
In the midst of Massage Envy's ever-growing success since its 2006 opening, Quinn stumbled on another opportunity to franchise a European Wax Center. Since 2011, he has also been the owner of the European Wax Center in the Broadway Shops.
"I scored big being able to have both of those businesses right next door to each other because it's a complementing business," Quinn says. "As I get older, and the more people I know, I never know what opportunities might just fall into my lap.
Just like Massage Envy's first-time offer, European Wax Center offers a complimentary service ranging from under arm, bikini line and eyebrow waxing for women and nose, ear or eyebrow waxing for men. The free service is feasible due to the timeframe a waxing appointment spans. European Wax Center prides itself on quality, speedy service. "While other salons might take up to 30 or 40 minutes for a bikini wax, we can have you in and out in 15 minutes or less," Quinn says.
Because the two franchises both offer pampering services, there is a benefit to being able to refer clients back and forth. Many of the estheticians also jump back and forth between the two locations to practice facials and waxing. However, they generally end up choosing a preferred service, according to Quinn.