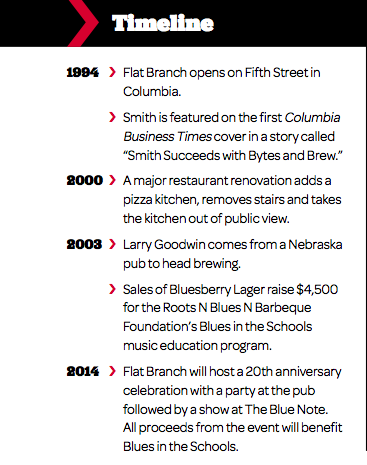 If there's one word that describes Flat Branch Pub & Brewing's 20 years in Columbia, it's consistency.
Save for a major January 2000 renovation that brought the pub its pizza kitchen, owner Tom Smith says Flat Branch's backyard has seen more change in the past 20 years than the restaurant itself.
"This beautiful park behind us was a toxic waste dump, literally," Smith says, recalling how the area around Flat Branch's Fifth Street location looked when it first opened. "It had been an oil storage depot for the train line that used to come through here. The tanks had leaked, and it took them years to get that cleaned up."
Beyond toxic waste, none of the area around Fifth Street and Cherry Street was developed on April 18, 1994, when Smith opened the pub. The underdevelopment, however, didn't stop people from coming. For beer aficionados and fresh food-lovers alike, Flat Branch filled a niche Columbia was missing.
"I think we pioneered craft brew in Columbia, but we certainly didn't invent craft brewing," Smith says. "In Columbia, to attract the kind of crowds we do day in and day out, you have to appeal to everybody."
After a strong start, Smith says it took a few years for the restaurant to perfect its menu and staffing. By 1999, everything started coming together. All kinds of clientele — young professionals who line the bar, students who go out on dates, university departments that host meetings and families who bring their young children — came to the restaurant. And then they came back.
"We have, with the help of our staff and, most importantly, our guests, built a very strong community based around the pub," Smith says.
New industry 
Although Smith, a longtime home brewer, successfully launched a software company in 1985, his only hospitality experience was a job as a pizza deliveryman at the Ninth Street Dominos during his college years. Visiting Colorado, where brewpubs first exploded, left him thinking that Columbia needed a pub of its own. A friend at a Columbia-based small business incubator connected Smith with another man who had a workable business plan for a local pub and connections to Ft. Collins, Colo.-based CooperSmith's Pub & Brewing, which bootstrapped Flat Branch's operation.
"The guys in Ft. Collins really came in handy," Smith says. "They were basically our consultants on the space, the brewery, the kitchen and pretty much the whole deal."
Flat Branch was brewing from day one, but current master brewer Larry Goodwin joined the team in January 2003. With help from another part-time brewer, he's responsible for brewing Flat Branch's eight fixed brews and four brewer's specials.
"This is just a good combination of having volume and having freedom to brew," Goodwin says. "Having so many taps gives you a big advantage."
Goodwin says he normally brews three times a week, at 265 gallons (eight and a half barrels in brewer speak) a week to keep up with demand. Customer favorites include the Katy Trail Pale Ale and Honey Wheat varieties, but Goodwin says the seasonal Great Pumpkin Ale has been a runaway hit in recent years.
"It just seems like every year we do it, it sells out faster than it did the previous year," Goodwin says. "We haven't sold out two batches in one day yet, but we're close."
After 20 years in the business, Smith says he has no plans to bottle or do any other major expansions. Instead, he wants to stay focused on the customers, craft food and high-quality beer.
"My philosophy is no matter what the product is, it comes down to quality product, value and doing great customer service, " Smith says. "It sounds kind of cliché, but it's really the bottom line."