As custom details become more popular in home building, the product options are endless.
New construction can be overwhelming, especially in an ever-changing market. "We see many trends persist today that were not so plentiful before even five years ago," says Will Clark of Mid-City Lumber.
From increased open living spaces to master closets with more built-ins, home builders are continually finding ways to customize no matter what price range they fall into, according to Mike Dodson, also of Mid-City Lumber.
Whether you're building a starter home or investing more money into a dream home, Will and Mike share ways to incorporate small details that make a home truly your own.
Starter homes ($180,000 to $260,000)
According to Will, the starter home market is the hottest market in Columbia. It offers tons of housing options and neighborhoods to find the perfect spot for your new-construction home.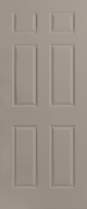 Interior doors: The common hollow-core primed interior door companies offer more than 10 different styles and textures. Hinge color is another thing to take into consideration; many local builders offer brushed nickel, oil-rubbed bronze, pewter and classic antique brass, a finish that is making a comeback.
Mid-City suggests looking to Masonite doors for interior door options in a starter home. (http://www.masonite.com/productpages_InteriorDoors.php#)
Interior trim: Where builders used to install 3 ¼-inch-tall baseboard and 2 ¼-inch-wide door casing, an upgrade has been made. To add an extra architectural touch, builders have moved toward 4 ¼- to 5 ¼-inch-tall baseboards and 2 ¾- to 3 ½-inch-wide door casing. The increased size makes a huge difference on a homebuyer's first impression.
Outdoor elements: Homeowners can choose from vinyl siding, fiber cement, brick and stone decorating as options for the outside of their homes. Will suggests vinyl siding because of its maintenance-free guarantee. "With new technology, we can now get close to the fiber cement colors, and the fiber cement sidings look great, but they will need to be painted eventually."
Upgrader homes ($225,000 to $350,000)
A lot of individuals interested in moving into an upgrader home are primarily looking at increasing square footage; however, there is some opportunity to increase the exterior value of your home as well.

Curb appeal: According to Will, development restrictions in local subdivisions allow for homebuilders to have a full-spectrum of options for fiber cement sidings. You will notice a more craftsman look in upgrader homes through the use of batten-board strips with panel sidings.
James Hardie siding is a company where Mid-City often finds a variety of options. (http://www.certainteed.com/products/fiber-cement-siding/vertical-siding)
Exterior doors: Most homes in this category have a nice stain-grade front door that will most likely be a fiberglass door unit. The advantage of a fiberglass door is that you're going to get the look of real wood without the wear and tear of real wood. You'll avoid warping, rotting and cracking; plus a fiberglass door is less of an investment.
Decking: With a beautiful brown look and stain-absorbing capabilities, a cedar deck is far superior to the green CCA wood that used to be used on decks, Will says. He suggests Western Red Cedar, which he says is king in this class.
Custom-built homes ($350,000+)
Higher-end decking: Although it can sometimes cost up to triple the price of treated and cedar decks, synthetic decking and aluminum railings are gaining popularity due to their maintenance-free guarantee. Mid-City suggests Westbury Railing for aluminum railings and Duralife Decking as a synthetic decking option.

Elements of design: "If the homeowner or interior designer can imagine it, it can be done," Will says. He's referring to all the extra design elements that make a home unique. Anything from wrought-iron spindles with custom patterns from Crown Heritage stair parts to installing real Doug Fir wood posts and beams in a living space can give a home the wow factor.
Exterior enhancements: Custom-made shutters and higher-end windows, such as Andersen Windows, can do the trick on the exterior of a home in this price range.
Did You Know? Homes must have a 95 percent efficient furnace to be sold in Columbia.

About Will Clark: Will is a professional contractor salesman for Mid-City Lumber in Columbia and has been in the lumber business since 1994. What started as a way to pass a summer has turned into a unique and rewarding career in the building-product industry. He has the privilege of working with great people who have become good friends, and he enjoys sharing his knowledge with his builder base to keep ahead of the trends.


About Mike Dodson: Mike is also a professional contractor salesman for Mid-City Lumber in Columbia. He happened into the lumber business by working part time for a lumber yard 20 years ago. He has now been with Mid-City for almost 14 years and has witnessed the continual change of the housing market.