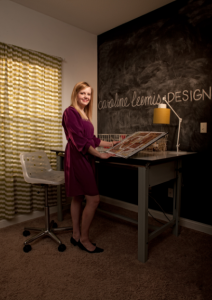 Flipping through before and after photos of the Schneider Electric cafeteria renovation in their Columbia office, the two spaces are almost unrecognizable. Wood paneling left over from the 1980s has been replaced with pop art of some of Schneider's products throughout the years; worn-down coffee pots are replaced with a state-of-the-art coffee bar; and a mix of family-style seating, individual work spaces and a collaboration room stand beside basic four-top cafeteria seating.
When Caroline Leemis opened Caroline Leemis Design in 2012, she knew commercial interior design was about more than just picking a color scheme and a few pieces of furniture. Leemis believes that interior design is one of the easiest ways for a company to communicate both with its employees and with its clients. She also says that design can create a more efficient workspace. Innovative work areas, such as the new collaboration room in the Schneider Electric cafeteria, allow employees to problem solve and work together more succinctly, something Leemis says is essential to both employee productivity and happiness.
Leemis began work on the Schneider cafeteria renovation last fall. She says every design choice she and the executives at Schneider made had to have an explanation. "In residential design, choices are much more personal and geared toward the client's preferences," Leemis says. "With a commercial client, you have to decide what best reflects the company and their values."
Colors were chosen based on Schneider's marketing, spaces were designated where impromptu meetings could take place and art was selected to provide a history of the company. "It creates an environment where it can produce energy," says Lori Swiatek, plant operations manager at Schneider Electric. "When people are happy about the space they're in, it lends itself to creativity."
A natural fit
Leemis, whose father is a general contractor, grew up learning the basics of the construction industry and running a small business. In high school she fell in love with both the creative and technical side of the arts, and when she entered college, pursuing a degree in interior design at the University of Arkansas seemed like a natural choice. Interior design, which Leemis notes requires a broad knowledge of architecture, building codes and construction, allowed Leemis to blend her interests. "It was a happy medium for utilizing my creative talents as well as those more challenging technical skills," she says.
After graduating from Arkansas in 2009, Caroline Leemis and her husband, Eric Leemis, moved from Arkansas to Columbia. Finally, after years of searching for ways to utilize all her skills in one business, the Leemises opened Caroline Leemis Design in 2012. "I realized my skills could be put to better use if I took control and moved forward from there on my own," Caroline Leemis says.
As a basically one-woman show, Leemis jokes that she wears a lot of hats. "I'm the marketing director, the business administrator, the designer, in charge of business development and networking," she says. "You have to learn as much as you can as fast as you can." Although she is quick to listen to the expertise of her husband, who graduated with a business degree, and her father, who has owned his own small business for several years, Leemis says she wants to master as much of the business on her own as she can. The hope is that as the business grows and she is able to hire on more people, she can focus more on design but still have a firm understanding of the business aspects of her company.
Since starting Caroline Leemis Design two years ago, Leemis has already begun to build an impressive resume, including the renovation of Gumby's Pizza in downtown Columbia, the Schneider Electric cafeteria renovation, a renovation of the reception area at True Media in St. Louis and several residential designs.
Principles of design
A large part of Leemis' work aesthetic has focused on functional, purposeful design. During her time in college and early in her career, Leemis learned how efficient design could lend itself to the health care industry. Hallways and nurses stations could be designed to alleviate the flow of traffic, colors and patterns could have an impact on the healing environment, and the overall physician-patient experience could be altered from the minute they walk in the door until the time they leave.
Similarly with corporate design, such as the cafeteria at Schneider Electric, the design should reflect the mission of the company. Leemis believes the largest benefit of a workspace design that is compatible with the goals of the company is the communication flow. Whether communicating with clients or employees, Leemis notes that the design of a company's interior spaces is essential to sending a singular, cohesive message portraying the priorities and beliefs of the company.
It is also important that Leemis fully understands the client's needs. When first considering an office renovation, Schneider Electric issued a survey to its employees asking what improvements around the office they felt were needed most. Because most of the responses centered on a better break environment and having a collaboration space, Schneider as a company decided that any renovation efforts should be focused on the cafeteria area. Brad Piening, manufacturing engineering manager at Schneider Electric, emphasized that Leemis was essential in bringing the vision and ideas of the employees and management to life.
"You don't realize how overwhelming all the little decisions are for a design, but Caroline helped us focus on what we needed and what was the best way to implement that," Piening says.
Working on her own has also made Leemis more practical. Although she admits to still relying heavily on contractor input for things such as pricing, Leemis says she's learned to be innovative with what is available to her. In renovation projects especially, Leemis notes that it is essential to work with the architecture of the space and realize that it's not always the most practical option to completely gut the entire area. Similarly with budgets, Leemis has learned that being flexible is the only option. "In school we didn't really have to worry about money, so you could follow whatever design idea you had in your head," Leemis says. "But when you're working with a client, you need to have several different options that will best fit their budget."
Looking forward
With every new project that Caroline Leemis Design completes, Leemis says it opens up more opportunities for her in the future. Even though the company has gained some notable clients during the past two years, Leemis hopes her client list, and the scope of the projects she's working on, will continue to grow. "I hope to one day be able to design an entire office or maybe even an entire building," Leemis says. In the meantime, Leemis and her team will continue to network, to perfect both business and design skills and create a more efficient corporate Columbia.