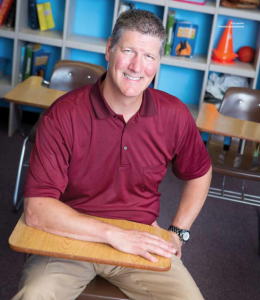 Hidden within the walls of the Family Worship Center is the church's best kept secret: The Family Worship Center Academy. Founded in 2004, the school is dedicated to not only helping students excel in academics through a home-schooled approach but also allowing them to grow spiritually.
Pastor Tom Leuther started FWC Academy with a vision to provide a home-school-style education in a social environment.
"I'm a big advocate for home schooling, but sometimes I feel like they don't have the ability to develop socially," Leuther says. "The vision of education for us was having a home-school type approach but also having a structure where they can develop social skills."
"We're also targeting the home-schooled families that maybe it's working for them so far, but they're looking to transition," says Amy Pixcar, school administrator and teacher. "Maybe kids are starting to develop more socially, and they want to be more social, but they don't necessarily want to go to a huge classroom."
Currently the Family Worship Center Academy has a total enrollment of 13 kids and three faculty members. Students range from kindergarten through eighth grade and are divided into multigrade classrooms. The younger children are grouped from kindergarten to third grade, and the older students are in a class with fourth- through eighth-graders.
"It's much easier for me to keep track of seven to 12 students in my classroom, even though there's three grades at one time," Pixcar says. "I have them for three or four years, I get to know them very well, and I'm able to watch them as they go."
Customized curriculum
Like home schooling, the academy focuses on teaching children with a customized curriculum. Students study core subjects such as math and grammar from their own workbooks, allowing them to progress or keep working on certain subjects as needed. And for some kids, it's this small-school, customizable educational approach that allows them to excel.
"We had one kid do two sciences in one year," Pixcar says. "He would have been bored if he had to sit in seventh-grade science with 25 other seventh-graders all year long."
Likewise, if a student is struggling with a specific subject or topic, the student's teacher can work with that child individually to pinpoint his or her trouble area before moving on without delaying the rest of the class.
"It's a one-on-one approach with the kids," Pixcar says. "We want the kids to learn how to learn."
Due to each student's personalized curriculum, the Academy has eliminated discussions about grade levels. By forgoing assigned grade levels, the school is eliminating internal student competition and extra pressure to be at level regardless of whether they are ready, Pixcar says.
"The purpose of doing that is not to say, 'Nobody is in a grade,'" Pixcar says. "I don't want kids to get so fixated because some students may not be going to the next grade, and I don't want [kids to say], 'I'm stupid.'"
Instead, student report cards reflect what level books each student is studying across every subject.
"For each subject, we say things like, 'Math 5' or 'Reading 3' or whatever [workbook] the student is in," Pixcar says. "Sometimes it's not all continuous."
Students also study subjects such as art, physical education and current events. They also attend chapel, where they study Biblical principles and Godly character.
"I think what we are able to instill in these kids is that they can go beyond any obstacles that they will ever face," Leuther says.
Headed for expansion
Ten years after its inception, the Academy is actively pursuing expansion. Although the school is currently still inside the church, leaders are hoping to build a new location near the church on its 37-acre property.
"We already have an architectural drawing and the blueprints to go to the next phase," Leuther says. "They're hanging outside the door of where we are now."
But before the FWC Academy can expand, student enrollment would need to increase.
"We want the classes to still be small enough, ideally at 12 students with a max of 15 and a teacher's aide" Pixcar says. "We still have several students to go for both classes before we reach a point that we would pursue hiring and bringing in more teachers."
Although the school's expansion would rely on student enrollment, waiting to build the Academy's new location was also a financial decision. The Family Worship Center is looking to raise extra funds through donations and fundraisers, save up and ultimately build the school with no credit.
The Academy is also looking to expand in terms of what it can give to students. This fall, the school is introducing a class for 4-year-olds that will run Monday through Thursday from 9 a.m. to noon.
Pastor Leuther is also hoping to add a variety of extracurricular activities.
"I believe sports develop discipline, so I desire to see a football field, a track field, a baseball field out there eventually, but we're just not there yet," Leuther says.