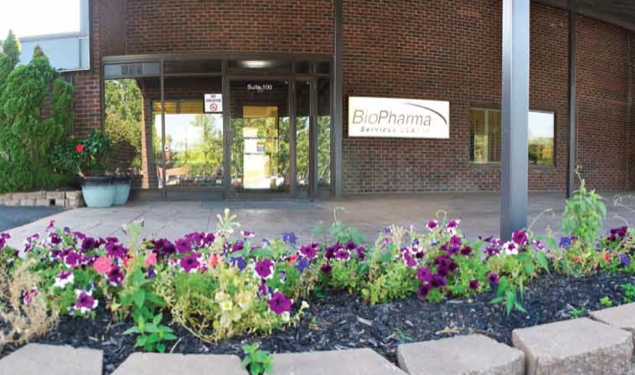 Earlier this year, as the result of a partnership between a local investor and Canadian-based BioPharma Services Inc., BioPharma Services USA opened in Columbia. Located in the rapidly expanding medical hub surrounding Boone Hospital, the 48-bed clinical research facility conducted its first study this summer and is already making a name for itself in the research of generic drugs. With a welcoming atmosphere, pampering environment and compensation for volunteers, this company is also changing the perception of clinical trials in Columbia.
A full service Clinical Research Organization, BioPharma conducts "first-in-man" studies to gather safety information on investigational drugs, phase 2 studies to evaluate the effectiveness of drugs and studies to evaluate medical devices. However, they specialize in pharmaceutical bioequivalence studies, which compare the absorption rate of brand-name (approved) drugs against investigational generic formulations, says Levon Yeghikyan, director of strategic initiatives. "The bioequivalence portion of the research is not focused on proving efficacy and safety of the drug because the brand-name drug is already on the market," he says.
About 40 percent of BioPharma's clients are U.S. companies, so the decision to open a stateside facility was already in the works when they visited Columbia in 2013. "We were actually invited to come to Columbia, and REDI was very heavily involved in bringing us here," Yeghikyan says.
Justin Vilafana, director of global operations for BioPharma, says expanding operations across the Canadian border provides greater efficiency for the company and its clients, the large pharmaceutical firms."By having a site here in the U.S., it will actually speed up the process and save our clients time down the road as well," he says.
Safety in study
With recruiting volunteers a critical first step to completing a successful clinical trial, Yeghikyan knows it's important that people understand bioequivalence studies are lower safety risk than first-in-human studies. "We already know what the drug does, and we know the side effects," he says.
In addition, every trial is overseen by an independent ethics review board, consisting of at least five individuals, including a doctor, a lawyer and at least one member of the general community. BioPharma's principal investigator, Dr. David Moreton, who is associated with Boone Hospital and has been practicing medicine for more than 20 years, determines and oversees all of the safety requirements to use during the study. Furthermore, the company's medical staff of nurses, licensed practical nurses and phlebotomists follows precise, detailed practices.
"To ensure quality and integrity of the trials, we developed over 100 standard operating procedures that our staff is trained on and follows for any procedure that we do at BioPharma," Yeghikyan says.
Precise procedures and records of the trials are essential because the FDA has to be able to recreate all the activities of the project and make sure all the data that was produced is legible and accurate, and there are no discrepancies, Vilafana says. "The FDA has a saying: If it's not documented, it never happened."
The recruitment process
Most studies require two two-night stays separated by a week to allow the drugs to wash out in between. The process begins when volunteers respond to BioPharma's advertisements for the various studies, and the recruitment department takes the individual's basic information. "This prescreening helps us decide if they are eligible to participate in the trial they called about or any future trials," Vilafana says, stressing that BioPharma primarily recruits healthy individuals for bioequivalence trials. During the recruitment process, potential volunteers are also given important study details including the name of the drug, which allows them ample time to search for additional information if they so desire.
BioPharma takes confidentially very seriously, so when the trial begins, individuals enter the facility through the volunteer entrance on the side of the building, where the screening receptionist greets them. "We put an armband on them, and at that point they receive a unique random sequence number that identifies them during their stay at BioPharma," Vilafana says.
Volunteers also receive a copy of the Informed Consent Form that includes study information, including potential risks, side effects and benefits of taking the investigational product as well as a listing of all procedures that will be carried out during the trial. "Volunteers must agree and sign the ICF before they can be allowed to participate in a research study," Vilafana says.
Vital signs are taken to make sure the volunteer is in good health, followed by any other procedures required for that particular study. "For instance, if the drug lowers sugar levels, they will check glucose at this time," Vilafana says.
Volunteers are only given the green light after they meet with Moreton. "Dr. Moreton reviews their medical history, vital signs, ECG, lab results and performs a physical exanimation," Yeghikyan says.
Ensuring volunteers enjoy their stay during the trial is just as important to the company. The facility, which once served as a nursing home, features a number of large group gathering areas and plenty of bedrooms, all freshly painted and updated. Internet access allows volunteers to work during their stay if they wish."For a lot of our volunteers, it's like a mini hotel stay," says Vilafana, adding that groups of friends often volunteer for the same studies. "We give them access to a big-screen TV and comfortable chairs in the lounge. They are pampered and well fed."
Sleeping accommodations are divided by gender (in most cases two to a room), restroom facilities are state of the art, and everything from the dining room to the lab area is spotless. "Although we are not a treatment facility, we adhere to hospital-grade procedures when it comes to activities such as cleaning, linens, etc.," Yeghikyan says.
BioPharma offers compensation for those who complete the studies. According to Yeghikyan, payment varies based upon the number of hours volunteers actually stay in the facility and how many times they have to come back for procedures. Volunteers who participated in a recent trial received $1,000.
"There is also a $50 referral fee for anyone that you refer that finishes a study," Yeghikyan says. A wait period, in most cases 30 to 56 days, is required before a volunteer can participate in the next study to ensure blood levels return to normal and medication is thoroughly washed out from their system.
Complementing Columbia's strengths
Bernie Andrews, executive vice president of Regional Economic Development Inc., says REDI is very excited to have the new BioPharma Services facility in Columbia. "A clinical trials service complements Columbia's strengths in medicine and human health research and brings in new dollars from pharmaceutical firms. In addition to direct jobs and investment, BioPharma also brings the opportunity for area residents to earn additional income by participating in the studies."
Yeghikyan says the facility plans to expand to 100 beds within the next two years. For the time being, they are concentrating on providing exceptional care and services for their volunteers and quality results for their clients.
"Our business is making sure our volunteers are happy when they are here, to give them the best customer service possible and to ensure our sponsors are happy with the quality of the data that we produce," he says.
BioPharma Services USA
300 Portland St., Unit 100
Columbia, MO 65201
573-447-6777
For more information and/or to register online, visit biopharmaservicescro.com.