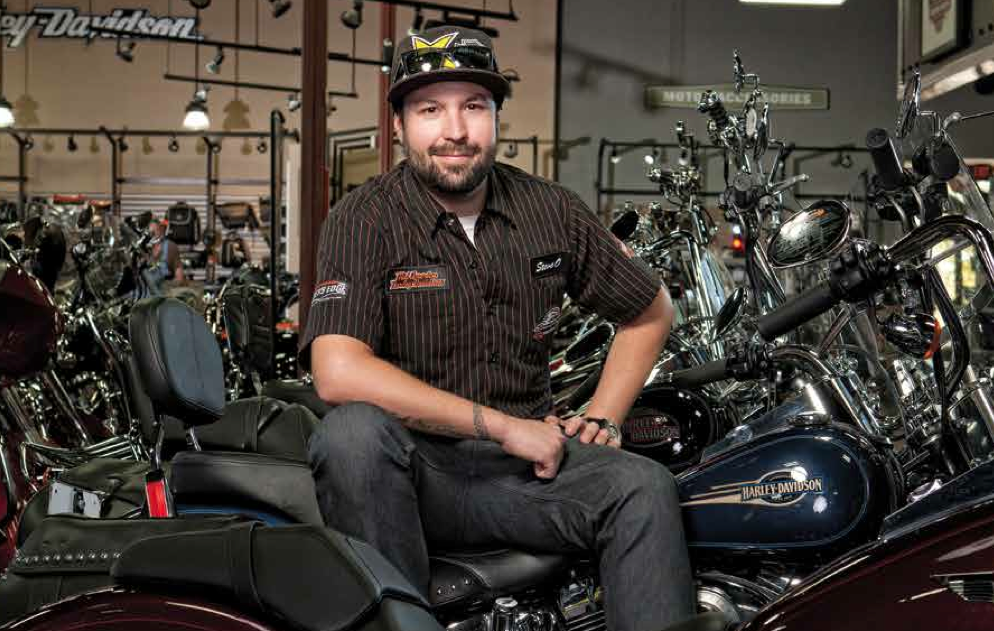 When Steve Tuchschmidt was 3 years old, he got on a motorcycle for the first time. Today, as the general manager for Mid-America Harley-Davidson in Columbia, Tuchschmidt has the responsibility of wooing Harley's next generation of riders while staying true to the company's older core customer base, a job he admits is not always easy.
Mid-America Harley has been owned and operated by Tuchschmidt's parents, Steve Sr. and Laura, since 2001. "We are truly a family business," he says. "My parents own the dealership; my wife, my sister and my brother-in-law all work in the building; and we really are one of the last family-run businesses in the motorcycle industry."

In with the old, in with the new
Because of this family environment, Tuchschmidt says it's important to him to really develop the customer's love of Harley's products. In the past couple of years, Harley-Davidson has introduced several new items to its product line. First, there was the new street family of bikes: urban cruisers designed as entry-level bikes for a younger customer base.
"It's designed for an urban environment, and it's the cheapest price point for a bike that Harley-Davidson has ever had," Tuchschmidt says of the new line.
Secondly, the company introduced Live Wire, Harley-Davidson's first electric bike, which is still in the prototype stage. Finally, Harley-Davidson introduced Project Rushmore, which provided technological updates to all the touring families of bikes, with added navigation, Bluetooth radio and touchscreens.
However, as Harley-Davidsons become some of the most technologically advanced motorcycles on the road, Tuchschmidt says it's important for Mid-America Harley to not alienate its core customer base. "Trying to keep our core generation open minded in trying some of the new products that we have can be really difficult, but I've found that the best way of doing that is forcing them to try new things and go for a test ride," he says. "And every time, I can see the smile on their face as they're coming back through the parking lot."
Simultaneously, the dealership is working on developing its outreach market, or the younger riders, who might not typically come to mind when one thinks of a stereotypical Harley-Davidson rider. Doing this, Tuchschmidt says, has taken a lot of innovative thinking on the part of the dealership.
"When we market to the younger generation, we really think of the more grassroots-style marketing," Tuchschmidt says, explaining that getting the products out at rallies or festivals where new customers can see and ride the bikes has been the most effective marketing tool. "As far as attracting younger riders, our dealership has been a bright and shining star, and while we're lucky to have three colleges in our backyard, we've done really well in catering to new riders." According to Tuchschmidt, the younger market has begun to grow rapidly in the past four or five years.
Suit up
Because of the diversity of Mid-America Harley's customer base, and the diversity of Columbia's population in general, Tuchschmidt says he never knows who he might see walk through the front doors. "We sell motorcycles to everyone, from building Gary Pinkel a new bike, to farmers in the surrounding communities, to everybody in between," Tuchschmidt says.
But one group that the dealership has really seen embrace the biker lifestyle is the business community. "For a lot of bigger businesspeople in town, I think Harleys are a great stress outlet where they feel like they don't have to put on the suit," he says. "They can put on their leather jacket and go have fun and be young again and be seen in a totally different light."
Jim Ford, executive director at The Insurance Group and one of the founding members of Bankers and Bikes, a motorcycle group for banking executives, agrees. Ford says that riders, no matter what their background, all have one thing in common.
"All bikers have a love of the open air, when it's just them and the road, and they don't have to think about phone calls or memos," Ford says. "I think that's a common core between everybody who rides; bankers are no different."
Riding onward
Tuchschmidt, who recently celebrated his second year as general manager of Mid-America Harley-Davidson, says he and the rest of the company have big plans for the coming year. At the forefront: continuing to grow the new rider community and increase involvement within Columbia and the universities.
"We really want to interact with the people who we might not be in front of as much or who might not be familiar with us," Tuchschmidt says. Going forward, the Tuchschmidt family hopes to continue to build their business and Columbia's motorcycle community as a whole.