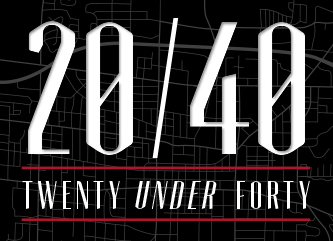 Congratulations to the Columbia Business Times 2015 Class of 20 Under 40, presented by Stephens College. For the second year in a row, the CBT received a record-breaking number of nominations from the Columbia community.
Twenty young professionals between the ages of 21 and 39 were selected for this year's award based on their success in their chosen field, mentorship of others and leadership in the community.
"It is our absolute pleasure to provide a platform for outstanding talent to be recognized for their hard work and passion," said CBT Publisher Erica Pefferman. "Not only does it provide accolades to our recipients for a job well done, but it provides inspiration to the next generation they can achieve great things where their gifts lie…whether it's in business, the arts, politics or educating our youth."
This year's class includes people from a variety of backgrounds and industries:
Josh Burrell, chief strategy officer at Lift Division
Emily Clapp, recruitment generalist at Veterans United Home Loans and owner of Belle Bash
Aimee Davenport, environmental attorney at Evans & Dixon LLC
Nathan Fleischmann, director of annual giving at Columbia College and owner of Stadium Shoes
Nicole Galloway, treasurer of Boone County
John Hall, CEO of Influence & Co.
Danielle Harrison, business banking relationship manager at Commerce Bank
Eric Johnson, principal of Hickman High School
Caleb Jones, state representative of the 50th District
Kip Kendrick, state representative of the 45th District
Leighanne Lamb, vice president of real estate lending at Landmark Bank and manager of Landmark Home Mortgage Center
Caroline Leemis, owner/interior designer at Caroline Leemis Design LLC
Lydia Melton, owner of Günter Hans
Eric Morrison, vice president of business development at Providence Bank
Sidney Neate, relationship manager at Boone County National Bank
Elizabeth Palmieri, cofounder and artistic director of GreenHouse Theatre Project
Rachel Payton, deputy state director of the Americans for Prosperity Foundation
Candice Rotter, associate media director at True Media
Don Seitz, owner of Modern Property Group
Josh Tennison, director of human resources at Independent Stave Company
The 2015 class will be honored for their contribution to our community at a gala January 22, 2015, in Kimball Ballroom at Stephens College. Tickets can be purchased at www.comomag.com/purchase-tickets-online/.