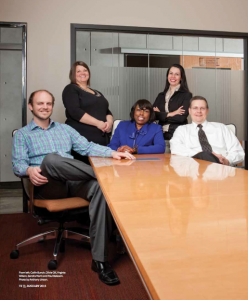 The Small Business Development Center, a nationwide program that has centers in 27 cities and towns across Missouri, was created with two purposes in mind: to create jobs and to help entrepreneurs succeed.
Columbia's SBDC, located downtown, has helped business owners big and small thrive throughout the years. Past clients include local favorites Hot Box Cookies, Patric Chocolates, and Logboat Brewing. Through educational classes, workshops and one-on-one training and counseling, SBDC helps business owners through every step of the process.
Entrepreneurs aren't the only ones recognizing everything SBDC has to offer. In the past year, the center has received two outstanding reviews, one from the U.S. Small Business administration and one from the association of Small Business Development Centers. These reviews have served as just another reminder to the SBDC staff of the impact they have on their community.
Getting started
Virginia Wilson, director of the Columbia SBDC, says she believes there is a common misconception in the business community about the types of services they provide.
"There's this myth that SBDC is only for startups, but the truth is we're equipped to handle all stages of a business's lifecycle," Wilson says. She adds that the center's target market is really businesses that are in the second stage of their growth, businesses with $1 million in revenue and more than 10 employees, because those businesses are often too big for startup services but too small for expensive consultants.
When SBDC consultants are determining what types of services are necessary for a business, Co-Director Paul Bateson says they primarily look at how established the business is. "We start from very basic services, such as our introduction to entrepreneurship class, to more complicated services, such as assistance with marketing, financial analysis and pricing evaluations," Bateson says.
From proof of concept to helping with loan applications, the co-directors say there are very few things the SBDC cannot help with. Bateson sees their services as a tool box, and the more they know about their clients' needs, the easier it is for them to determine which "tool" is right for the job.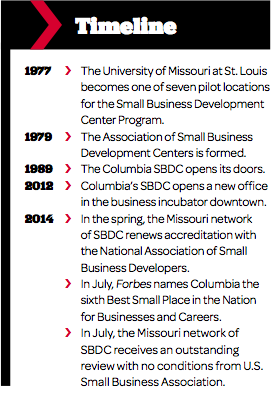 Advisers and educators
One of SBDC's main goals is education. It strives to educate business owners with information they can use on a daily basis. Columbia's SBDC currently offers courses in more than 10 topics, including supervising, leadership and digital marketing. Wilson says the center's educational offerings will only continue to grow. Classes are continually being added, such as succession planning and exit strategy and a course on small-business contracts.
The center recently started using technology to its advantage by live-streaming its classes. A recent course on search engine optimization and social media strategies had viewers from across the country, including California and Oregon. Both Wilson and Bateson hope to continue to grow the center's online offerings and use their own social media strategies to help increase the popularity of the courses.
Proof of concept
Last spring the Missouri network of SBDC received its accreditation from the national Association of Small Business Development Centers. This accreditation, which occurs every five years, analyses the performance and operations — counseling, training, marketing, etc. — of all the SBDC centers throughout the state. The ASBDC then checks to make sure the network as a whole meets the standards of accounting procedures, marketing and counseling, among other things. Wilson says that reviews are given with or without conditions. The accreditation review was given completely without conditions. This accreditation is essential to the center's funding.
In July the U.S. Small Business Administration Association also reviewed the center. The SBA reviewed several centers across the state. The review examined three overarching MO SBDC goals over four years: number of long-term clients who had signed up for MO SBDC services, new business starts and capital infusion. The MO SBTDC met or exceeded SBA goals in each category. The MO SBDC exceeded its annual capital infusion goal by nearly 150 percent, pumping more than $670 million into Missouri's economy over four fiscal years.
As the center continues to grow and expand its services, Wilson and Bateson hope the business community in Columbia will take advantage of the programs SBDC offers and help entrepreneurship and job creation thrive throughout the community.