S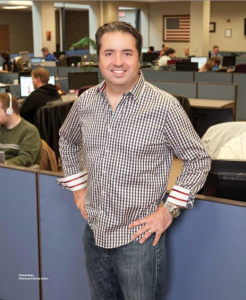 hane Mayes started Onshore Outsourcing in Macon out of necessity, grew to love it and is now working to rid the city of poverty.
Onshore Outsourcing is an information technology services company that strives to keep jobs in the United States. According to Mayes, corporate America doesn't have to look offshore to find an effective IT workforce; he believes an effective workforce can be found right here in rural America.
The business's clients include Panera Bread, Hudson's Bay Co., Boeing and Enterprise Rent-A-Car. Its services include IT consulting, software development, application support, testing services, data services and outsourcing business processes and activities.
Mayes started Onshore Outsourcing after his wife was accepted into medical school at the A.T. Still University in Kirksville, Missouri. The City of Macon gave him a revolving loan to do so.
At the time, his IT management skills were irrelevant in rural areas, Mayes says, and he had to figure out how to make a living while his wife was in school. He has an Air Force and IT background. By creating Onshore Outsourcing in Macon, Mayes says he created a "new knowledge economy" where there wasn't one before. Today, his company employs 250.
"The company started out of necessity," Mayes says. "Then I saw the opportunities we were creating. I saw people making a transformation from a job to a career. I saw something that really grabbed at my heart, and I figured out why I was actually here."
Creating a new middle class
Mayes has arguably started a revolution in Macon. He pays for all of his employees to go to college; courses are taught by Hannibal-LaGrange University on the Onshore Outsourcing campus. The company also provides child care for its employees while they're in class.
Mayes says he's created an entire "workforce development ecosystem." For example, Onshore Outsourcing has partnerships with high schools to recruit new employees. It offers a pre-employment training boot camp.
"We're creating an entire new middle class," Mayes says. "People are going from fast food restaurants to careers."
Mayes wants to altogether eliminate poverty in Macon County. He has grand plans to do so.
"When I see people living a day-to-day rather than truly living, it makes me sick to my stomach," Mayes says.
One of his goals is to provide free child care for all of his employees. He has plans for an early childhood education center that can accommodate 72 children. The center will have an indoor and outdoor playground, he says, the latter of which will have a "kickass rocket ship."
"In order to combat generational poverty in a community, the kids can be a tool to treat their parents," Mayes says. "Their education can create pathways to prosperity for the entire family."
Additionally, Mayes says the free child care is important because he's looking to hire more women. He wants to lower the barriers women face in joining the workforce.
Future growth
In the coming years, Mayes plans on creating a couple hundred more jobs in Macon.
Allan Muncy, former city administrator of Macon, was one of the people involved in giving Mayes the revolving loan to start his company. He was intrigued by the difference the company was making in the community and in its employees, and he liked that the Onshore Outsourcing is exposing the community to Fortune 1,000 companies and bringing jobs back to America.
Muncy retired in July but decided he wanted to be involved in the business he believes is making a big difference in the community. Today, he's the comptroller of finances and human resources for Onshore Outsourcing.
"[Onshore Outsourcing] is a golden opportunity for Macon and Missouri," Muncy says. "People need to know this company is here. We offer opportunities they don't even realize are possible in the area."
Although Onshore Outsourcing has and continues to create many opportunities in Macon, the company has outgrown the city of 5,506. Mayes didn't have enough buildings in Macon to meet the company's growth rate and wanted access to new customers, so he expanded the company into Georgia. He says finding enough employees in Macon has never been an issue though.
In the coming years, Mayes plans on creating 300 more jobs at the Georgia location. He's going to expand the company into another undisclosed state in 2015. His goals for the future of his company are to grow the information management practice. He sees huge opportunities in the area of big data and would like to have a big-data platform service business. He says monetizing data will one day transform his business.
Mayes loves to watch people grow, he says. Seeing the breakthroughs his employees have is why he comes to work every day.
"I love this country, and I love that if you dare to take chances, and with a bit of luck and by the grace of God, you have the ability to increase your lot in life," he says.