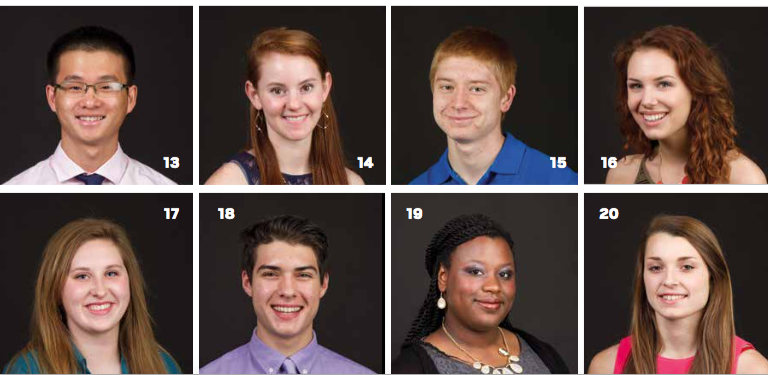 The staff at Hickman High School's newspaper, Purple and Gold News, knew they wanted to honor the 2015 graduating seniors in a special way, but they never imagined a simple idea would evolve into a newfound tradition.
On the evening of Wednesday, May 27, 20 of Hickman's brightest and most exemplary graduating seniors were honored as part of the high school's 20 Under 20 event, inspired by Columbia Business Times' 20 Under 40. The event came a long way, from what started as an idea for a senior send-off feature in the high school's paper to a full-fledged event.
It started mid-spring, mere months before graduation, but just enough time for the P&G staff to roll up their sleeves and get to work.
"We were having our monthly budget meeting and talking about the senior issue, and one of my assistant student editors mentioned how our principal, Eric Johnson, was featured in '20 Under 40,'" Dolores Caamano, a language arts teacher and supervisor of P&G, says. "The staff really loved the 20 Under 20, idea and from then we just kind of went full force with it."
To find the 20 best seniors, the P&G staff formulated a four-part criteria that possible nominees had to meet: involvement in and outside of school, academic excellence, well-roundedness and a positive role model to peers.
"We realized that as a staff, we didn't know all the seniors in the school, so we sent out an email to teachers and asked them if they could nominate seniors who they thought were a great example of leadership and involvement," Sarah Everett, graduating senior editor of P&G, says.
The feedback was tremendous, with each teacher, guidance counselor and administrator nominating at least one outstanding senior. Some seniors were even nominated four to five times by different staff members at the school.
"The students that were nominated multiple times by different teachers made our list," Caamano says. "These were the same students we had discussed about previously in our staff meetings, so it was kind of proof that we set the best criteria, and we knew what kind of student we were going for."
The best of the best
Similar to CBT's 20 Under 40 event held earlier this year, the recipients of Hickman's 20 Under 20 recognition received framed awards featuring the seniors' portraits and a write-up of their accomplishments.
The event, held at the Country Club of Missouri, wasn't even on any of the P&G staff members' minds when the 20 Under 20 issue went to press.
"When we were informed that CBT wanted to partner with us for the event, we were in complete shock because we didn't think something of this stature could happen to our staff," Caamano says.
Along with the awards ceremony, the students worked together to create programs and a special video featuring interviews with the honored seniors. Hickman Principal Eric Johnson and Columbia Public Schools Superintendent Dr. Peter Stiepleman gave keynote speeches at the ceremony.
After this year's success, the Hickman P&G staff is excited to continue and make the 20 Under 20 newspaper feature a tradition to recognize the new senior class each spring.
"You know, in April of my senior year, I didn't know if we were going to be able to pull off that whole event and section in the newspaper," Everett says of what seemed like an over-ambitious feat. "I'm just really proud of the way it all came together."