When Emily Clapp was 18 years old, she desperately wanted to leave her birthplace of Columbia. After graduating from Hickman High School, she made her escape to Chicago for college. But in 2008, something called her back home.
That something was the Columbia Chamber of Commerce, and more specifically the Chamber's newest division, EPIC (Emerging Professionals in Columbia).
EPIC started in 2006 and is a program designed to engage young professionals in networking and business opportunities, all designed to prepare them as the next generation of community leaders. The program often serves as a stepping-stone for young workers to get involved in the Chamber, but Chamber membership is not required.
EPIC targets professionals between the ages of 22 and 40, many who are fresh out of college or graduate school and looking for the next big leap in their lives.
Clapp was one of those young professionals, and when she first joined the EPIC team as its liaison, it was only in its infancy. The program was disorganized. Budgetary issues abounded. There were no specific committees; events were thrown together haphazardly.
"I really didn't know anyone well here [when I came back to Columbia], even though I grew up here," Clapp says. "But EPIC introduced me to some of my great friends. … The people involved in EPIC bring so much to the table. It's an important pillar of the community."
A reason to stay
In September 2012, Clapp left the Chamber to join Veterans United Home Loans as a recruitment architect. She applied to serve on the EPIC Board, and now she serves as the 2015-16 chair.
Alongside Clapp is chair-elect Teresa White, a marketing specialist for the City of Columbia, who has seen EPIC evolve, grow and strengthen over the past few years.
Moving from Springfield, Missouri, to Columbia in 2011, White immediately became involved with the Chamber and EPIC. White cites EPIC as a huge benefit to both her career and personal life; the group helped her make friends in Columbia when she only knew one other resident.
"We have a lot of people graduating in Columbia who leave because they don't have a system or program, or they don't know people," White says. "They don't have something to make them stay. [EPIC] gives them a reason to stay."
Now, White is continuing her fourth year as an EPIC member and her second year on the executive committee. Over the past four years, White has watched EPIC transform; the program is now more closely integrated with the Chamber; it hosts more regional functions; more events are provided for social networking (such as trips to St. Louis Cardinals games); and, for the third year in a row, EPIC is hosting a Business Showcase Mentor Program that allows community leaders to mentor up-and-coming professionals.
Career success and personal growth
EPIC is open to anyone. The program is free and low commitment, and members can choose to participate in a wide variety of networking events designed to spark professional relationships. These events include mixers; program events such as the Young Professionals Summit, a statewide conference the group co-hosted in September with the Jefferson City Young Professionals; and community involvement events such as volunteer projects at the Food Bank for Central and Northeast Missouri. Events typically range from $5 to $40, according to Clapp, and those who want to get more involved can join committees devoted to furthering EPIC.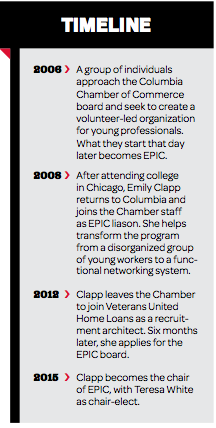 "EPIC strives to help emerging professionals with career success and personal growth," Matt McCormick, president of the Columbia Chamber of Commerce, said in an email. "They learn valuable networking skills and the importance of being involved in the business community and their community as a whole."
Several past EPIC founders have gone on to become active Chamber and community members. Jay Linder, president of Forum Development Group, and Matt Garrett, director of audience development at KOMU-TV, were both recently appointed to the Chamber Board of Directors. Others go on to create their own businesses, make waves in established companies or become leaders in volunteer organizations.