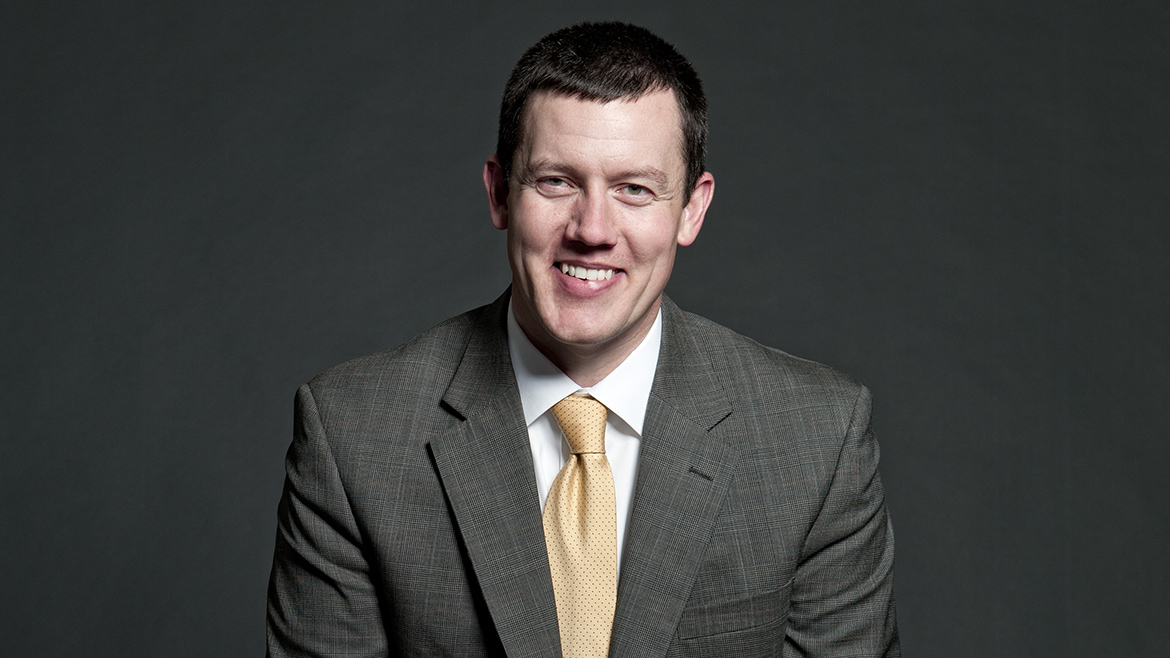 20 Under 40
Caleb Colbert
Shareholder, Brown Willbrand, P.C.
Age: 31
Job description:
I'm an attorney and shareholder at Brown Willbrand P.C. I help clients with real estate transactions, land use and rezoning matters, as well as business transactions and business litigation.
Hometown:
Frankford, Missouri – population 323!
Years lived in Columbia:
Collectively, nine years.
Education:
B.S. in Agricultural Economics from MU and J.D. from MU School of Law.
Professional background:
After law school, I worked for one of Missouri's largest law firms: at 600-plus lawyers, it had more lawyers than my hometown had people. I handled a lot of construction and real estate litigation at that firm. After 3 years, I had the opportunity to come back to Columbia and rejoin Brown Willbrand P.C., where I had clerked during law school. My wife and I both attended Mizzou, so we jumped at the chance to come back to Columbia.
Mentor:
You know, it's tough to select just one mentor because I've had incredible mentors in all aspects of my life. My parents taught me a lot about life, living right, taking pride in my work and sticking with a project until it's finished and is the best product I can put together. Professionally, I have been blessed with incredibly supportive colleagues that have provided guidance and encouragement throughout my career, and I consider each of them a mentor.
What don't people know about your job?
It's almost cliché, but the practice of law is nothing like what you see on TV. Less than 2 percent of disputes end up in trial. Aside from prosecutors and criminal defense lawyers, most lawyers spend the overwhelming majority of their time reading, researching and writing. So I would say most people don't really know how much time lawyers spend reading and writing.
What is the best thing about your job?
The best thing about my job is helping people deal with complex problems. Generally speaking, people don't visit a lawyer unless they need help with an issue they are not comfortable handling on their own. It is incredibly rewarding to be able to help people successfully deal with difficult situations.
A favorite recent project?
I would say that any real estate development project that involves Planning & Zoning or the Board of Adjustment is a personal favorite. For example, I was recently involved with getting property annexed into Columbia on St. Charles Road. The project also includes formation of a Transportation Development District.
What was your New Year's resolution in 2015? Did you accomplish it?
Get a gym membership and get more exercise. I'm halfway there — I did buy the gym membership … I haven't been there in months, but I have the membership!
What are your professional goals for 2016?
I have several projects that I am working on that will either close or go to trial in 2016, so my goals are to see those projects successfully resolved.
What about your day do you look forward to most? What motivates you?
You cannot beat the sense of accomplishment that comes with getting your clients the results they want — whether that's closing a transaction, winning a lawsuit or helping them open a business. What motivates me is the desire to get a great outcome for my clients.
If you weren't doing this, what would you be doing?
I am a very outdoors-oriented person, so it would have to be something outdoors. Most likely, farming or working for the Department of Conservation.
Community involvement:
I am a member of the Columbia Ducks Unlimited Committee, the Sunrise Southwest Rotary Club and the Chamber of Commerce's Agribusiness and Bioscience Committee. I also serve as a board member on the Alpha Gamma Rho Alumni Association (agriculture fraternity) and am a 2015 Leadership Columbia graduate.
Accomplishment you're most proud of?
I'm proud of what I've been able to accomplish overall. I was a small-town kid who was a 4-H and FFA member and started working on farms and raising livestock before I could drive. In high school, I worked nights and weekends at the local grocery store bagging groceries. In college, I had multiple part-time jobs and worked my tail off — I was a research/teaching assistant during the week, worked at Bass Pro on the weekends and umpired intramural sports in the evenings. I'm incredibly proud that all of the hard work has paid off in the form of having the opportunity to work at one of Missouri's largest law firms and in having the opportunity to become an owner of one of Columbia's oldest law firms at the age of 30.
What do you do for fun?
As my wife can confirm, I spend an incredible, incredible amount of time in the fall and winter shivering in a duck blind or perched in a deer stand. If it involves hunting, fishing or shooting sporting clays, I'm in.
What is your guilty pleasure?
My wife's Cajun gumbo, particularly after a cold day of duck hunting.
Greatest lesson learned?
I'm a big fan of the golden rule: Treat others the way you would want to be treated. Although it can be difficult to adhere to this philosophy in the adversarial us-versus-them situations we encounter as lawyers, if everyone followed this rule, it would make life much easier!