With the rate of out-of-hospital births increasing since 2004, MU Women's and Children's Hospital has matched a growing desire for natural births, studied by the Centers for Disease Control and Prevention, with a safe, low-intervention option for parents looking not only for the comforts of home, but also medical supervision.
Inception
When Dr. Courtney Barnes, medical director of MU's low-intervention birth program, joined the Women's and Children's Hospital six years ago, she noticed that babies were separated from their mothers moments after delivery, a procedure that Barnes felt needed to be changed.
"I didn't want that to be the case anymore, so I got people together who had the same interests and we started skin-to-skin contact between the mother and child and breastfeeding in the room," Barnes says. "A natural progression through all of this has been looking at every single thing we're doing in the hospital and asking why we're doing it, is it necessary, what are the risks and benefits and does everybody need it?"
After two years of reviewing their care procedures, the MU Women's and Children's Hospital became the fourth hospital in Missouri to earn the Baby-Friendly designation from the World Health Organization and the United Nations International Children's Emergency Fund. Mitch Wasden, chief executive officer and chief operating officer of MU Health, provided financial support to integrate midwives into the birthing procedure, which Barnes says is the biggest support in creating the low-intervention birthing program and the accompanying suites.
"It was a perfect storm of financial backing, administrative support and nursing interest," she says. "When you look at the outcome of deliveries in the United States, our maternal-fetal outcomes are not necessarily as good as other countries, so I think lots of people are asking the question of 'are some of the things we do routinely causing harm?'"
Experience
Deacon Markijohn was the first baby born in the low-intervention suite, at 8 pounds, 2 ounces, on November 23, 2015. With two siblings at home, both of whom were induced, Deacon gave his mother, Jill Markijohn, the opportunity to experience natural childbirth.
"There's nothing wrong with not having a natural birth, but for me, I feel like I had spent nine months watching everything I put into my body, and if I could [give birth] without having to put in any drugs to ease the pain, I'd want to do that," Markijohn says. " I felt like if I could go into labor on my own, it would keep me set on a natural birth."
The suite's main purpose, according to the hospital, is to provide "a home-like atmosphere with ample nurturing for expectant moms and limited technological monitoring." Although the patients look for as little medical intervention as possible, they do receive regular prenatal check-ups. For women to qualify for the suites, they must meet all low-risk pregnancy qualifications.
In comparison to her previous two births, Markijohn saw noticeable differences with Deacon, including her shockingly low level of pain throughout the birth and after. She says, "I said while we were still in the hospital, postpartum, 'I'm totally open to the discussion of more kids.'"
The suites include a large bed that Markijohn says is anything but a hospital bed — specialized European birthing stools, a spacious bathtub with adjustable heat, labor balls, mats and suspension ropes. Hidden in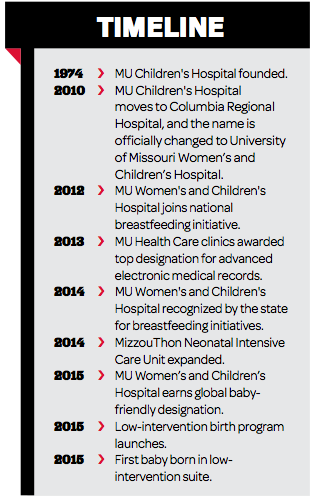 walls and tucked away, all necessary technology is in the room, in case of an emergency.
Patients are allowed to bring their own birth coaches or doulas to the facility to work with the certified nurse midwives, like midwife Lori Anderson. Anderson is on staff at MU, giving the expecting parents two ways to receive information and support during childbirth.
"It was more than just the room that made it, it was the whole staff." Markijohn says. "They have it set up so you don't feel like you're in a hospital. My birthing team felt like my best friends, and I'd only met them that night."
With 1.36 percent of United States births now taking place outside of a hospital, the suites strip down the typical hospital room and give that percentage of Americans a home-like option in the safety of a hospital.
"This program is really about everyone having a low-intervention delivery unless they need the intervention." Barnes says. "The great part about the program is not the room, it's the policies, the training and the education that we have with our staff."