Over the last two years, the award-winning Courtyard by Marriott boosted the hospitality industry in Columbia by constructing state-of-the-art facilities in their Executive Center and completing a complete remodel of the hotel itself, living up to their TripAdvisor Certificate of Excellence and providing the city ample facilities for virtually any occasion.
Embracing Change 
After nine years in business, the Columbia Courtyard, on Lemone Industrial Blvd., stripped the lodging from top to bottom in April 2014, renovating nearly every space in the hotel to meet the Marriott's core values: embracing change, putting people first, acting on integrity and serving our world.
In July, the lobby transformed. The buffet service breakfast became a full-blown bistro and Starbucks, equipped with plenty of lounge space and a bar. On top of the lounge, built for business or pleasure, the hotel boasts a fitness facility, a full-service business center, an indoor heated pool and a stone patio.
Longtime employee Sarah Cunningham joined the Columbia Courtyard in 2005, when the hotel opened, and now serves as the catering sales manager.
"[Business] has continued to grow each year by occupancy in sleeping rooms and the number of meetings booked," Cunningham says. "We just keep taking care of them and they keep coming back."
All 133 rooms, including suites, were renovated, giving guests more than just a basic stay at a hotel. Each room supplies guests with stylish, neutral décor; refrigerators and microwaves; ergonomic desk chairs; cable; and high-speed Internet. When the lights go off, blackout drapes and high quality bedding offer travelers a night free of typical travel inconveniences.
An Even Grander Ballroom
The Columbia Courtyard is no stranger to the new and improved. In January 2015, Kinseth Hospitality Companies, the primary owner of the hotel, announced their efforts to expand and innovate the hotel a second time, by adding an extra 2,500 square feet of meeting space.
The Executive Conference Center renovations, completed in June, not only converted the hotel's second restaurant (formerly Bennigan's Bar & Grill) into extra meeting space, but also allowed the Courtyard an even greater opportunity to capitalize on businesses with employees in both St. Louis and Kansas City, like State Farm, MU and MBS Textbook Exchange.
With a total of 8,000 square feet after renovations, Courtyard guests use every inch. The space breaks into seven separate rooms that open individually via break-down walls to create a grand ballroom, dressed in neutral tones and featuring equipment like mounted LCD projectors.
"Some of the companies that may have been a little bit large for us last year we can now accommodate," says Brandon Boyer, the general manager of the Courtyard.
Storming the Market

In 2016, Boyer and his four-person sales team, which includes Cunningham, want to increase their Internet and social media presence exponentially by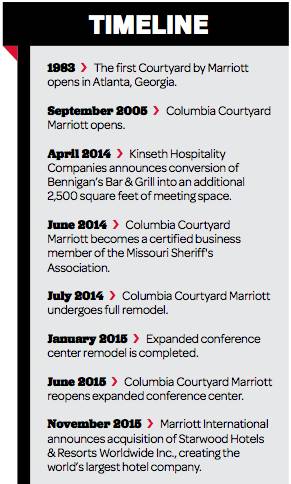 increasing their hold on the wedding market and increasing their word-of-mouth publicity.
"We're definitely storming the market." Boyer says. "We want to make sure that when people are looking for event space in Columbia, we're one of the first places to pop up."
The hotel recently bought into wedding websites, hoping to attract the growing wedding market in Columbia with their cutting edge ballroom space and top-of-the-line catering. In the last year, over 1,232 weddings took place in Columbia, according to The Wedding Report, which ranked the town 304th out of 977 metropolitan areas for the amount of ceremonies, average wedding cost, total sales and average number of guests.
Along with their Internet campaign, the Courtyard plans to continue their trade and advertising with local radio stations, increasing their overall presence in the community and on air.
"We have a pretty big sales team for this size property, and they each have their individual markets they're responsible for," Boyer says. "It's just about establishing relationships and making sure people are aware we're here and newly renovated."