Starr Properties expands with second commercial development.
From their office on West Broadway, three of Starr Properties' leaders joke that, in May, they will have both ends of Broadway covered. They're opening their second commercial development, Old Hawthorne Plaza, on East Broadway.
Their first commercial development, the 90,000-square-foot Broadfield Center on West Broadway, hosts the likes of Shakespeare's Pizza, the Callaway Bank and State Farm Insurance, as well as the Starr Properties office. Now, Starr Properties, run by Justin Starr and Janna Gates, who are brother and sister, and their cousin, Naomi Starr, is bringing commercial options to the other end of the street.
"Right now we've got the bookends of Broadway," Justin says.
Starr Properties has been growing steadily in the Columbia market since Russell Starr started the company out of his basement 30 years ago. He kept the books and found tenants while his wife, Jeannie, did customer service and maintenance. The business became a profitable second source of income for the family. Russell still comes in on nights and weekdays and will work at Starr Properties full time when he retires from his position as the CFO of Veterans United Home Loans.
Starr Properties started, in 1984, with residential family properties. Since then, the company has expanded what it offers to Columbia. In 2001, they bought the ground for the Broadfield Center. Five years ago, Starr Properties opened its only student housing complex, The Pointe at Rock Quarry Park. Last year, they added a construction business under the company name. This May, Starr Properties will open Old Hawthorne Plaza, a commercial location with office and retail space.
The Other Side of Town
Starr Properties is filling a big hole in the quickly-growing community of Old Hawthorne. The upscale community on the eastern edge of town has housing developments, a golf course and schools nearby, but it doesn't have a commercial space to tie the community together. In May, Old Hawthorne Plaza will meet new residents' needs as Columbia grows.
"That community is growing rapidly," Justin says. "Old Hawthorne is a huge development and a lot of homes have gone up there in the last couple of years … Things are definitely moving east."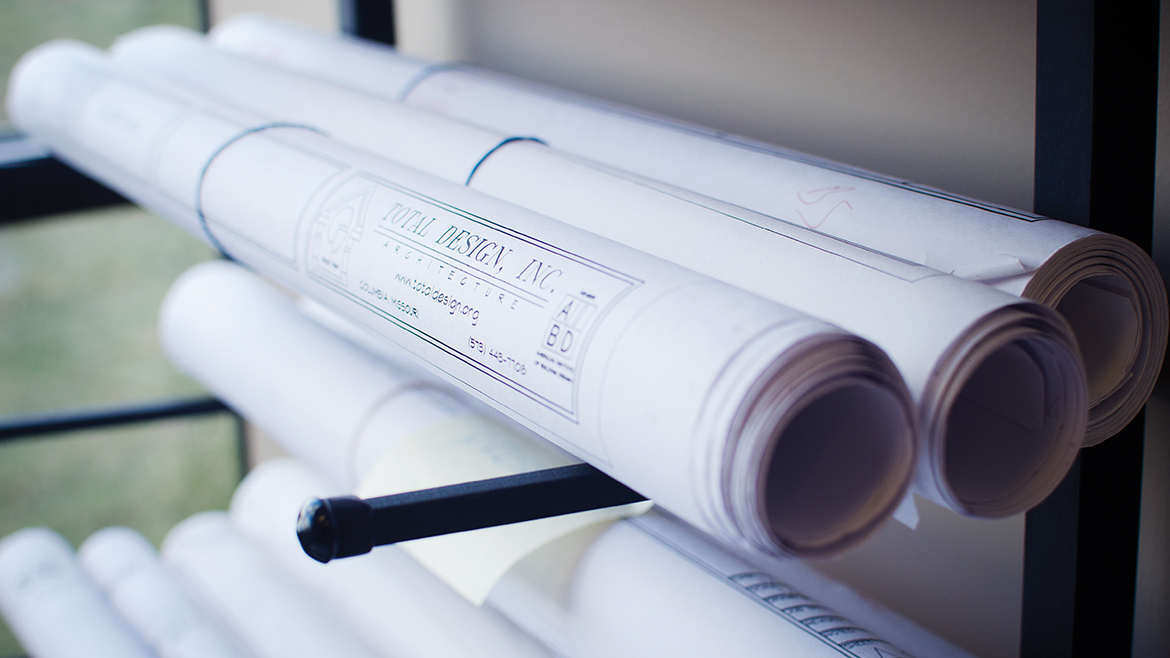 Old Hawthorne Plaza is going up on the corner of Rolling Hills Road and East Broadway (where it becomes Highway WW). Starr Properties bought the 12-acre plot in 2007, but the sluggish economy kept them from building, Justin says. The next year, they put roads and utilities into the space. Finally, in October 2015, Starr Properties broke ground and began construction on the first building, which is 6,000 square feet, with Coil Construction.
The company isn't ready to disclose the names of new tenants but has received zoning approval for a convenience store and a bank on the property. They are looking for more tenants for the space, which will continue to grow on the 12-acre plot.
"With commercial businesses, I often tell them that we're like business partners," Justin says. "We have a vested interest in their business being successful, so we want to do what we can to help them out…We look for [commercial tenants] that are well-run. Owners that are engaged and involved typically do very well."
Cindy Zhou, a tenant in the Broadfield Center, worked closely with Starr Properties to design the perfect space when opening her business, Body Refinery Gym, in 2015. She picked the Broadfield Center for the gym because she lives nearby. She decided to call Starr Properties after seeing one of their signs, and she became a tenant after meeting the Starr Properties team.
"It's just a lot easier and more convenient to work with them compared to working with other commercial management," she says. "They are family-owned and local, so you know their reputation and you can ask around."
Zhou has also used Starr Properties' in-house construction company, which is a relatively new addition. Starr Properties established Starr Construction as a new division of the company, and Justin started All Star Plumbing, which Starr Properties uses for service. Being able to provide plumbing and construction services in-house is faster, more cost-effective and ensures high-quality service for tenants.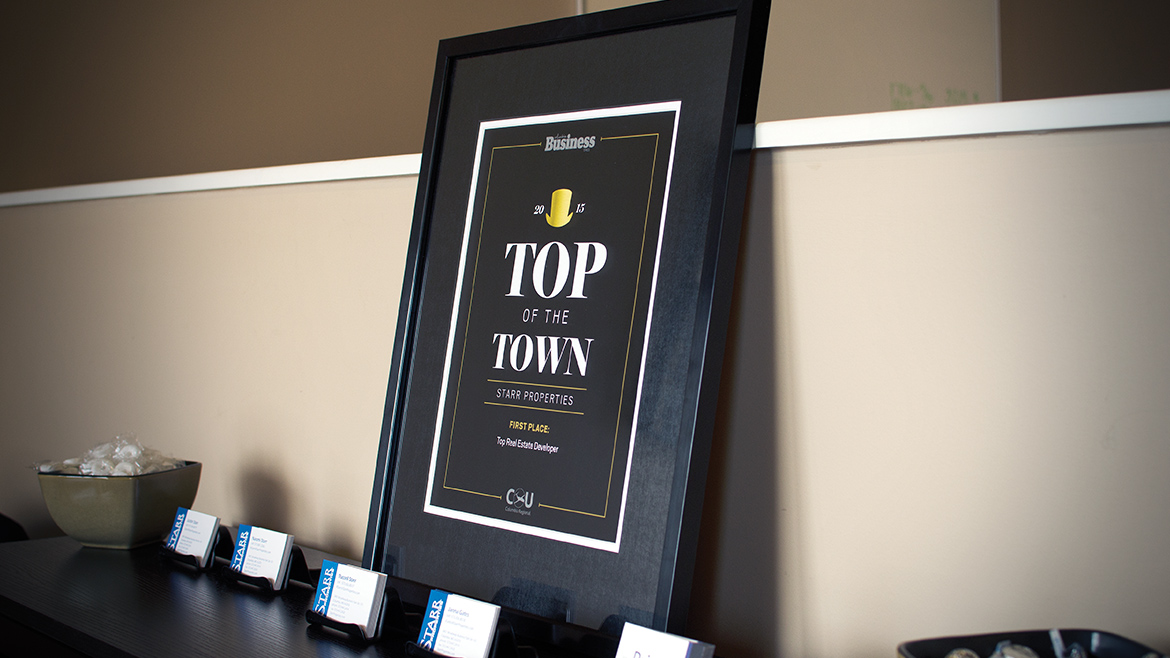 Starr Construction remodels commercial spaces when new tenants move in and want to make changes. They're also building single homes from the ground up, to be rented by Starr Properties. Justin owns All Star Plumbing, which is used for The Pointe at Rock Quarry Park's plumbing needs, but gets the majority of its business outside of Starr Properties. The Starrs' family friend, plumber Rob McDowell, provides the services.
"As we grow, it's a vertical integration thing, and we believe we'll ultimately be able to do more for less and become more efficient going forward," Justin says.
Family Style                                        
As Starr Properties adds more square feet to their business every year, the Starr family is growing too. The key to the longevity of Starr Properties' success in real estate is treating tenants like part of the family, Janna says.
"If they're locked out of their house on a Saturday, go let them in," she says. "If they text you at nine o'clock at night with a question, answer the question."
Through word-of-mouth and relationships with institutions in Columbia, residential turnaround is fast. The company has built relationships with MU and hospitals in Columbia to help visiting scholars and professionals find housing. While these leases will be relatively short — only about two or three years — they know that providing good customer service to short-term tenants will pay off with referrals.
"We have a group that will almost re-rent places for us," Justin says. "They have someone coming in and someone going out. They'll just make the change and let us know, 'this person is leaving and this person is coming in, and I hope that's okay.'"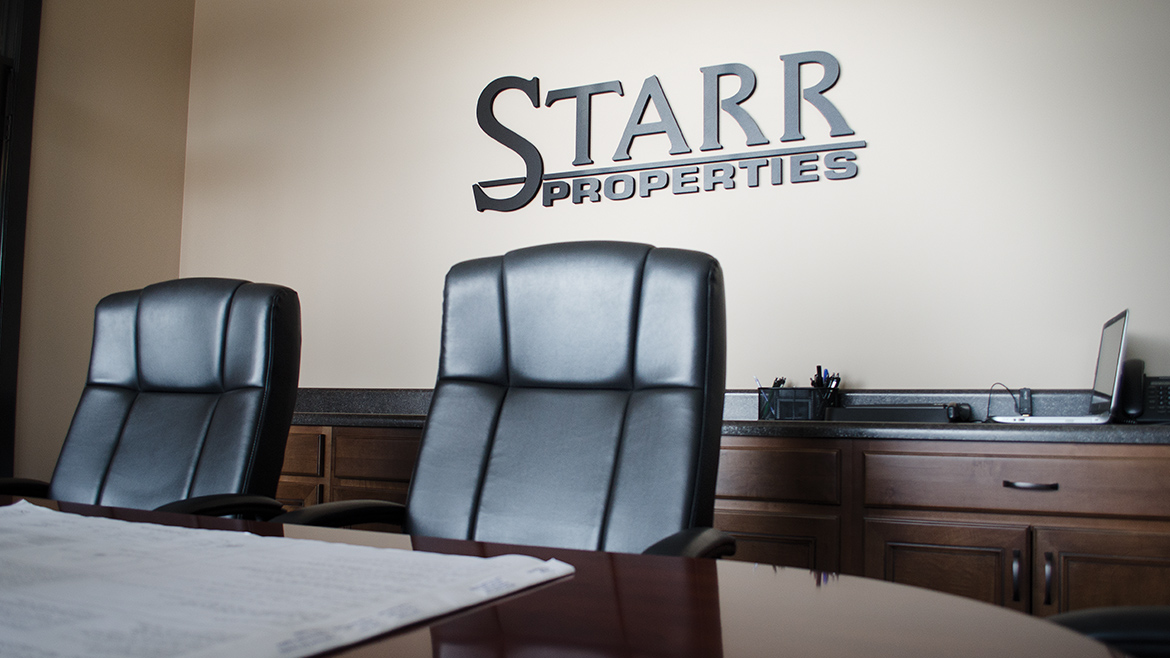 Starr Properties also focuses on longer leases for the residential side of their business. They own about 50 residential properties they rent to families, working professionals and retired couples. There are 60 student residential units in The Pointe at Rock Quarry Park. One tenant stayed with Starr Properties for over 15 years. "If you treat them like family and you treat them how you want to be treated, then I think they want to stick around," Justin says.
Joel Denney, who has rented a home in Columbia from Starr Properties for over four years, says he felt like family as soon as he got in touch with Janna to look for a property. He travels often, and he says the Starr Properties employees are always willing to stop by his home to make sure he remembered to lock up.
Recently, he arrived home from a long trip and realized he had forgotten his house key.
"I sent Janna a text, and it was the dinner hour, it was 6:30," Denney says. "Janna has little ones at home, and she came over in 15 minutes to let me into the house. I'm saying to her things like, 'You know, I fully expect that you're going to send me a bill for a hundred dollars or something for your time.' And she said 'No, no, no.' That's the kind of stuff that I remember. They really are good people."