The Village of Bedford Walk provides high-end retirement living and a vibrant community.
Since the mid-1990s, baby boomers have been flocking to college towns, where low cost of living and vibrant culture are attractive features for retirement. With trendy restaurants, art and music festivals; endless parks and trails; educational opportunities; and highly rated health care facilities, Columbia has become one such retirement destination in recent years.
In response, various retirement communities have been springing up in Columbia. To fulfill the needs of the growing "55 and better" population, the Village of Bedford Walk, at the corner of Bethel and Nifong in Columbia, is an option for those seeking independent living.
Design in Mind
Bedford Walk, set to fully open this June after 18 months of construction, boasts 27 units and a four-story apartment home building, a total of 88 units, on Bailey Drive. The units range in size from the approximately 600-square-foot Bristol studio apartment to the 1,550-square-foot, two-bed, two-bath Stratford villa.
A tour of one model villa at Bedford Walk reveals an intentional design that goes beyond the marriage of form and function. No steps can be found in these units. Kitchen countertops are installed higher than usual, for greater comfort. Attractive grab bars in rubbed-bronze finish are placed wherever there aren't nonslip surfaces. Even the electrical outlets are placed higher on the walls, to help prevent falls.
Lezlee Leonard, who helped choose these universal design choices, is an exuberant tour guide. With a master's degree in gerontology, Leonard has served as coordinator of JES Prime Senior Living since June 2014, shortly before construction began on Bedford Walk.
JES Prime Senior Living is the newest family member of JES Holdings LLC, founded by Columbia native Jeff E. Smith. Several of the privately held companies specialize in various types of senior living locally and nationwide, with JES Prime Senior Living entering the mix specifically to accommodate independent living in Columbia.
"The idea is for seniors to be able to age in place," says Leonard. "Assisted living costs more money, offers less space and feels more institutional. Why leave [Bedford Walk]?"
Leonard hits upon the spectrum of choices available in senior living relative to a resident's level of independence and medical need. Bedford Walk combines the autonomy of the independent retirement community with the best features of assisted living facilities, in which residents can purchase services as needed. The result is high-end living with loads of services, safety features and social activities.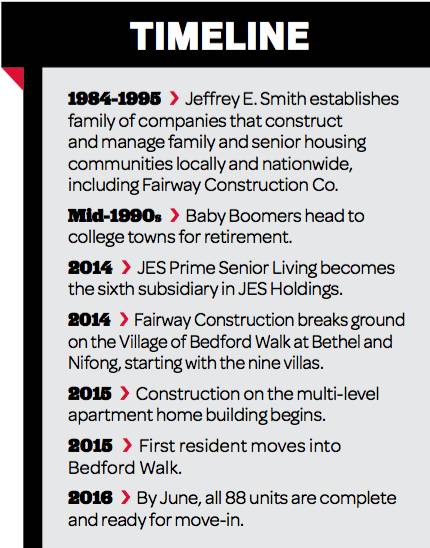 Amenities Galore
"We offer as much of a maintenance-free lifestyle as we can, starting with rent, which includes all utilities and a daily [catered] lunch," says Ashley Steiner, community manager, who works closely with Leonard.
Regardless of unit style, residents can expect high ceilings with crown molding, cushioned wood floors, ample closet space, fresh kitchens and bright bathrooms with modern fixtures to round out a stately residence.
But Steiner and Leonard take pride in the services that extend beyond the finishes to create an active, thriving community.
Before residents even arrive, a moving specialist can visit their current home to help them downsize and coordinate the move. Once at Bedford Walk, residents enjoy their own fitness center, beauty salon, movie theater and billiards room; private dining rooms; and a bistro with wine lockers. The concierge service can arrange tickets to events in town as well as privately chauffeured transportation. The outdoor courtyard and walking trails are ideal for pet owners. For an additional monthly fee, Bedford Walk allows up to two pets and has no breed specifications.
Health and safety features at Bedford Walk are also attractive. A registered nurse serves as the wellness coordinator and each resident receives a health assessment upon move-in by the RN and is updated every six months.
And then there is the "I'm Okay" motion-sensor system. Installed in a high-traffic area in every unit, the sensor sends an alert to Steiner's cell phone if no movement has been detected by 11 a.m. each day, providing comfort to families.
Looking Ahead
Leonard says that many prospective Bedford Walk residents are returning MU alumni, and that about 25 percent are coming from out of state in hopes of relocating closer to children and grandchildren.
In the future, JES Prime Senior Living looks to expand to other moderately-sized SEC towns, where Leonard says there is an underdevelopment of senior communities. In the meantime, the focus is on Columbia and the Village of Bedford Walk.
"It doesn't matter how old you are," Leonard says. "People need people, and we're bringing that to Columbia."