Find more at: www.tigermaids.net
At Tiger Maids, our cleaning professionals are sent through a thorough training program to teach them the art of efficient and detailed speed cleaning. Here are a few tips to help you get the most out of your cleaning day:
Declutter
Professional cleaners come to clean counters, furniture, appliances and floors. They can't do the job if each horizontal surface in the house is covered with papers, toys and dirty dishes. Take the time to pick up before you start cleaning the surfaces.
Dress for Success
Professional cleaners dress for the job in comfortable, washable clothing designed for the work. They wear supportive shoes and knee pads, masks and gloves to protect against chemicals, and a cleaning apron that keeps tools and supplies at their fingertips. Make sure you dress in clothes you don't mind getting messy.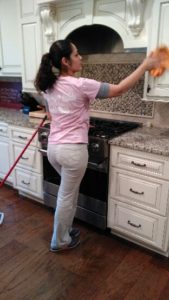 Be Prepared and Organized
Oops! Forgot the powered cleanser? Down the stairs you go. Where's the toilet brush? Run to the laundry room for more cleaning towels. Professional cleaners tote their tools with them. They keep cleaning products, brushes, rags and everything they will need to finish the job right there with them. The vacuum, a mop and mini vac are staged in the doorway as they work their way out of the room. That's why the pro has finished the entire bathroom before the amateur makes it back up the stairs with the powdered cleanser. Invest in a shower caddy, and fill it with your essentials, so it's easy to just grab and go and tackle any room.
Make Every Move Count and Stay Focused
Work from top to bottom. Dirt follows the laws of gravity. When you start at the top and work to the bottom, you won't be constantly re-cleaning surfaces. Clean left to right and back to front. This way you won't miss that ceiling fan or picture on the wall.
Use Both Hands
Your work force is half idle if one hand is doing all the work. Finish one step with one hand, and start the next step withthe other. Or, wipe with one hand while the other steadies the object.
Time Yourself
Put a limit on cleaning tasks. That way you won't get caught up on one small job and spend too much time there or get sidetracked.
Think Teamwork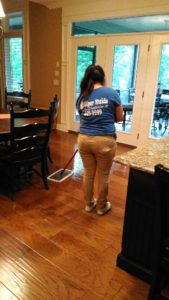 Two people make a bed four times faster than a single cleaner working alone. Watch the pros at work. Working in teams, they make short work of an average home.
Tidy Up for Next Time
Professional cleaners wrap up each day before they leave. Tools are returned to storage areas, totes are tidied, spray bottles are refilled and soiled cleaning cloths take a trip through the washer and dryer. Your goal is to be able to hit the ground running next time they visit.
Of course if you don't have the time or all of this seems like a hassle, you can always call the pros in.
Tim Zakrewsk
Tiger Maids was founded in 1996 by Robin Zakrewski, who has more than 25 year experience in the residential cleaning industry and currently functions as the office/customer service manager. Her husband, Tim, joined the company full time in 2007. He brings more than 20 years in operations and sales management to the table and currently functions as the general/ sales Manager.
Tiger Maids currently services more than 260 residential homes, and performs hundreds of move-out services each year for their property management and realtor partners. Additionally, they provide post-construction clean-up services for six luxury home builders.
Tim can be reached at tim@tigermaids.net or 573-999-5850.
How much is your time worth? Track the time you spend cleaning each week and how much you should "pay" yourself. Chances are that a professional cleaner can clean significantly faster than you, which means it would "cost" you less to hire them than to do it yourself.