A night on the town with Columbia Culinary Tours might look (and taste) like this: small plates at Eleven Eleven; a slice of pizza, thin and delicate, with wine at Umbria Rustic Italian; a sampling and shopping trip to Boone Olive Oil Co., followed by a tasting and information session down the street at Craft Beer Cellar; and, to finish the night, two cocktails and a small plate at Glenn's Café.
Of course, it won't be exactly like that. Owner and operator Kerri Linder varies the restaurants included on each tour — coffee shops and bakeries for mid-morning tours, restaurants and specialty shops for the evening and afternoon tours. Linder likes to make each destination a surprise for her guests.
On a recent tour, Linder, a history buff, stops to mention that the white building with the large porch on the corner of Tenth and Cherry, the Niedermeyer, is the oldest building in Columbia.
"Talking about specific buildings and the history behind them really can kind of create a deeper appreciation for Columbia," Linder says, "whether [tour guests] have lived here forever or they're just visiting."
Linder offers four public tours: the Brunch Tour, the Flavors Tour, the Night on the Town Tour, and the Craft Beer and Food Pairing Tour. The Brunch Tour visits bakeries, cafes, and coffee shops in the morning. The Flavors Tour takes place around 2:00 in the afternoon, when guests sample small plates at various local restaurants. The Night on the Town tour is similar, but geared toward guests over 21; there is also an option to make all of the drink pairings on this tour wine. The Craft Beer and Food Pairing Tour visits various breweries and restaurants who offer flights of beer with local food pairings.
Individuals, couples, and families can sign up online to join a larger group tour. Linder also offers private, customizable tours for 10 people or more, for events such as a bachelorette party or an office staff party. Tours last approximately two hours and cost around $40 per guest.
Linder's goal, especially with locals, is to visit restaurants her customers haven't been to before. Each restaurant serves a small-portion dish, a drink, or both.
"We have some that will vary it every single time," Linder says. "A lot of times they're getting ready to switch their menus, and so they'll try out things on the culinary tour to see how people like it and get feedback that way. Then we have some of them — for example, Glenn's Café is kind of known for certain menu items, and that's what they like to showcase. I leave it completely up to the places what they want to serve."
Linder, a Columbia native with a background in accounting, started the business in November 2014 after doing culinary tours in other cities.
"There's a big push in eating local and spending your dollars local, and that's kind of what locals are looking for — trying to find those good places to go to and still support the community," Linder says.
Kerri's guests also include out-of-state visitors. "We're not from the area," says Jennifer Gilmour, who was visiting from Savannah, Georgia on her recent Night on the Town Tour. "It was really nice to get an idea of some places to go."
Linder started out with the Flavors Tour before adding the others, and she now employs two other tour guides to lead groups. Linder appreciates the flexibility of her business; she gives around eight tours per month, and she does not tour during the winter months.
As a first-time business owner, Linder has learned on the job. She started out by contacting local restaurant, bar, and business owners she thought would fit the tour well.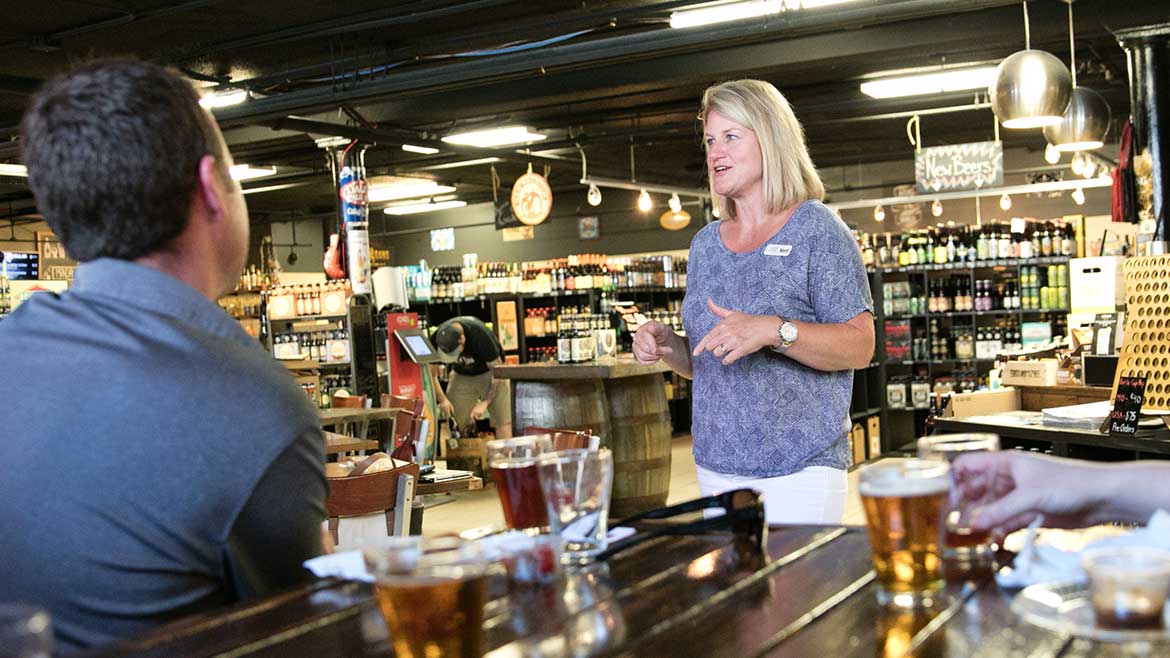 "When I first started, I initially thought, 'I'm just taking people on tours,' but there was so much more of it," Linder says. "The relationship building — that's really been a plus out of it for me. If I wouldn't have done this business, I wouldn't have gotten to meet all of these awesome business owners and chefs."
Linder partners with Café Berlin, Fretboard Coffee, Shortwave Coffee, Glenn's Café, Eleven Eleven, Günter Hans, Craft Beer Cellar, Umbria, Broadway Brewery, Como Smoke and Fire, Harold's Donuts, U Knead Sweets, The Candy Factory, and Boone Olive Oil Co., and she recently added Room 38 and 44 Canteen as partners.
Chefs from each restaurant visit the table when the tour sits down. They might share about their background, the restaurant's community involvement, and introduce the gooey butter chocolate peanut butter cake or the quinoa fritter they've prepared for the tour.
The restaurants on Linder's tours are just a sampling of Columbia's culinary offerings. "There's places that I think have great food, but they're not on my tours just because they're not a good fit," she says. "Maybe they're more well-known, or maybe they don't have the space to accommodate a tour. There's different things other than the food that you look at."
Linder says the tours benefit the restaurants because they bring new clients in the door, and those clients typically return with their families.
"It's a great way to kind of extend our brand," Jonathan Steffens, owner of Craft Beer Cellar, says. Steffens and the certified "beer geeks" at Craft Beer Cellar offer their expertise and samples paired with food from local restaurants. "It's very educational for them, so they can take away something from the session."
Linder says she gets a lot of positive feedback from locals about meeting the chefs behind some of their favorite restaurants.
In the future, Linder hopes to shuttle to various wineries and bed-and-breakfasts in Rocheport, another mid-Missouri town with rich history. She is also looking to get more involved on the MU campus with parent weekends.
"The great thing about it is I don't have a specific market that limits me," Linder says. "If you like food and you like going out and trying new places, then you'll enjoy the tour."