Job description: As the founder of the company (formed in 2011), I'm both the business manager and the artistic director. I choose the productions, hire the directors, write the grants, organize the rehearsal schedules, and clean the bathrooms.
Years lived in Columbia/mid-Missouri: I've been here pretty much since 1977.
Original hometown: Geneva, New York, but I grew up mostly in Mountain Grove, in south central Missouri.
Education: B.S. in music education from MU; master's in vocal performance, also from MU.
Favorite volunteer/community activity: Obviously, I love theater and music. I enjoy singing for residents of The Arbors, an Alzheimer's unit connected with Colony Pointe. Watching their faces light up when they hear familiar songs is priceless.
Professional background: I taught public school music for 28 years, up until I retired in 2008. Since that time, I've worked professionally as an actor for regional theater companies around the U.S. I founded Talking Horse Productions late in 2011, and we staged our first show early in 2012.
A favorite recent project: I love to take on acting jobs with other companies and organizations, and I just recently completed a run of "1776" at the Arrow Rock Lyceum Theatre. It's an incredible experience to work with other folks who are passionate about the craft.
A Columbia businessperson I admire and why: Technically, he's not in Columbia, but Quin Gresham, the artistic director of the Lyceum Theatre, immediately comes to mind. He is a master of his craft, yet he's also a kind and caring person who treats his actors like they're family. Quin and the rest of the team at the Lyceum are great examples of leadership, and I try to create that atmosphere at Talking Horse.
Why I'm passionate about my job: I love theater, and I love bringing a wonderful experience to our audiences with every production. There's nothing quite like theater, whether it's an intimate show or a huge extravaganza!
Why I'm passionate about my company: Talking Horse is a small company in a small venue that seats 70, and I believe it's important to tailor your productions to fit your venue. We produce a more intimate brand of theater: small casts, compelling stories and characters, and an experience that will hopefully stay with our audiences long after the show ends. We have grown steadily in our five years of existence, and I'm always looking for ways to enhance the theater experience for our patrons. New seating, new plays getting their premiere performances, challenging topics — Talking Horse is always looking to be a unique experience!
What people should know about this profession: Very few people can actually make a living in the arts, which is a sad thing. Most artists have to have other ways to make money in order to live. The "starving artist" term still applies today. So, if you intend to pursue a career in theater, be prepared to struggle. The struggle only makes you more determined!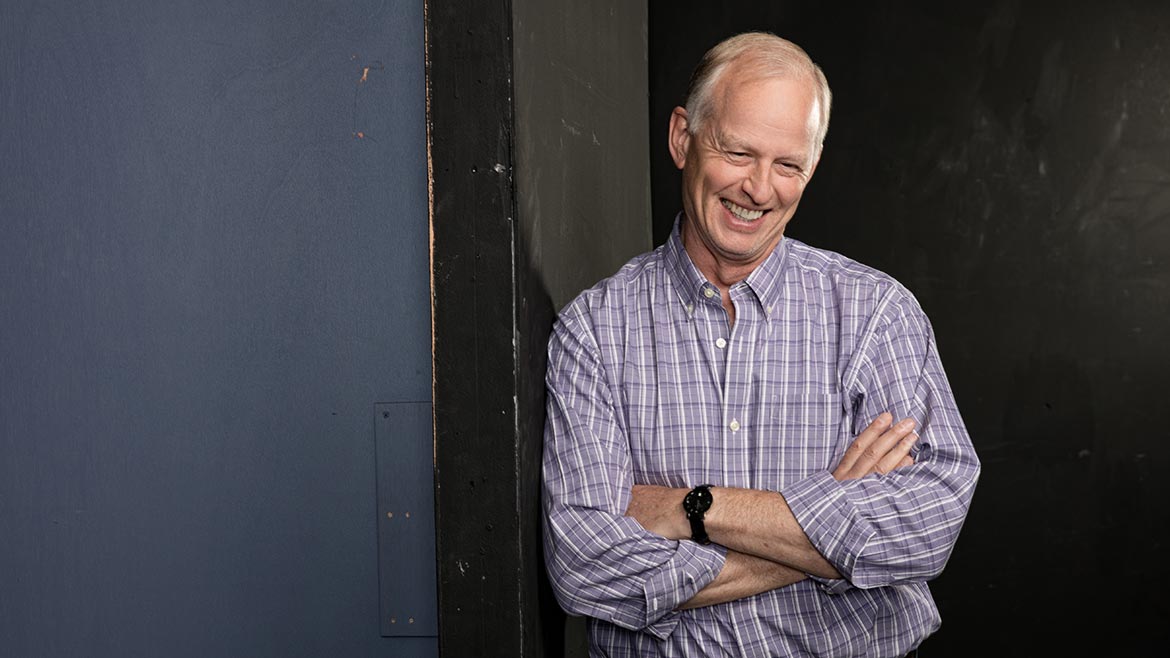 How you would like to impact the Columbia community: I'd like to see Columbia grow as a theater-loving community. We already embrace live music and film, but there is plenty of room for growth as a theater town.
If I weren't doing this for a living, I would: I would still be performing on the road, I suppose. But I'm very glad I chose to start Talking Horse, and it's been a labor of love.
Biggest lesson learned in business: Never take anyone for granted, especially those folks who believe in what you're trying to accomplish. Always be grateful for their support!
Accomplishment I'm most proud of: Founding and running Talking Horse is perhaps the hardest thing I've ever done. Starting a nonprofit from scratch and getting others to believe in your vision for a company that provides a unique experience has proven to be sometimes frustrating but ultimately very rewarding.
Family: Three children, all grown and scattered to the winds (Columbia, Atlanta, Seattle).
What I do for fun: Travel! And, of course, attend theater.
The next challenge facing my industry: I think the challenge is always going to be connecting your audience with your craft, keeping things fresh and appealing, but, at the same time, challenging. If theater becomes strictly entertainment and doesn't ever challenge the audience to think and feel, then we've lost something as an art form.
My next professional goal: My next goal is to move Talking Horse closer to becoming a professional company. We are now sort of a "hybrid" company, mixing professional actors and staff with volunteers. While we'll probably never be a fully professional company (like the Lyceum, for example), I believe that we can provide mid-Missouri with a professional level of theater in our own unique style.
Greatest strength: Vision for the future.
Greatest weakness: Not asking for help when I really could use some!
Favorite place in Columbia: Besides my theater, I would have to say The Wine Cellar and Bistro. Nothing like a great glass of wine and a delicious meal. And, of course, my friends would say, "any coffee shop available!"
Most people don't know that I: lived in the Middle East (Beirut) as a child. I was fortunate to have many opportunities to travel and to be exposed to different cultures at an early age.