Job description:
Management of Columbia, Moberly, Mexico, and Boonville markets for FSCB.
Age:
50.
Years lived in Columbia/mid-Missouri:
33 years.
Original hometown:
LaMonte, Missouri (since no one knows where that is — just west of Sedalia).
Education:
Attended both MU and Columbia College. Received my BS in business administration in 1990.
Favorite volunteer/community activity:
I would say two things: one is serving for the last seven years on the board for the Boys and Girls Club, and the other is my 21 years serving on the Southern Boone R-1 Board of Education.
Professional background:
I have made my rounds! Started my career while in college, working at Boone County National Bank for 14 years. Five years with Boone National Savings and Loan, then almost 10 years with Commerce Bank before making the move to First State Community Bank in March 2016.
A favorite recent project:
Co-chairing the capital campaign (with Clyde Ruffin) for the Boys and Girls Club of Columbia. We raised $2.5 million in about 10 months!
Why I'm passionate about my job:
Pretty basic: I love helping customers achieve financial success. I have also enjoyed working with the "best of the best" over the years! It also allows me to be very involved in this community and meet some of the most extraordinary people. Columbia has a terrific group of banks (and bankers) that truly care, and I am proud to be associated with all of them.
If I weren't doing this for a living, I would:
Probably be a politician . . . or an Elvis impersonator. Pro golfer? Drew Smith and Steve Sowers may have a differing opinion.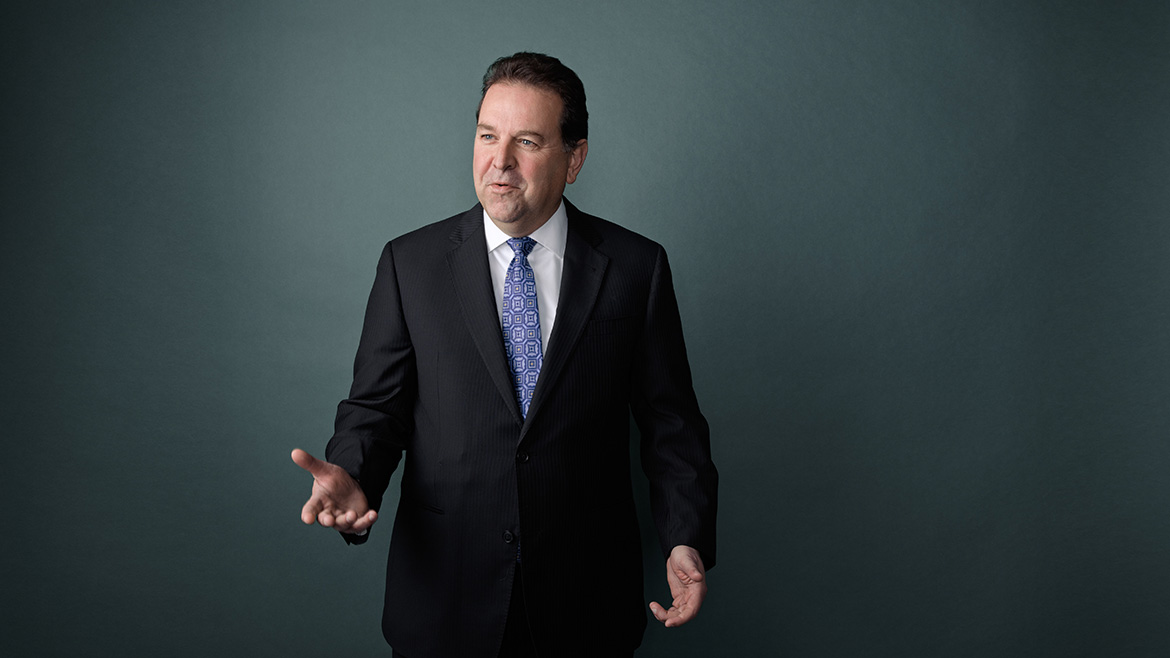 The next challenge facing my industry:
Probably rising interest rates. We have seen an extended period of historically low rates, and, as rates begin to move up, what impact will that have on our local economy? The increased regulatory burden on community banks over the past several years (i.e. Dodd–Frank, etc.) has challenged smaller banks to remain competitive. Although some regulatory reform was necessary, the past few years have seen, in my opinion, an overreach on the federal level to control smaller financial institutions.
A Columbia businessperson I admire and why:
There are a lot that I admire. Three that I consider on my personal Mount Rushmore are Bo Fraser, Ed Scott, and the late Bill Powell. These three men helped me understand the importance of humility, the importance of community, and the importance of passion for whatever you are doing. Outside of my family, I could always count on them to give me direction and wisdom over the past 30 years.
Biggest lesson learned in business:
Humility. Also that things are never as good as they seem and never as bad as they seem — they are always somewhere in between.
Why I'm passionate about my company:
FSCB is a community bank that truly cares about every single customer that walks in the door. It doesn't matter if it's a child opening a junior savings account or a person buying a business — they are all important at FSCB. We're headquartered in Farmington, Missouri, and FSCB was built on the idea of serving the community. FSCB came to Columbia six-plus years ago to continue that tradition in central Missouri.
Accomplishment I'm most proud of:
My kids and my marriage. I am so proud of the young women my kids have turned out to be as they grow up. They all have huge hearts and care so much for others. Being a daddy is tough, but, as I grow older, I think my wife and I did good!
How would you like to impact the Columbia community:
My involvement with the Boys and Girls Club has had a huge impact on my family and me. Helping kids see a bright future can be very difficult, but the BGC is doing incredible work to make that happen.
My next professional goal:
Continue to grow the FSCB brand in central Missouri. Looking to grow into other communities in our area is a high priority for us right now. This is a great bank that can really serve a unique niche in our area.
What I do for fun:
Really enjoy traveling. My wife and I try to get to a beach somewhere every year for a little R&R.
Greatest strength:
Adaptability — I feel that I can adapt to different situations and people relatively easily. Also, I think I'm pretty good at bringing people together to achieve results.
Greatest weakness:
Other than filling out questionnaires like this? I wish I had more discipline to exercise on a regular basis! That is my goal for 2017 — to lose some weight and take control of my health.
Family:
Married to my wonderful wife, Tammy, for 26 years. We have three beautiful daughters — Lauren, 24; Logan, 20; and Addison, 14. Next September, I will be adding a son-in-law, Kody Kile, to the family.
Favorite place in Columbia:
That is a tough one. I love football Saturdays (and football Friday nights in Ashland!). I love being on the golf course at Old Hawthorne, although I don't get to play as much as I would like. I would also rank Sunday mornings at The Crossing as a favorite place to be.
Most people don't know that I:
Recently performed in the TRYPS production of "Elf — The Musical" at Stephens College. I played Santa Claus!