krause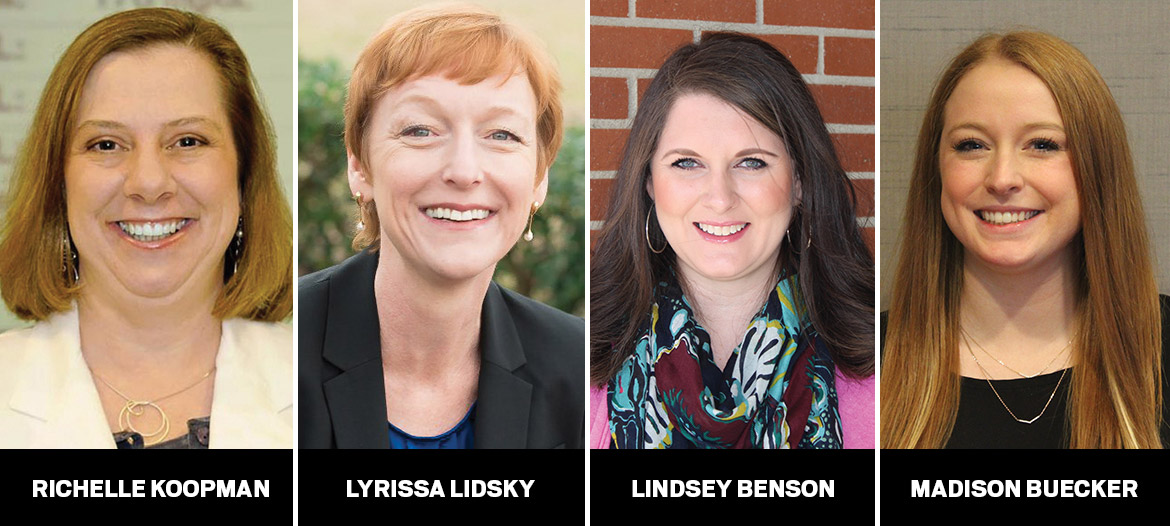 Dr. Richelle Koopman
Koopman, associate professor of family and community medicine at the MU School of Medicine, has received the 2017 Tribute to MU Women award. The award highlights those who create an environment of equity, fairness, and justice for women at MU and promote the advancement of women through education, advocacy, support, and activism.  

University of Missouri
Billie Cunningham and Stacey Woelfel have both been awarded William T. Kemper Fellowships for Teaching Excellence. Cunningham, professor of accountancy in the Trulaske College of Business, and Woelfel, associate professor and director of the Jonathan B. Murray Center for Documentary Journalism, were both presented with $10,000 checks to celebrate their outstanding skills. Also, Lyrissa Barnett Lidsky has been named the new dean of the MU School of Law. Lidsky previously worked at the University of Florida, where she served as associate dean for graduate and non-JD programs.

Williams-Keepers LLC
Madison Buecker and Lindsey Benson both joined the Williams-Keepers team earlier this year. Buecker comes on as a tax associate after recently graduating from MU, and Benson comes on as project coordinator and receptionist with six years of experience as an office representative in the insurance industry.

Fairouz Bishara-Rantisi
Bishara-Rantisi has been named the new principal at Gentry Middle School for the 2017-18 school year. Bishara-Rantisi has 18 years of experience in education, and she'll be coming to Gentry after serving as associate principal for East High School in Lincoln, Nebraska.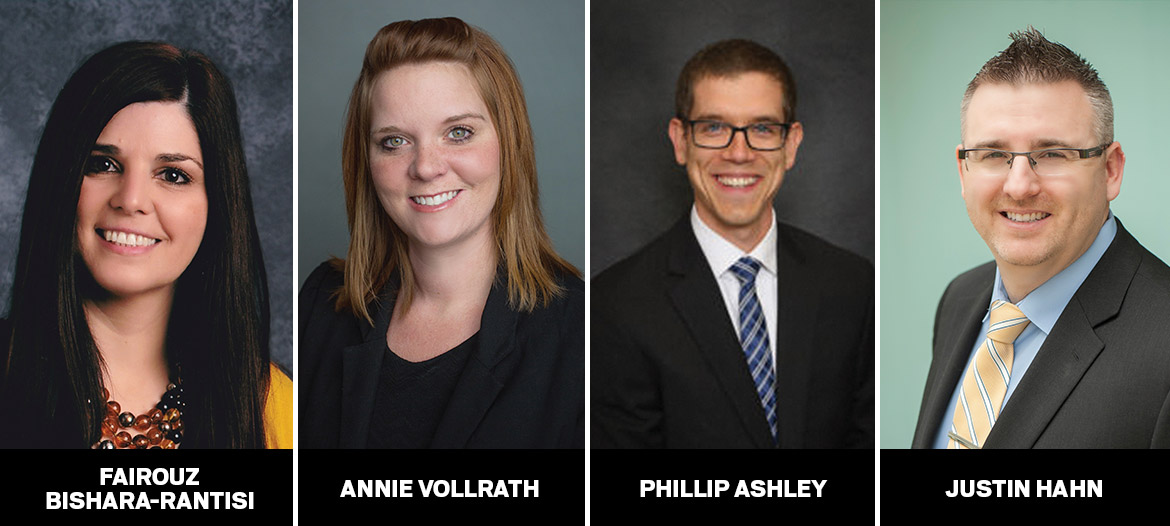 Ebony Reed
Reed will be taking over the role of director of the Futures Lab in the Reynolds Journalism Institute at the Missouri School of Journalism. Reed joins the school after previously serving as the executive advertising director at the Boston Business Journal and former director of business development for local markets at the Associated Press.

Annie Vollrath
Vollrath has been promoted to branch manager of Commerce Bank's Bernadette Banking Center. Vollrath will be responsible for business development and customer service related to the bank's consumer banking, lending, and small business services. Vollrath joined Commerce in 2007 and was previously the assistant branch manager at the Bernadette location.

Kari Dowell
Dowell has been named the new director of admissions and marketing for Columbia Independent School. She comes with more than 15 years of professional experience in marketing and will be responsible for outreach to prospective students and their families, managing the admissions process, and sharing information about CIS with the community.

Phillip Ashley
Ashley, the director of strategic initiatives at Family Health Center, recently received the Emerging Leader Award by Geiger Gibson Program in Community Health Policy at George Washington University's Milken Institute School of Public Health. The institute selects 15 emerging leaders from all the over the country to highlight their current talent and future contributions to the field of community health.
Justin Hahn
Hahn, a Columbia State Farm agent, has qualified for the company's prestigious Chairman's Circle Award for his work protecting his clients through risk management and financial services.  The award places Hahn and his office in the top three percent of more than 18,000 State Farm agents in the nation.

Christina Link
Link, a financial advisor at Wells Fargo, has earned the certification of Certified Financial Planner after working for the company since 2008. Each CFP professional has high competency in the realms of financial planning, risk management, investments, tax planning, and estate planning.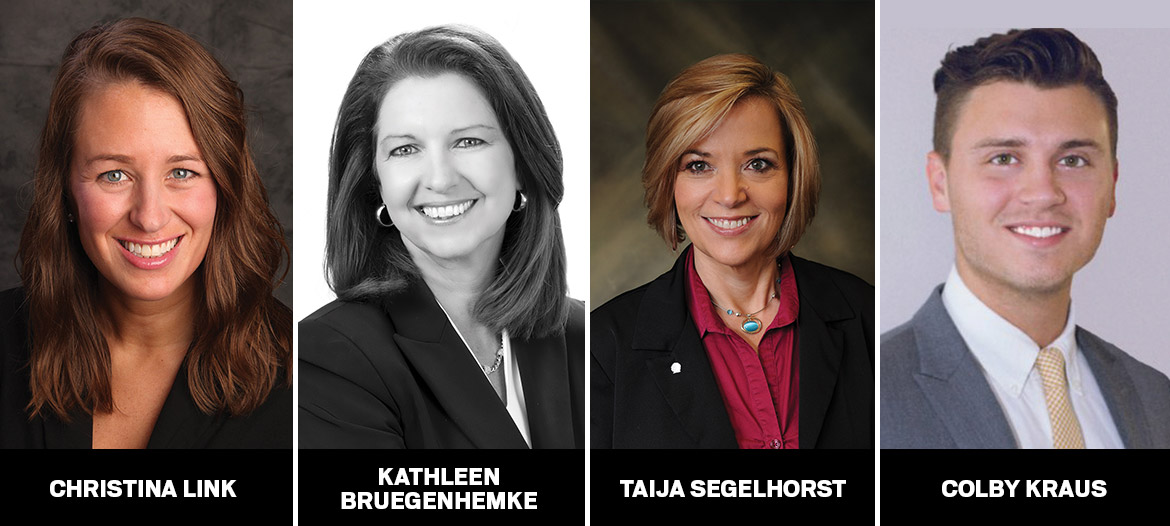 Central Bank of Boone County
Central Bank of Boone County appointed two new managers to local branches. Kristen Moore has moved to the CBBC location inside the Columbia Mall and Cassie Kauffman will be managing the Motor Bank on East Walnut Street. Both will be responsible for the day-to-day operations of the respective branches.

Kathleen Bruegenhemke
B­­ruegenhemke has been elected to serve on the board of directors for Hawthorn Bancshares. Bruegenhemke currently serves as the company's senior vice president and corporate secretary as well as chief operating and risk officer for its subsidiary, Hawthorn Bank.

Taija Segelhorst
Segelhorst, vice president at The Callaway Bank, has been promoted to director of retail banking. In her new role, Segelhorst will be working with each market leader to ensure retail branches remain a strong part of the bank's overall strategy and support units like risk management, marketing, human resources, training, and IT.

Colby Kraus
Kraus has recently joined The Evoke Group team as a digital marketing executive. Kraus joins The Evoke Group after previously serving as a creative strategy director for SuretyBonds.com.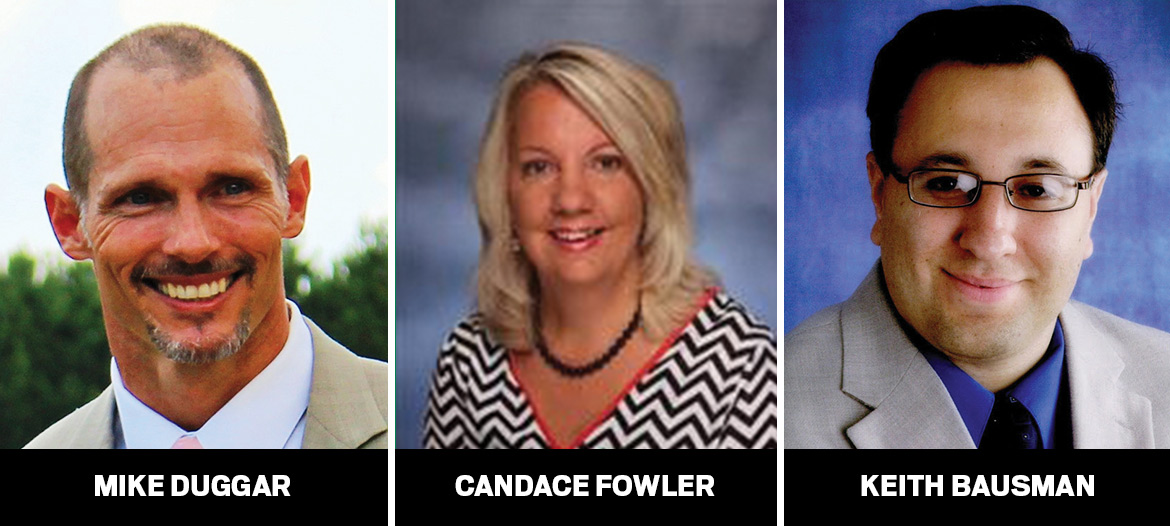 Mike Duggar
Duggar has been named the new president and CEO of Lutheran Family and Children's Services of Missouri. He brings nearly 25 years of experience in foster care, residential treatment, and community-based services to LFCS.

Columbia Public Schools
Candace Fowler has been recommended as the new principal at Russell Boulevard Elementary School. She previously served as the assistant principal at Fairview Elementary School and has 12 years of experience in the education field. CPS also named Keith Bausman as the new assistant human resources superintendent for Columbia Public Schools. Bausman was a math and science teacher for 13 years and also served as executive director of human resources for Socorro Consolidated Schools in Albuquerque, New Mexico.