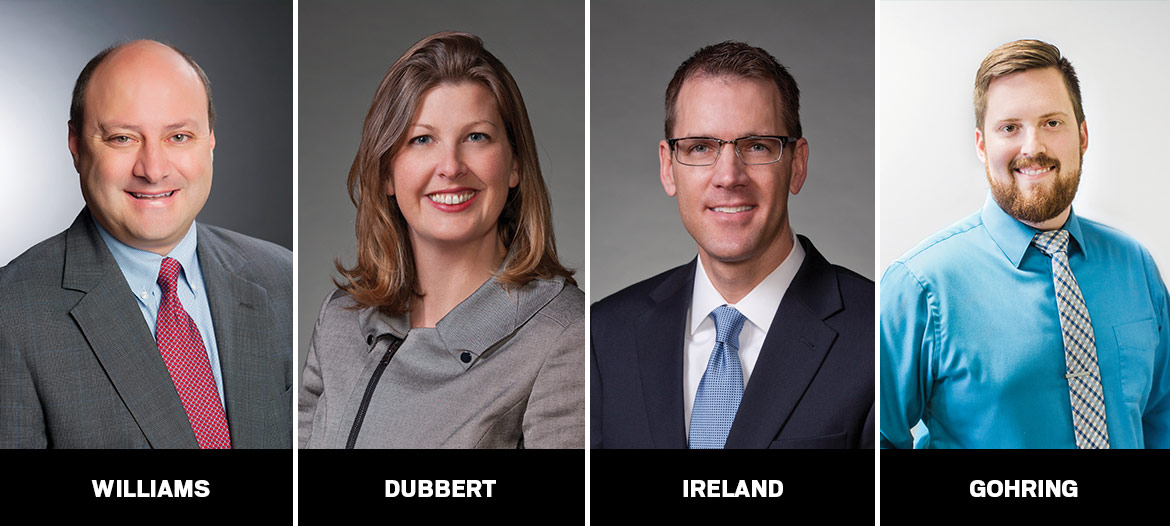 Matt Williams
Williams, regional president of Landmark Bank since October 2014, has joined the Board of Trustees at Columbia College. Williams has been an active member of numerous other boards, such as REDI, the Columbia Chamber of Commerce, MU Women's and Children's Hospital, and more.
University of Missouri
Ann Campion Riley, acting director of MU Libraries, has been appointed to the new position of vice provost for libraries and university librarian. She's been with the university since 2007 and brings 30 years of experience in academic and research libraries. Also, Lael Keiser has been appointed director of the Harry S. Truman School of Public Affairs at MU. Keiser has been with the university since 1996.
Commerce Bank
Sarah Dubbert has been promoted to executive vice president and commercial banking division manager for the bank's central Missouri region, and Mike Ireland has been promoted to executive vice president. Dubbert has 15 years of banking experience and previously served as vice president and treasury services division team leader. Ireland has more than 15 years of banking experience and has served in several retail and commercial roles at the bank.
Alex Gohring
Dr. Gohring became an associate doctor at Achieve Balance Chiropractic earlier this year after graduating from Logan University in April of 2016. Gohring was previously the clinic group leader at the Montgomery Health Center.
Central Bank of Boone County
Ryan Bross and Chris Rosskopf were promoted to senior vice president, commercial loan officer at the downtown bank. Drake Luebrecht was promoted to customer service representative, and Gage Long was promoted to customer service representative II at the customer service center. Kayla Wilkerson, Shomari Wellington, and Elizabeth Jahns were promoted to financial associates. Colin Gardner and Abby Mora were promoted to teller II.
Jessica Kempf
Kempf, the Weichert Realtors – First Tier sales manager, completed the Weichert Real Estate Affiliates Inc. Management Academy training. Graduates of this program are better equipped to offer home buyers and sellers in their communities the best services in real estate.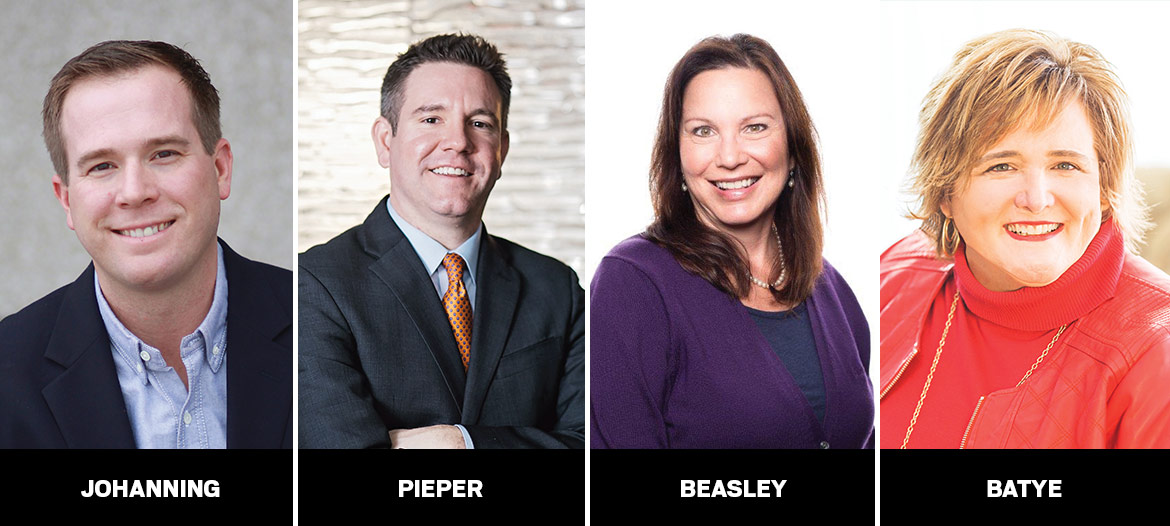 Brian Johanning
Johanning has been promoted to president of Shafer, Kline & Warren's infrastructure and development businesses. Johanning joined SKW in 2015 as director of strategic growth before becoming vice president of infrastructure and development businesses. He's now primarily responsible for the offices in Columbia and Macon.
Dan Stokes
MidwayUSA has promoted Stokes to development operations manager. Stokes will manage all application development projects and will assist in strategic planning. Stokes joined MidwayUSA in 2007 after earning his computer science degree from Columbia College.
Chris Pieper
Blitz, Bardgett & Deutsch opened a new office in Columbia on East Broadway. The firm currently has offices in St. Louis and Jefferson City. Pieper will be the primary attorney in the Columbia office. His practice focuses on regulatory and government solutions, administrative laws, real estate, and more.
Louise Beasley
Beasley has been hired as manager of the Great Southern Bank location at 3200 S. Providence Rd. In her new role, she is responsible for managing day-to-day operations and providing financial services to customers in the Columbia area. Beasley is a graduate of the University of Central Missouri and previously served as development officer at KMOS for more than eight years.
Kristie Beck
Beck has joined Focus on Learning, where she'll be providing college consulting services for students and parents, which will complement the company's ACT tutoring services. Beck has 25 years of educational experience and served as president–principal at Fr. Tolton Catholic High School from 2010 to 2016.
Dave Griggs' Flooring America
Longtime employee and CFO Michele Batye has been named president and has purchased the majority stock in the corporation. Griggs will continue to serve as advisor and stay involved in community and business organizations. Batye has been running the day-to-day operations of the store for some time.