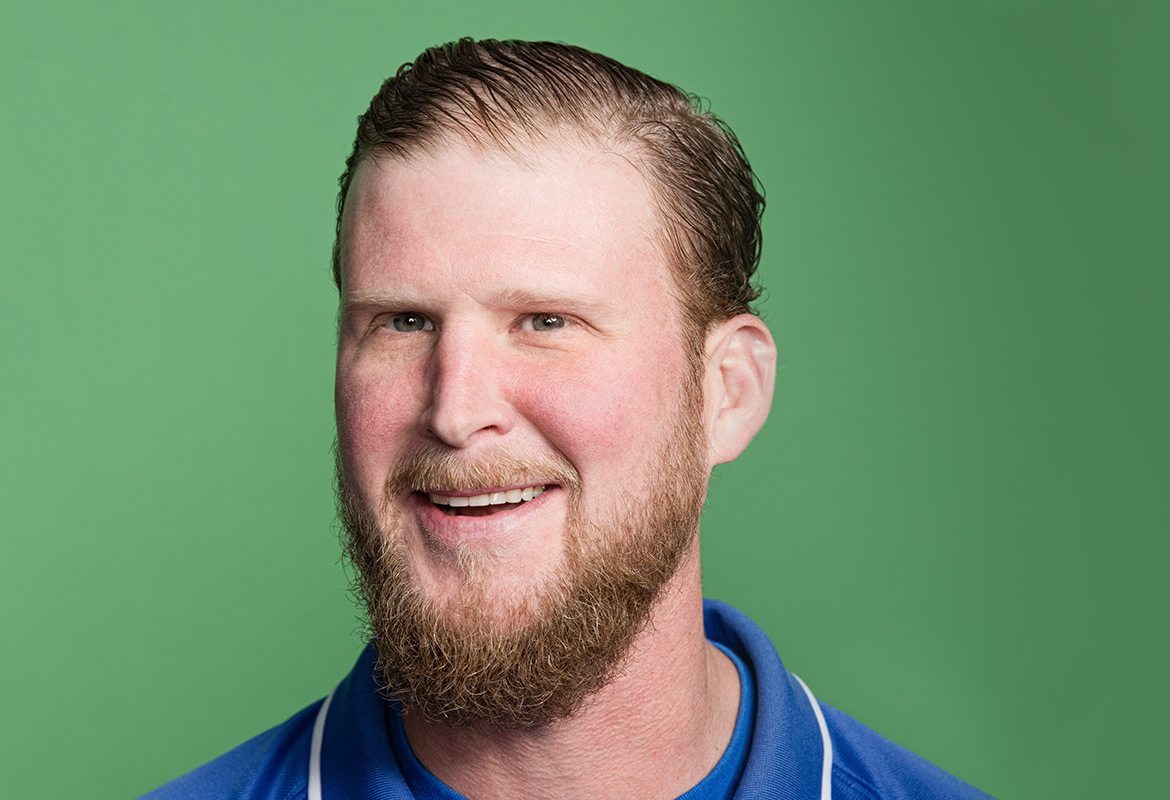 Dan "The Energy Man" Riepe
Energy Auditor and Owner and Accounting and Sales and Marketing and HR, etc., etc., etc., Home Performance Experts
Age: 39
Hometown:
Antioch, Illinois (Northern Illinois, two miles from the Wisconsin border.
Years lived in Columbia:
13 years in Columbia; now in Sturgeon for almost three years.
Tell us about your job:
I love my job. I actually do love going to work and providing solutions to challenges. As an energy auditor, I spend most of my days inside other people's homes. I get to learn about how different families live and use their homes. I perform in-home comprehensive diagnostic energy assessments with full infrared scanning to identify all the areas in a home that can be improved to help cut energy costs and increase comfort. I spend roughly three hours at a person's home identifying and prioritizing all air leaks, drafts, and insulation deficiencies, and I test the existing furnace and water heater for proper combustion and safety. (I also complete a majority of the efficiency improvement installs myself.) Home Performance Experts is locally and state certified, which qualifies the homeowner for all available rebates and incentives from their utility providers. Once all the work is completed, I re-test the home and compare the results to the pretest. Revealing all the money savings to my customers is the most rewarding part of my work. I take care of all the paperwork and pride myself in making the process as easy as possible for my customers and getting them the biggest return on their investment. I work with directly with homeowners, real estate agents, landlords, new and first-time home buyers, and renters. My day is never the same twice, which is a big reason that I just love what I do.
What are some misconceptions about your job?
As "Dan the Energy Man," people think I'm just going to turn their thermostat up or down, shut off their lights, and make them uncomfortable in their homes (or that I'm just going to give them a $20,000 estimate to upgrade their homes). Some people think I'm a cheapskate and just like pinching pennies. It's quite the opposite — I just enjoy being comfortable in my own home and paying extremely low monthly utility bills. And it doesn't cost $20,000 to make significant upgrades to their homes; it's affordable and very cost effective. Being energy efficient is cheap, easy, and best of all, it's cool! (Pun intended.)
What is the single best thing about your job?
The best part of my job is the look on the customer's face when I complete their energy efficiency improvement project and reveal the percent reduction on their annual utility bills.  On average it's 30% savings on their monthly bills.  Even better than that is when I tell them how much rebate money they'll be getting back from their utility providers for making improvements to their home. Rebates on the average energy efficiency improvement project are $750 cash back instantly. With a minimal investment, homeowners are pleasantly surprised with what improvements I'm able to make at the homes they love.
What motivates you?
I'm motivated by simple happiness. I love working with each and every family, helping educate them about energy efficiency and how to get the best energy saving results while spending the least amount of money. The happiness I get from being an independent business owner in the energy efficiency industry is my daily motivation. I truly love being in control of the direction I take my life.
What is the single biggest lesson you've learned in business?
I've learned to always put in the extra effort to exceed my customer's expectations. I've never wanted to live an average life. I've always tried to go above and beyond what I think I can do. That ensures that I'll never do something without giving it 110 percent effort and usually means the outcome will exceed even my own expectations. Why not just go for it?
If you had unlimited funds, what is the one specific thing you would do to improve Columbia?
Since I'm Dan the Energy Man, I'd love to buy up a bunch of the older, small, midcentury bungalow houses in a neighborhood and completely remodel them to be totally energy efficient. And I'd like to create a community program that would help to educate and employ individuals that will end up living in the homes. The end result would be affordable, energy-efficient homes going to deserving families for free or for much less than they'd be if they had to do everything alone. The neighborhoods would become fully remodeled, shared-utility areas with lower operating costs, which would improve the quality of life for those families.
What is one business goal you have for 2018 and how do you plan to achieve it?
I'd like to be able to select two or three families this next year to complete free energy efficiency upgrade projects. I want to be able to make more of an impact helping as many families as possible save money on their annual utility bills. Part of my mission is to have HPE give back to the community more each year. Educating my customers and getting the best results for them is the best way for me to continue to have the opportunity, the time, and the money to give back to a few families each year.
If you could improve one thing about yourself, what would it be?
I'd love to be more focused and somehow manage to get everything done each day that I need to.  I handle every aspect of Home Performance Experts and it doesn't leave me much free time.  I'd like to be able to focus on the different tasks like making sales calls for example and not have to think about the energy audit reports I also need to complete.  I wish I had another one of me to help me out but I think we'd just argue about who's in charge.