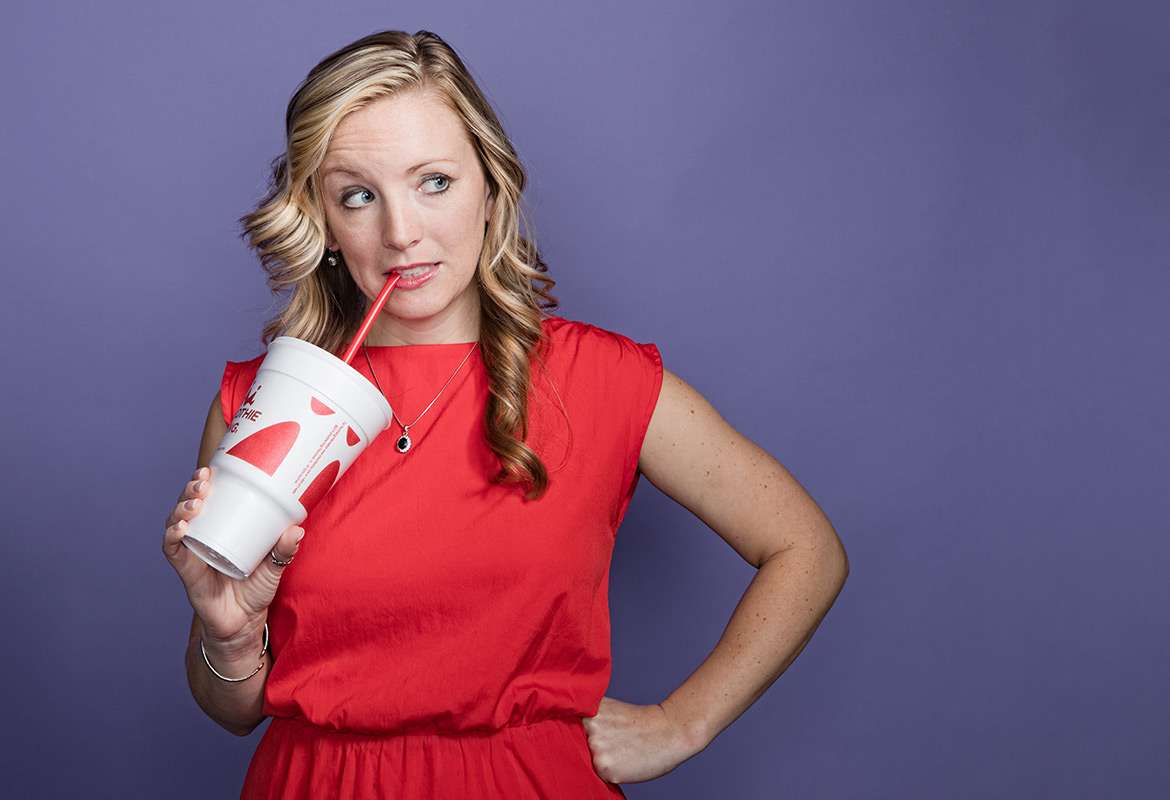 Jackie Floyd           
Franchisee, Smoothie King (From the Vine Franchises LLC)
Age: 32
Hometown:
Kirksville.
Years lived in Columbia:
Three and a half.
Tell us about your job:
My job is awesome! I am the VP of marketing and a franchise owner, so I'm a jack-of-all-trades, and some of my responsibilities include opening new Smoothie King stores, training the teams, setting up catering and fundraising events, managing our social media accounts, and coaching our management team. I love the variety and change in my job from day to day!
Who is a mentor in your life and how have they impacted you?
Patty Dill has been a mentor in my life for the past seven years. I met Patty right as I finished college, and she took me under her wing as a daughter and friend. Patty shows me what it's like to work with passion, serve others on a daily basis, and be a friend that loves unconditionally. She's an inspiration to me because she is creative, honest, and giving. I hope that in 20 years, I'll have impacted as many lives as she has!
What is the single best thing about your job?
Working alongside my best friends and drinking smoothies every day! My favorite smoothie is the Vegan Nutty Super Grain with acai sorbet.
What was the last professional goal you accomplished?
Opening our seventh Smoothie King store (downtown Columbia) in less than three years.
What's your favorite community project?
I enjoy volunteering at Second Chance! I have two cats, Violet and Wiley, who are a big part of my family. I love having pets in my home, so I care for these animals who also deserve a forever home. I also think volunteering keeps me from adopting all 100 of them!

What is your favorite business book you've ever read and what impact did it have on you?
My favorite business book is "Leadership and Self Deception" by The Arbinger Institute. I could see myself in the characters and relate to their dilemmas. What I learned was that it's easy, as a leader, to think I have it all together, or that everyone else has the problems, and fall into the blame game. This book teaches the importance of owning our own behaviors and actions instead of justifying them. It has helped me recognize when I'm falling into this thinking and relate to others more effectively.
If you had unlimited funds, what is the one specific thing you would do to improve Columbia?
I would build a new theater for Columbia Entertainment Company, one of our local community theater. As an avid theater-goer, actress, and volunteer, I see the value that the arts bring to a community in terms of fostering life-long relationships and encouraging creativity. If CEC had a larger space with state-of-the art equipment, we could produce high-quality shows and even be able to pay our volunteers who put so many hours into bringing these magnificent shows to life!
What is one business goal you have for 2018 and how do you plan to achieve it?
The first Smoothie King we opened in south Columbia has been in the top 25 in sales, out of over 900 stores, for the past two years. In 2018, we hope to reach the top 15 and bring our other stores to the same level.